If finding a good projector with a budget of $500 seems like something beyond the boundaries of possibility, don't get easily discouraged. There are definitely some options! It's more than manageable to get an inexpensive projector that will provide quite a bit of movie night fun or help with the work, and I'll prove this to you in my best projectors under $500 review. Here, I will ponder affordable devices that stroke me with their capabilities. So, read on, and you will get hints on what projectors to consider with $500 in your pocket.
Our pick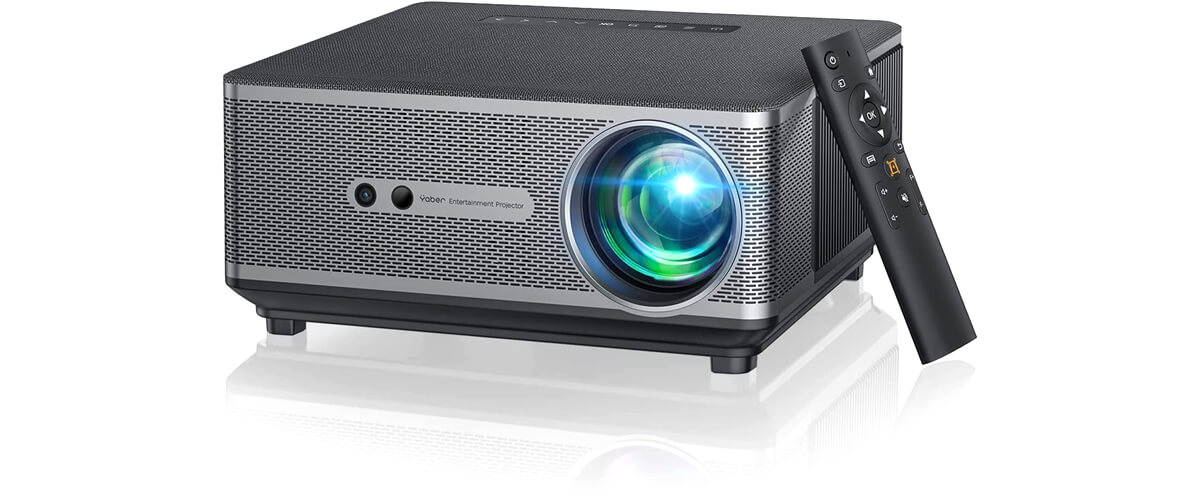 Yaber ACE K1
Best projector under $500
The YABER ACE K1 projector provides stunning, detailed native 1080P images based on 650 ANSI Ultra Brightness and supports 4K.
Read the full review
.
Projector under $500 comparison table
Name
Display technology
Resolution, px
Brightness, lumens
Contrast
Review
Yaber ACE K1

best overall

LCD
1920×1080
1560
1600:1
Review
ViewSonic PS600X

also a great choice

DLP
1024×768
3700
22000:1
Review
ViewSonic PA503X

budget

DLP
1024×768
3800
22000:1
Review
Anker NEBULA Capsule II

portable choice

DLP
854×480
1660:1
400:1
Review
Best projector under $500 reviews
In my Yaber ACE K1 review, I will share my opinion on a very simple home projector that nevertheless shows quite good functionality. This device is worth its money with acceptable image quality, wireless connectivity, and other features. So let's take a closer look at what you get if you decide to buy the Yaber ACE K1 as part of a home theater system.
Design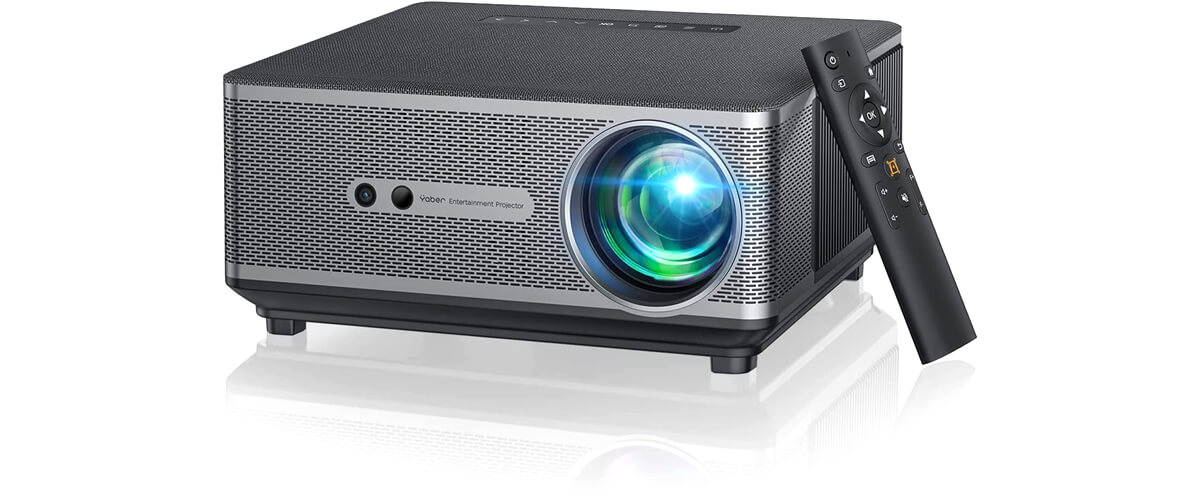 Yaber Ace K1 has a rectangular case with rounded corners, so it looks much like many other projectors. Its sides are made of plastic, with vents towards the back. They allow the cooling fans to work, so you won't experience an issue of overheating. The projector bottom has sturdy rubber feet for superior stability. They also enhance air circulation and improve cooling efficiency.
As for the size, it is a standard projector. It measures 11.8 x 10.1 x 5.4 inches and weighs 8.60 lbs, which I think is optimal for this type of device.
The Yaber ACE K1 features dual-band Wi-Fi (2.4/5GHz) and Bluetooth 5.0 to be compatible with a bunch of wireless devices like phones, laptops, speakers, games consoles, and more. Additionally, you will also find two USB 2.0, two HDMI, and one AV port for hooking to Blu-Ray players, computers, TVs, flash drivers, and more. I think the connectivity is quite extensive for a device of this level.
Features and specs
Yaber Ace K1 has a 1080p native resolution and supports 4K content. So, it will accept content up to 4K but downscale anything above 1080p.
You will like color saturation, and sharp image as this is an LCD projector. The 1600:1 contrast ratio makes the colors pop up and look more vibrant. Paired with a 650 ANSI lumens lamp, you will get enough brightness to enjoy videos in moderately dark rooms. But remember that in bright environments, you may consider the image too washed out.
Looking at ACE K1 specifications, you'll see that it has a set of 15W stereo speakers. For sure, it may not be as powerful as a properly set up Hi-Fi audio system. But believe me, it is more than enough to enjoy a TV show or a movie at an optimal volume level.
The great thing about Yaber Ace K1 is that it supports Wi-Fi 6 technology, providing a more stable, quicker, and low-latency connection. It will also be able to adapt to mainstream network systems in the future.
There are no built-in streaming services or the Android operating system here, but that won't be a big deal. As you connect any of the devices (phone, laptop, tablet) to the projector wirelessly or via ports, you will stream content from any app.
Picture quality
The image projected by Yaber Ace K1 is at quite a decent level. It replicates colors in their true gamut without blurring or other unwanted effects. The color spectrum is vivid, and the blacks are dark enough for you to notice every hidden detail. High-definition content I streamed from YouTube looked really good with this projector.
Note that the image's brightness will fade away with the bigger image size and larger distance. Therefore, I recommend keeping the image up to 100 - 150 inches to preserve image sharpness.
Installation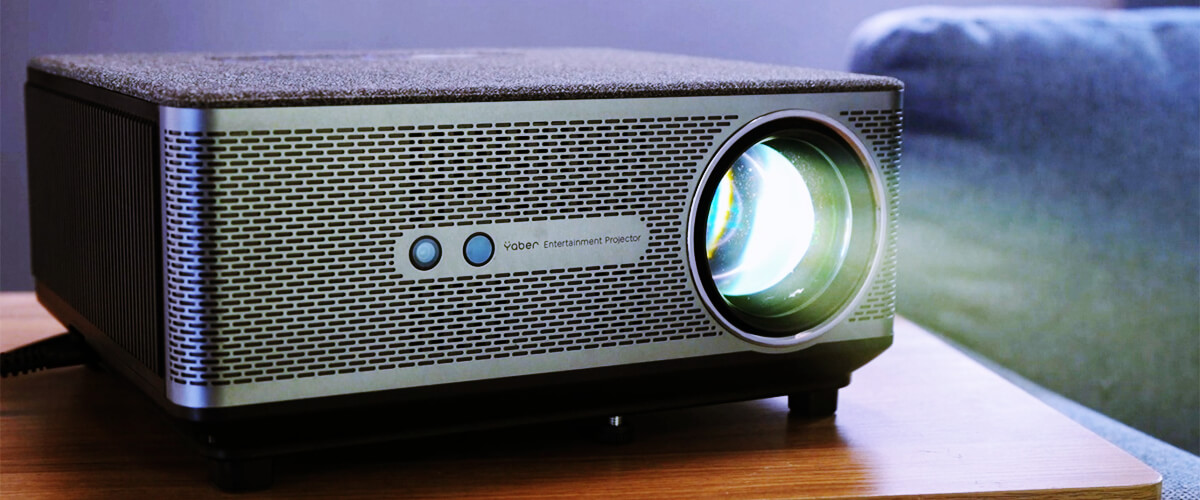 Some great features make Yaber Ace K1 easy to install. Auto focus and auto keystone adjustments will save the day if you don't want to bother yourself with hours of setup. Just press the button, and within a couple of seconds, you will have a crisp and well-proportioned image. On top of that, there is an option of a 50% digital zoom. It's not an optical one, so the further you zoom, the grainier the image will be.
Consider that the throw ratio of this projector is 1.54:1. For a 100-inch image, it should be at least 11 feet away from the screen. In general, you can get an image size between 45 to 150 inches.
Key specs
Display technology: LCD.
Resolution, px: 1920x1080.
Brightness, lumens: 1560.
Contrast: 1600:1.
Throw distance, ft: 3.7-12.5.
Image size, inch.: 40-150.
Wi-Fi: no.
Built-in speaker: yes.
After conducting many tests, I identified the Yaber ACE K1 as the best projector under $500. It is the leader of my top, surpasses the competition, and is equipped with everything you need to project a good quality image, decent sound level, and effortless transfer of content from any connected gadget.
ViewSonic PS600X – also a great choice
As a teacher or a business coach, you may be looking for a projector to let you share visual aids with your students in different environments. ViewSonic PS600X has been specially designed to become an indispensable assistant to those craving to deliver an engaging learning experience. It's bright enough to overcome ambient light. Additionally, it's compact and can be used even in small classrooms. But these are not the only merits of this device. To learn more, read my ViewSonic PS600X review.
Design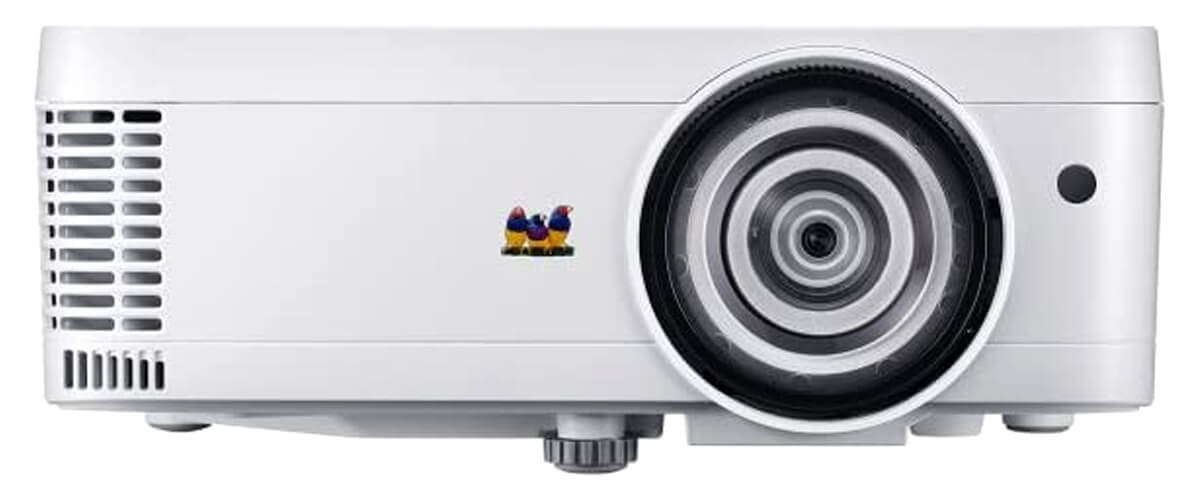 The ViewSonic PS600X projector will easily fit into any room. It's 11.5 x 9 x 4.5 inches and weighs around 5.7 pounds. Thus, you will get the flexibility and versatility of use with this device. It will make a good one-room projector, or you will easily carry it between the rooms to bring presentations or other visual materials to a large screen.
The PS600X has plenty of connectivity options. Let's start with two HDMI ports, which let you project high-definition content by connecting to nearly all sources. There are also two VGA ports for hooking to older computers or laptops. And you will also find a composite and S-video input. Finally, you can use a USB type or 3.5 mm in/out.
Features and specs
As a DC3 projector with the latest DLP imaging chip in the lineup, this device offers good contrast (22,000:1 contrast ratio) and speed. With resolution support ranging from VGA (640 x 480) to FullHD (1920 x 1080) and 3D compatibility, you can share different types of content with extra detail. Yet, I want to say that it is more suitable for sharing presentations, slides, etc. For sharing videos, you should go with a widescreen projector with WXGA resolution to match the aspect ratio.
The projector's lamp delivers 3,700 lumens, so you don't need to worry about image reproduction, even in spaces with high ambient lighting. The lamp's lifespan is 15,000 hours, sparing you from the need to replace it frequently. In addition, with auto Eco technology, the projector will switch to energy-saving settings when idle to save your power consumption.
As a short-throw device, it will project the image of 100 inches from a distance of 4 feet according to PS600X specifications. With the flexibility of placement, you will obtain a clear image without shadows.
ViewSonic PS600X is compatible with an interactive module, transforming virtually any surface into a whiteboard. You can write, draw, or annotate on the projected image. Additionally, there is a built-in presenter timer, which helps you stay on track with timing during the presentation.
The built-in 10W speaker is a great additive. With it, you do not have to worry about connecting an extra audio source for sharing video content. Besides, this projector allows you to connect speakers to amplify the sound for a larger room.
Picture quality
SuperColor technology delivers a wide range of colors, resulting in precise color reproduction in dark and light environments. The image quality is excellent, whether sitting up close or at the back. I noticed no shadows, so there will be no such thing as a bad place for your audience.
The image is crisp, even in the daytime. Every letter is readable and sharp, so reading the text on the slides won't be difficult.
Installation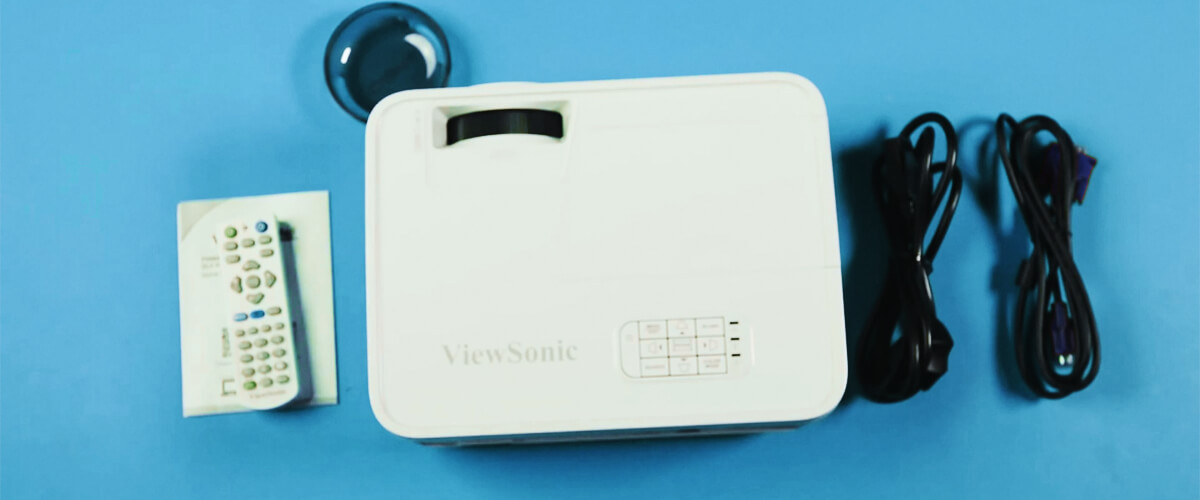 The ViewSonic PS600X features define this device as a 0.61 short throw projection. You can work with it literally from any position in the room, even if it's a few inches from the screen. For instance, from a distance of 4 feet, you can produce an image of 100 inches. The further you place the projector, the larger the image will be. The maximum image size you can get is 300 inches, though you will need at least 7 feet between the screen and the projector's lens.
Horizontal and vertical keystone correction complemented with 4-corner adjustment allows you to eliminate crooked or distorted images. Thus, you get a well-proportioned image without much effort.
Key specs
Display technology: DLP.
Resolution, px: 1024x768.
Brightness, lumens: 3700.
Contrast: 22000:1.
Throw distance, ft: 4-12.
Image size, inch.: 60-300.
Wi-Fi: no.
Built-in speaker: yes.
You will enjoy the perks of this short-throw projector if you do not have enough space for a flexible installation. Besides, it's astonishingly bright and withstands even ambient light, making it one of the best projectors for home theater under $500. It will also be handy in classrooms or offices to support you with bright visual aids during your speech.
ViewSonic PA503X – budget
When you are on the hunt for high-performance yet affordable projectors, look in the direction of ViewSonic devices. This US-based company excels in value-for-money electronics, and the PA503X is one of the projectors one should consider when looking for a budget-friendly yet powerful device. So, my ViewSonic PA503X review is devoted to the projector that is a frequent choice for offices and classrooms because of its high lumen brightness and contrast ratio. But this projector will surprise you with other advanced features. Read on to learn how ViewSonic performed while I took it for a test. I will also review its strong and weak points, so stick with me.
Design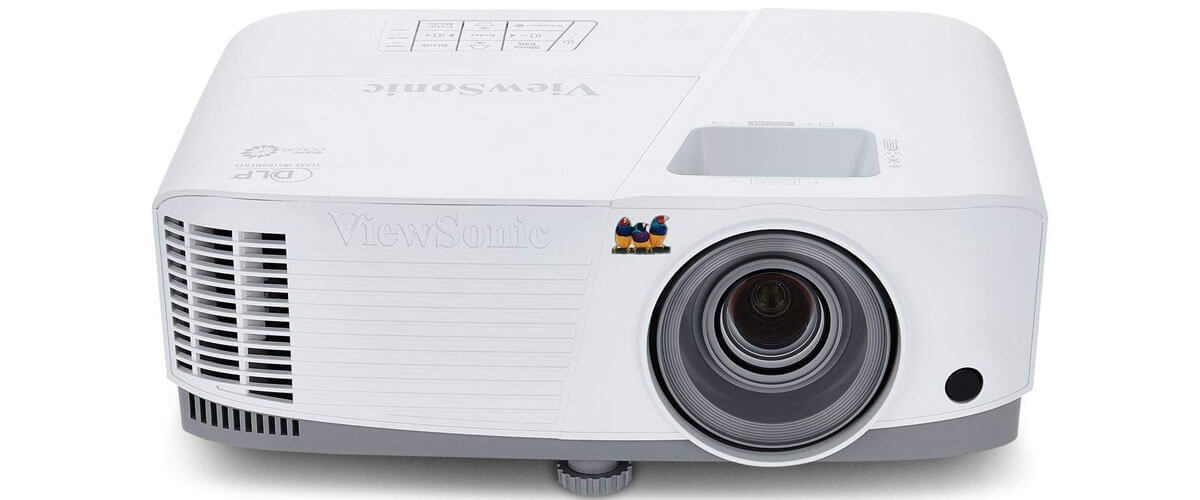 Out of the box, the ViewSonic PA503X doesn't create a wow effect. It's just an ordinary 11.6 x 4.3 x 8.6 plastic projector that looks neither too bulky nor super compact. It weighs more than 7 pounds, which is somewhat more than you expect from an office device. Nevertheless, you can still mount it to the ceiling or place it on the tabletop without any issues.
The connectivity options are abundant, and, like most projectors, they are located at the back of the device. There is 1x HDMI 1.4 port (compatible with 3D, by the way), 2x VGA, 1x monitor out, 1x RS-232, mini-USB type B, RCA video, and 3.5 mm audio in and out ports. I find the connectivity options to be slightly outdated here. I wouldn't mind having a USB-C port as well as the possibility of a wireless connection.
Features and specs
ViewSonic PA503X features 3,800 lumens and native XGA 1024 x 768 resolution to produce bright images in nearly any environment.
This device has a DLP lamp, which delivers around 5,000 hours of operation in normal mode. However, SuperEco mode dims the brightness by up to 70% and allows to extend the lamp's lifespan to 15,000 hours.
While the PA503X projector by ViewSonic has a built-in speaker, you may want to connect additional speakers to it. I traced distortions at higher volumes. Besides, the sound has no bass, making it slightly plain. Luckily, there is a 3.5 mm audio jack output to hook speakers or headphones. Once I paired this projector with speakers, the sound quality significantly improved.
There is a 3D blu-ray-ready HDMI input, so you can enjoy theater-like 3D projection at home or in the office. Mind that you need to get DLP link 3D glasses as ordinary cinema Real D 3D glasses won't work (I've checked it out). With the rise of 4K and 8K, filmmakers have abandoned this movie format. So, if you expect to watch the newest movies on your home screen in 3D, you may be disappointed.
The lack of Bluetooth and connectivity to streaming platforms is understandable in this projector model. After all, it's primarily designed for offices and classrooms.
Picture quality
As PA503X specifications state, this projector is bright enough to let you see the screen during the daytime. The letters this device reproduces are crisp, and I could easily read them from a far-off distance. However, I would still use limited shades on windows to get a clearer image.
The focus is easy to adjust, so the screen edges have no softness. The color quality is decent and is regulated by SuperColor technology. However, similarly priced projectors designed for home use may slightly outperform it in terms of color palette reproduction.
Installation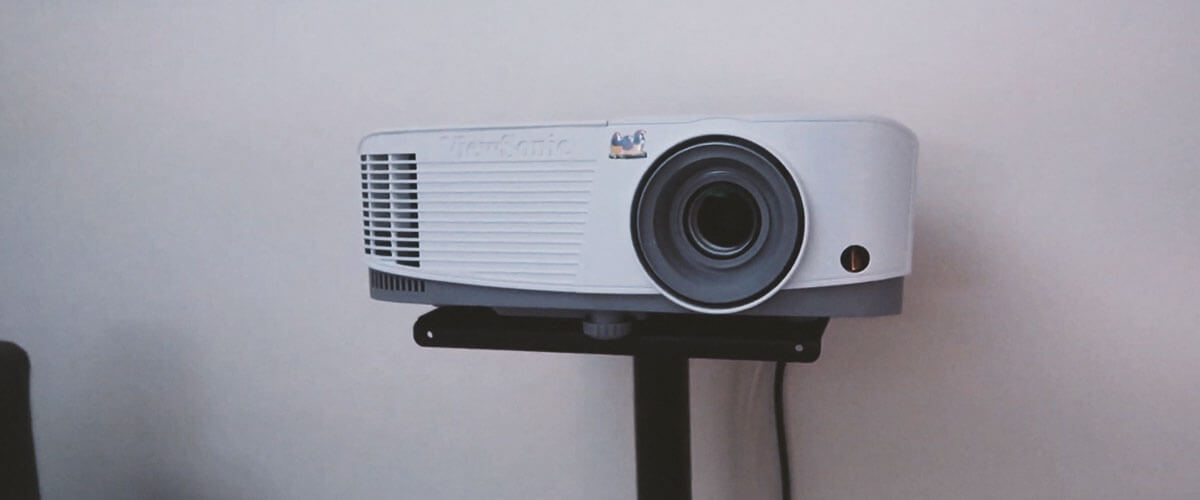 If you are a first-time projector user, you may need more instructions in the manual. All you will find are the images without detailed explanations. You can intuitively control most settings via remote control.
PA503X projects an image of 30 - 300 inches in an aspect ratio of 4:3 and 16:9 from a distance of 3.9 - 43 feet. The projector has an adjustable foot at the front to set it at an optimal angle. With vertical keystone adjustment, you can properly line up the projection edges. There is a 1.1x optical zoom that enables you to calibrate the size of the projection, which is handy for small rooms considering the 1.96 ~ 2.15 throw ratio.
Key specs
Display technology: DLP.
Resolution, px: 1024x768.
Brightness, lumens: 3800.
Contrast: 22000:1.
Throw distance, ft: 3.9-43.
Image size, inch.: 30-300.
Wi-Fi: no.
Built-in speakers: yes.
With a higher-than-average lumen brightness and contrast ratio, the PA503X by ViewSonic is a decent option for home entertainment and classroom activities. In addition, its affordability and sharpness of the image, even in the daytime, will keep you more than happy with this purchase.
Anker NEBULA Capsule II – portable choice
In this Anker Nebula Capsule II review, we will look at one of the devices that lets you carry the cinema in your pocket. Does it already sound enticing? Then let's move on. The Nebula Capsule II from the Go Anywhere series spares you from the need to move around with a big clunky projector, either at home, in the office, or as you set out for adventures. This model is a massive upgrade to the original Capsule projector, featuring an improved resolution, doubled brightness, and enhanced chipset. So, without further ado, let's see what this soda-can-sized device will surprise us with.
Design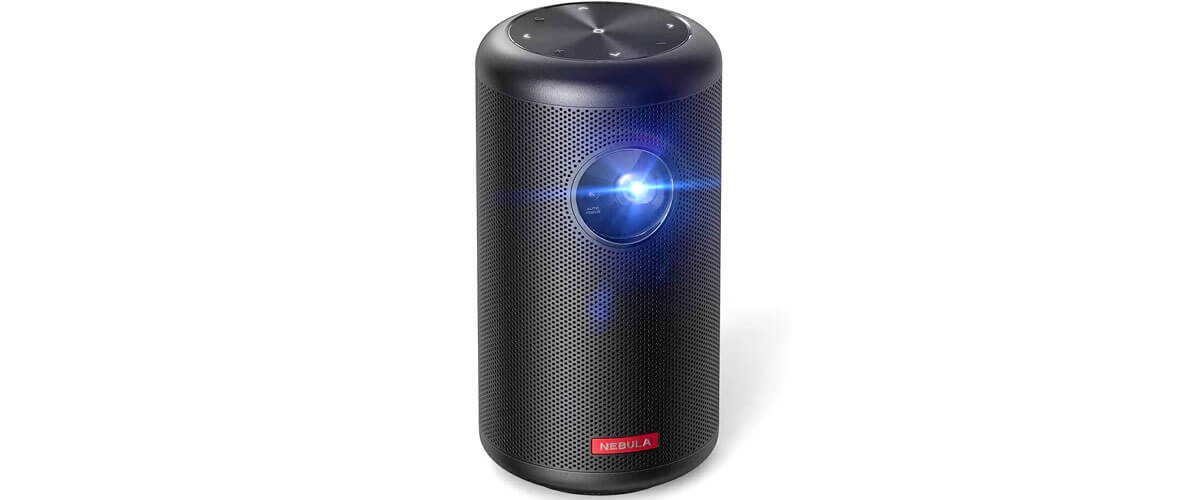 Everything in the Anker Nebula Capsule II looks nice to me. It's just 3.1 x 3.1 x 5.9 inches and 1.6 lb, so it will easily fit into your coat pocket or bag. The build of the projector is also great. It feels solid and sturdy, so it will definitely survive accidental bumps. What I lack here is a lens cap to protect this fragile part from any impacts. There are a few connectivity options like HDMI 1.4 input, USB-A, USB-C (which I find especially handy for connecting a power bank), and a 3.5 mm headphone out. For a wireless connection, you can use Bluetooth and Wi-Fi.
Features and specs
As a portable projector, the Anker Nebula Capsule II can project an image of 40-100 inches. The DLP chip creates a 720p 200-ANSI-lumen image, making it a better option for dark rooms. While it's not that bright, a full-sized picture still looks good. You won't get a crisp 4K image, and this model has no HDR, but a 720p resolution still allows you to handle a Full HD signal. The Anker Nebula Capsule II has an in-built 8W speaker. However, because of the mono system, do not expect to get an immersive movie-watching experience. In fact, it may slightly outperform a mobile speaker but won't impress you with its agile performance and rich soundstage. It supports Android TV 9.0, so you can personalize your projector with over 50,000 apps like YouTube, Hulu, Twitch, and more from Google Play. Streaming Netflix will require more manipulations from your side, as you will need to use a Nebula Connect
app from your phone
to control this streaming service. One of my favorite Anker Nebula Capsule II features is Chromecast. I can stream content directly from my iOS and macOS, while it is also compatible with Android and Windows operating systems. In addition, Google Assistant voice assistant is also available for instant access to entertainment. The battery life slightly disappointed me. The advertised 2.5 hours are possible only in battery mode (meaning half of the max brightness) with half volume and disabled Bluetooth. But I paired it with a power bank, so I had nothing to worry about when I watched a movie.
Picture quality
The image quality of Anker Nebula Capsule II is good, considering its size and capabilities. The automatic focus feature is really handy since it eliminates the need to adjust the focus manually. The tonal balance of the Anker Nebula Capsule II is pleasing. Once I adjusted the brightness and color display through the menu (which is a breeze to do), I extracted the decent performance possible out of this device. I wish Anker had paid more attention to the motion processing in this model, as I don't like how movements are handled.
Installation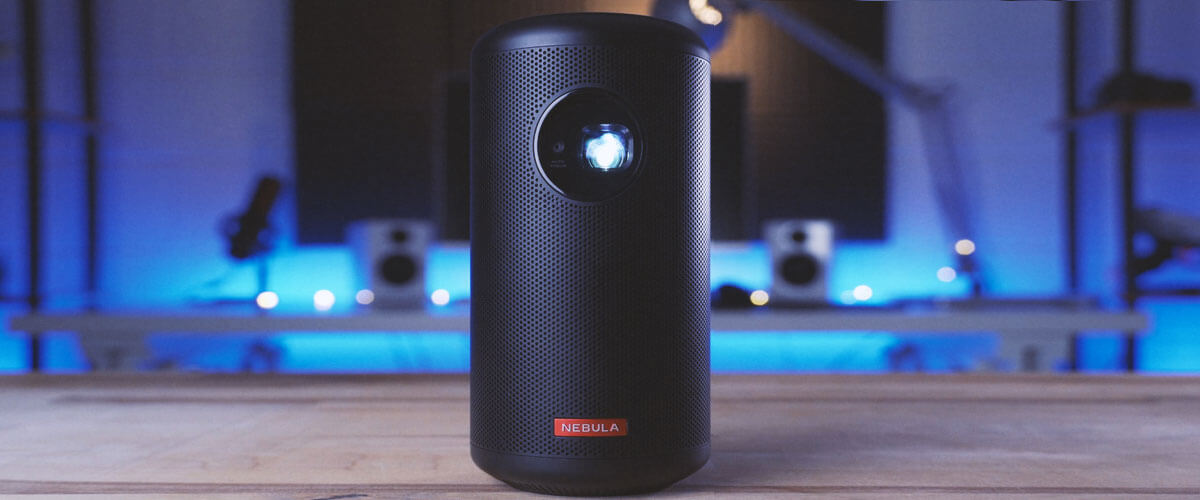 For a pleasing watching experience and a quality image, it's better to keep a projection distance of between 40-80 inches. This way, you can transmit an image of 40-100 inches in a 1.3:1 throw ratio.
Nebula Capsule II specifications
say that an auto-keystone feature is vertical, with no horizontal movement of the picture. It has a fixed lens device, so there is no zooming in and out.
Key specs
Display technology: DLP.
Resolution, px: 1280x720.
Brightness, lumens: 3300.
Contrast: 22000:1.
Throw distance, ft: 1.4-30.
Image size, inch.: 40-100.
Wi-Fi: yes.
Built-in speakers: yes.
This cute "baby" with an original design will be the optimal home projector if you do not want to limit yourself to one place for watching movies. It supports Full HD content, has good enough characteristics, and at the same time can fit into your bag, backpack, or even pocket.
LG PH30N
Do you fish for a portable yet high-capacity projector you can carry? Then you will be pleased to learn about this palm-sized device in my LG PH30N review. It has some appealing features you will appreciate when arranging a cinema night outdoors or taking it with you for hiking. So, what is so special about this projector? Find this out in a minute as you read on.
Design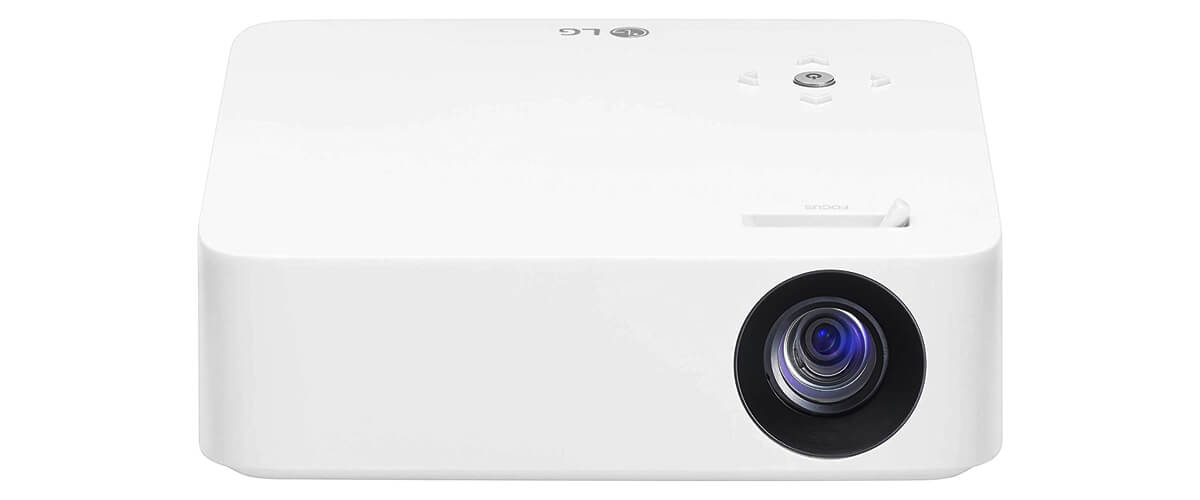 I can't say that LG PH30N feels sturdy and super heavy-duty. Agree that for a projector, this is not so important. But it has another advantage. At a weight of 1.1 lbs and dimensions of 5.1 x 1.5 x 5.1 inches, this is a type of projector you can hold in your hands or put into your pocket. Because of the LG PH30N features, you can recreate the bigger image in places other projectors don't fit. For instance, use it to throw an image on your ceiling or desk, creating a second screen. In addition, you can use this projector to stream recipes in the kitchen when cooking.
There are HDMI and USB 2.0 ports. You will also find a 3.5mm mini Jack port for connecting speakers.
Features and specs
This DLP projector supports the HD 720p (1280 x 720) native resolution. It can throw an image of 40 - 100-inch size, which is pretty good for a device of this size.
You can use five modes in this projector, four of which are pre-defined: Vivid, Standard, Cinema, and Game. In the Expert mode, you can adjust contrast, brightness, color, sharpness, and tint. There is not much difference in the image quality as you switch between the modes, though.
There's not a lot of light here. The LED lamp emits 250 lumens, an average brightness level you can expect from a similarly-sized device. Therefore, it will reveal its potential in dark rooms. If there is ambient light or you use the projector during the daytime, you risk seeing something that reminds you of a shade rather than a high-quality image. With the 100,000:1 contrast ratio, LG PH30N retains surprisingly good contrast and shadow detail for this class of projector. Depending on the mode, the lamp can last up to 30,000 hours before you need to replace it.
To be fully portable, the LG company added an embedded battery to ensure 2 hours of operation. You can also attach it to the power supply for extended use.
With the built-in 1W speaker, you can achieve moderate sound reproduction. It will do for a very small room, but it won't work if you gather with a big gang to watch a movie. Luckily, you can connect speakers via an audio port or Bluetooth.
The great news is that the LG PH30N projector supports Miracast streaming. But it definitely lacks internal apps that let you watch content from your fave services without much effort.
Picture quality
As PH30N is an HD 1280 x 720 projector, it can recreate a fairly large image before you start seeing pixels. The image quality is fine, though do not expect to experience something extraordinary with this device.
I was pleased to reveal no rainbow artifacts with this projector. Though, color accuracy surprised me. It changed from one scene to another without any logical pattern that might explain the unusual behavior.
Installation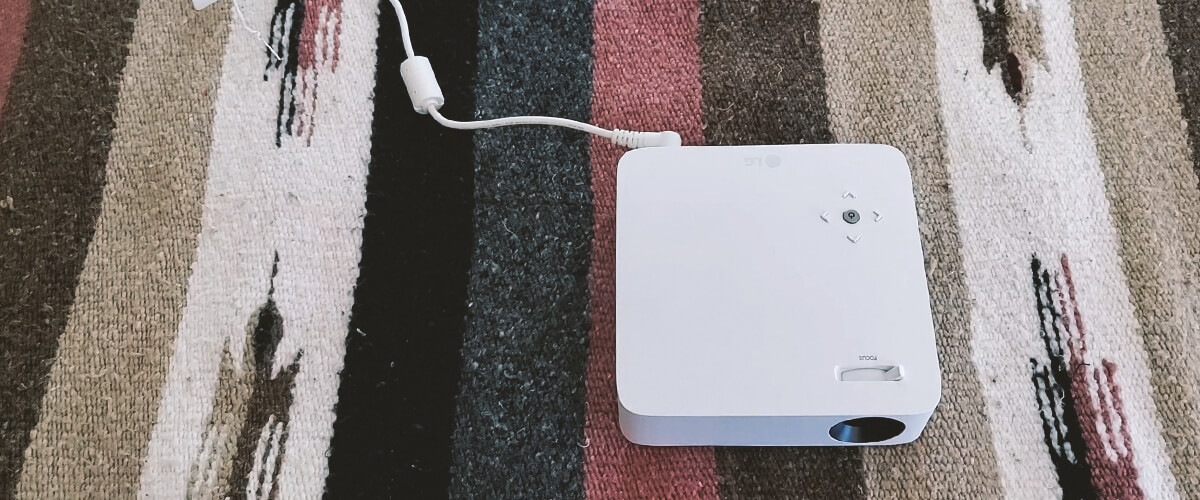 At the throw distance of 4.6 feet, I got an image of 40 inches, just what the PH30N specifications say. To get a 100-inch image, the projector should be at least 10.8 feet away from the screen.
As you set up the projector, you should get ready that it will take more than plugging it in and focusing the image. There is neither zoom nor lens shift in LG PH30N. So, to adjust the image size, you've got to move the projector. The auto and manual +/- 40-degree vertical keystone correction will help you tilt the image. After all, you can make use of the tripod hole for a tripod or camera ceiling mount to place the projector in the winning position.
Key specs
Display technology: DLP.
Resolution, px: 1280x720.
Brightness, lumens: 4100.
Contrast: 100000:1.
Throw distance, ft: 4.6-10.8.
Image size, inch.: 25-100.
Wi-Fi: yes.
Built-in speaker: yes.
As compact as it is, the LG PH30N projector delivers good image quality and functionality. Moreover, with pre-set modes and the ability to adjust the image according to your preferences, you can get the desired experience from this projector for an affordable price.
Projectors under $500 buying guide
Resolution
While 4K resolution is always preferred, you may have difficulty finding a 4K projector under 500 dollars. But it's possible to buy a full HD device with 1080p within this price range. The lower resolution will give an image a washed-out or grainy feel, which may spoil the whole fun.
Though this is relevant for cases when you pick a projector for home use and will watch plenty of video content like movies, TV shows, etc. You can settle on projectors that support 720p resolution for the office or classroom setting.
Brightness
The brightness is a critical feature of a projector. It defines what level of image sharpness you will get in different light settings. In addition, brightness is also in charge of whether a larger image will be as bright as a smaller one. This parameter is measured in lumens.
Projectors that deliver 2,500 – 3,700 lumens are great because they withstand ambient light. So, you will be able to use it even in light rooms without spoiling the image quality. They will also deliver the right amount of light if you need to project a large image. That's just what you need for an office, classroom, or living room (if you habitually use a projector in daylight).
Devices with lower lumens levels will require you to close the windows or turn the light off to get a crisp image. Most of the models in my review are just like that.
Screen size
Look for a projector that can throw an image of at least 100 inches. This is the optimal screen size for watching a movie, playing a game, or streaming the visuals. Many home projectors will let you upsize the image to more than 300 inches. But keep in mind that the bigger image will decrease the quality.
Ports and connectivity
Make sure the projector has at least one HDMI port. That's the easiest way to connect audio and video sources like a laptop or a streaming stick. It should also have USB ports if you plan to use your phone as a streaming source. The availability of Bluetooth and Wi-Fi will allow for wireless connectivity, which will significantly simplify content streaming.
Portability
Within the $500 price range, you will find home projectors you can install in your living room or other areas without moving them around much. Or you can consider a compact model that will give you the advantage of portability.
FAQ
Can you get a good projector under 500?
Good – yes; excellent or modern with many innovations – no. There are a lot of projectors that will deliver a full-HD watching experience to you without breaking the bank. Sure, it will hardly be a low-latency gaming projector, but it is acceptable for work or watching movies.
Is it cheaper to buy a projector or a TV?
Considering different variables, buying a projector rather than a TV is much cheaper. But a projector may require
frequent lamp replacements
if you use it too often for regular TV shows or news watching. So look for the "golden mean."
Is it worth getting a cheap projector?
It all depends on your capabilities and goals. If you are limited in money, you should wait, raise the necessary amount of money, and buy a mid-range projector because the budget models may not satisfy you in terms of image quality or cause problems during operation.
But if you decide to choose the budget option, it is worth it to study the market carefully, read reviews and try to buy the most optimal model for you.
You may also check other decent projectors:
Best projector under $300
Best projector under $400
Best projector under $600
Best projector under $1000