When you have KODAK LUMA 150, streaming multimedia content wherever you go becomes nothing short of ordinary. So, whether you are an avid traveler enjoying watching movies on a big screen or a business person looking for flexibility in sharing presentations, the KODAK Luma 150 may fall within your interest. It is a palm-sized projector that meets a diverse range of needs by letting you get a big-screen experience in the middle of nowhere. But will it cover yours? Dive into my KODAK Luma 150 review to find the clues to your dilemma.
Design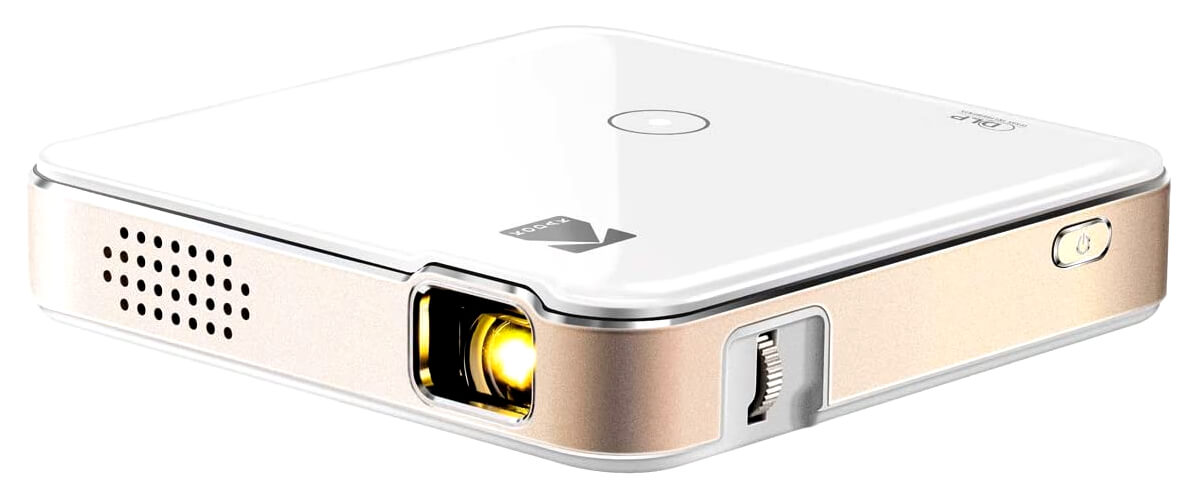 The Luma 150 by KODAK is remarkably small (3.1 x 3.1 x 0.87 inches) and lightweight (1 lb), so it won't bother you carrying it in your backpack or pouch at all.
The interior of the Luma 150 is appealing and sleek. A white frame with gold trim gives this projector an elegant feel. The casing is made of plastic, which doesn't feel too sturdy. The top of the device has touch controls, while the sides feature the power button, focus wheel, MicroSD slot, and a speaker. At the bottom, you will find a connector to attach the projector to the tripod. HDMI, USB, and DC presence will become a nice bonus. You will also find a 3.5mm audio output.
Features and specs
KODAK Luma 150 pocket projector is a DLP-based LED projector. The 854 x 480 native resolution and 1000:1 contrast ratio are more than understandable in this device. Though it can reproduce 1080p and even 4K videos – downgrading them, of course.
The projector's lamp outputs 60 ANSI lumens, which is around 420 lumens. Is it enough to project a large image or deliver a crisp one in a lit room? Nope, but take the tiny Luma 150's size into consideration. Brightness and image quality are the things you have to sacrifice in favor of portability.
Luma 150 has a built-in speaker, which is not louder than a phone speaker. Would you like to make it louder? Then use the 3.5 mm output or connect to speakers wirelessly.
Like many portable projectors, this one has a battery. It is capable of operating for 2.5 hours on a full charge – pretty enough for a single movie or a quick meeting. The power cord is too short, so it may be pretty hard to find a proper spot for this little one when the battery is dead.
To stream content, you can wirelessly connect via Miracast or Airplay (which doesn't work for Hulu and Netflix). The projector also plays multimedia content, images, presentations, and other files from a microSD memory card or USB flash drive.
Picture quality
Considering the Luma 150 specifications, it would be fair not to take hopes too high about this projector. The image quality is fine, but nothing more. The colors are replicated well, and the contrast is decent, but only for the 36-inch image. When the image goes larger, it starts looking faded.
The same goes for the room with ambient light. A 24-inch image looks reasonably bright. However, you will notice that it gets washed out if you increase its size.
I traced no signs of the rainbow artifacts, which frequently plague DLP projectors. Which I believe is great!
Installation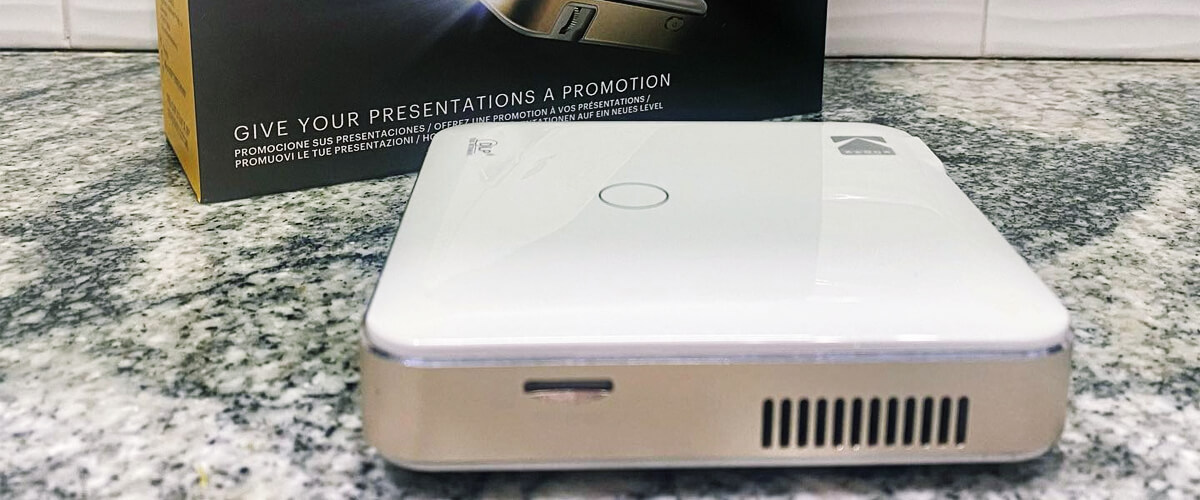 The maximum image you can obtain with the Luma 150 is 150 inches. Though it may be hard to throw a full-sized image without affecting its quality and brightness. The larger the image gets, the more lumens it requires. And with this model, you may have issues at this point. So I would recommend sticking between 24 and 36 inches, depending on the room's level of light, to get an image of reasonable quality.
The vertical keystone correction is missing in this model. There is a manual focus, but a wheel is not convenient enough to let you achieve a good focus.
As I placed Luma 150 on the table, relying solely on the device's feet, I projected a complete image without parts of the image being cut off. But if you want to raise the device over the obstructions, there is a threaded hole for a tripod.
Key specs
Display technology: DLP.
Resolution, px: 854×480.
Brightness, ANSI lumens: 60.
Contrast: 1000:1.
Throw distance, ft: 0.6-12.5.
Image size, inch.: 10-150.
Wi-Fi: yes.
Built-in speakers: yes.