Projectors offer a great way of elevating home entertainment. After all, how else can you maximize the experience of playing your favorite games or watching fascinating movies without leaving your home? The best projectors under $1000 are devices that deliver great value without costing a fortune. Most models within this price range support HD resolution and are packed with features that let you effortlessly set up the image, stream the desired content, and more. In this review, I have gathered projectors within the price range of $1000 that proved to perform smoothly, delivering amazing image quality.
Our pick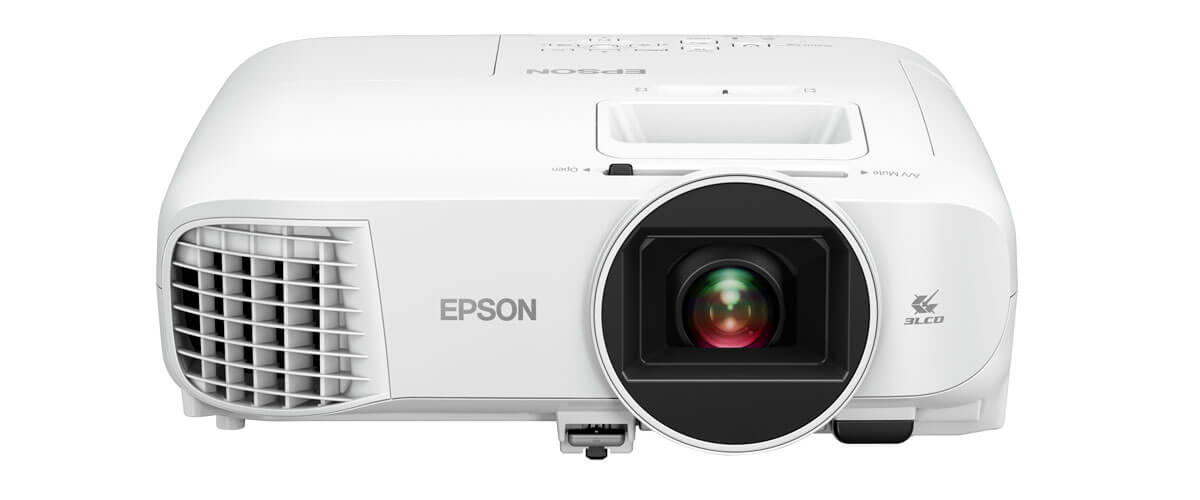 Epson Home Cinema 2200
Best projector under $1000
The perfect choice for streaming TV shows, sporting events, movies and more, this dynamic projector produces crisp images for an astounding Full HD picture.
Read the full review
.
Projector under $1000 comparison table
Name
Display technology
Resolution, px
Brightness, lumens
Contrast
Review
Epson Home Cinema 2200

best overall

3LCD
1920×1080
2700
35000:1
Review
Optoma HD28HDR

also a great choice

DLP
1920×1080
3600
50000:1
Review
Epson EX5280
3LCD
1024×768
3800
16000:1
Review
Best projector under $1000 reviews
There were times when home theater systems with projectors were luxury items. But as Epson Home Cinema 2200 and similar projectors entered the market, more and more people finally got opportunities to bring big-screen entertainment to their place. With Full HD resolution, rich color reproduction, a bright lamp, and integration with popular at services, the Cinema 2200 projector gives all you need for an exceptional viewing at at home. But I do not trust the big ananof manufacturing companies, so I've tested this projector to verify whether it lives up to expectations. You are welcome to get at in-depth look at my findings in this Epson Home Cinema 2200 review. I will pinpoint its strong and weak, all from firsthand experience.
Design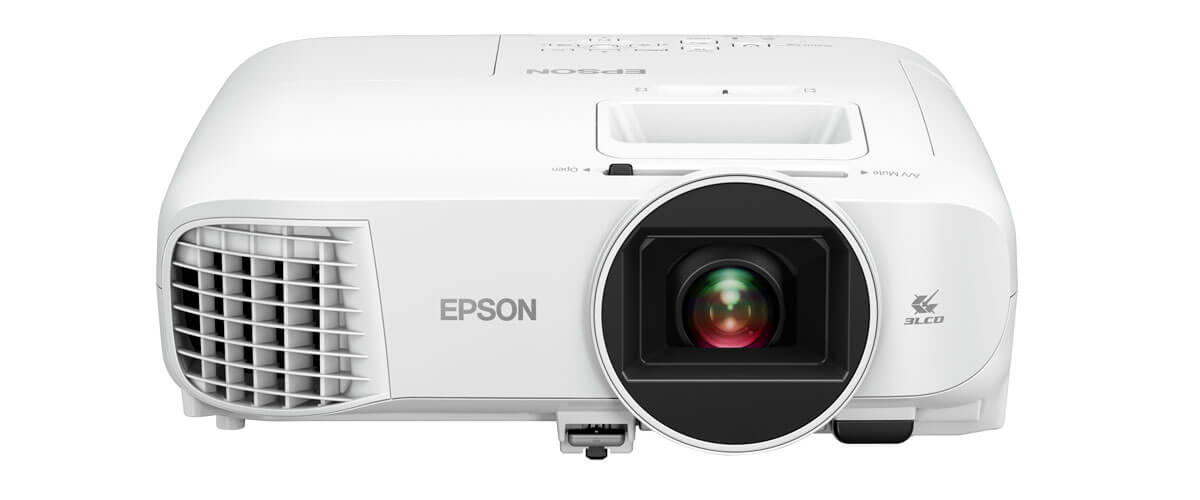 At 7.9 pounds and 4.8 x 12.2 x 12.4 inches, Home Cinema 2200 by Epson is a pretty compact home projector. It easily fits into my IKEA cube, and some space is left for ventilation.
There is nothing extraordinary about the design of this projector. Its external parts are made of plastic, which is sturdy enough to withstand slight bumps. The control panel, ​​keystone slider, zoom slider, and other controls are at the top. If either of your remote controls is dead (by the way, there are two remote controls) and the projector is mounted to the ceiling, you may have a hard time getting to those sliders or buttons.
The connectivity capabilities of Epson Home Cinema 2200 are sufficient to meet the needs of most users. There is one HDMI port, audio out: 3.5 mm stereo port, and micro USB-B. You can also connect to the projector wirelessly via Bluetooth and Wi-Fi.
Features and specs
With the Epson 3LCD, 3-chip technology, the Home Cinema 2200 reproduces images with a native 1080p (1920 x 1080) resolution in the 16:9 aspect ratio. Epson's 3LCD technology also contributes to a rainbow-free image display and good color accuracy for every frame. You can choose one of the color modes for a better experience: Dynamic, Bright Cinema, Cinema, and Game. With a contrast ratio of up to 35,000:1, you can expect rich detail in dark scenes.
This projector has a 200W UHE lamp, which ensures up to 4,500 hours in normal mode and 7,500 hours in eco mode, according to Home Cinema 2200 specifications. It has a rated brightness of 2,700 lumens. Out of the box, this device will run in a bright mode, which overdrives the ventilation. It's relatively noisy even in cinema mode - I heard a whizzing sound during some scenes, but that's a common issue for many projectors. That noise only bothers at lower volumes, so it is not a big deal.
The Home Cinema 2200 has a built-in 10W speaker of average quality, which is a frequent option for home projectors. I prefer empowering this device with my own speaker by connecting it via an audio port, not Bluetooth. I am not completely satisfied with how it pairs with my Bluetooth-enabled speakers. There are minor latency issues, which occur from time to time.
The biggest trouble I had with this device was regarding the streaming services and Android TV. Netflix lags almost always. The Hulu app also didn't work correctly - the number of lags is noticeable enough to play on your nerves. The only way to fix the issue is to cast Hulu from the phone. The App Store has a poor selection, and many apps malfunction. I have no complaints about the Chromecast function, though.
Picture quality
The quality of the picture is definitely the strong side of Epson Home Cinema 2200. This one won't disappoint you compared to other projectors with similar lumens that may be easily drowned out by light. The image is easily viewable in a sunlit room with a horizontal viewing size of at least 10 feet. Even with the brightness reduced to 40%, the picture is sharp. This definitely has more to do with the contrast ratio. The blacks are also super dark, and bright colors are vivid.
This Epson projector model supports Full HD, and I was pleasantly surprised when all movements were clear and smooth, even during dynamic action scenes (while watching movies).
Installation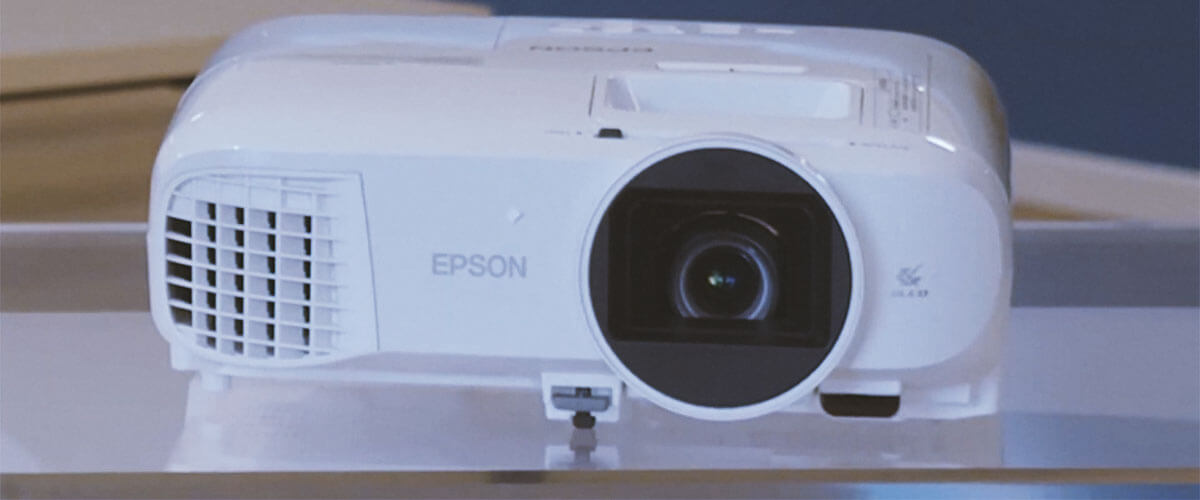 The screen size can range from 30 – 300 inches, depending on your needs and preferences. The throw rate is optimal - 1.22 (zoom: wide) and 1.47 (zoom: tele), allowing you to place the projector at an optimal distance. The Epson Home Cinema 2200 features horizontal (manual) and vertical (auto) keystone correction, 1.2x manual zoom, and manual focus. While I would prefer a little bit more automation and a vertical lens shift, this projector is still good to let you enjoy Full HD videos on a big screen.
Key specs
Display technology: 3LCD.
Resolution, px: 1920x1080.
Brightness, lumens: 2700.
Contrast: 35000:1.
Throw distance, ft: 3-50.
Image size, inch.: 30-300.
Wi-Fi: yes.
Built-in speakers: yes.
If you agree only on the best projector under $1000, Epson Home Cinema 2200 is the device you need to choose. It's really good and versatile. And you are guaranteed a clear image at all times, even in low ambient light conditions.
Optoma HD28HDR – also a great choice
If you are wild about watching sports games on a big screen or would like to bring your gaming experience to a whole new level, I have found something special for you. With the Optoma HD28HDR projector, you will feel the action and experience every moment of sports shows or games on a big screen. So, make yourself comfortable to ponder upon my Optoma HD28HDR review. I tested this model thoroughly and am ready to share my impressions about it with you.
Design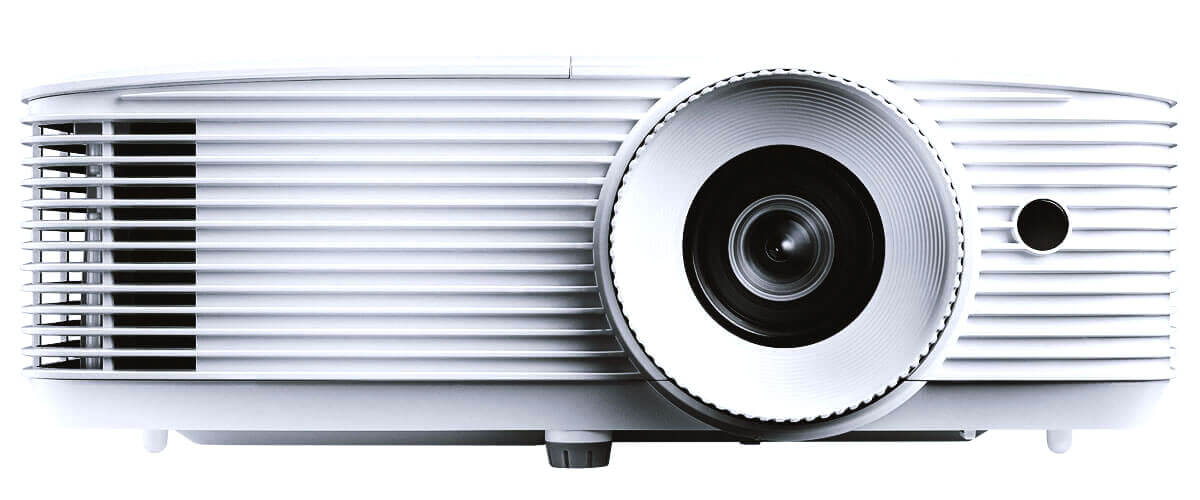 Out of the box, the Optoma HD28HDR projector feels well-made. It weighs 5.52 lbs, which is an average weight for a home projector. It is also 12.44 x 9.61 x 4.25 inches (W x D x H), making it easy to keep on a wall shelf, cube shelf, or other storage units.
It is made of white plastic that feels sturdy in the hands. The front panel is striped, which may make cleaning more demanding. In addition, dust may clog between the stripes if you neglect frequent cleaning.
There are two HDMI inputs (HDMI 2.0 and HDMI 1.4a) to cover you for any standard HD sources. You will also find a USB-A port along with the 3.5 mm audio output. The Optoma HD28HDR projector can hardly boast a variety of connectivity options, but it will definitely satisfy the needs of people who start getting familiar with this device.
Features and specs
This projector is built around a 1920-by-1080-pixel DLP chip capable of delivering sharp and detailed images from full HD content on a screen from 28 to 301 inches in diagonal. It also supports 1080p 120Hz for low input latency of 8.4 ms, making it suitable for games that require a rapid reaction. Furthermore, for a better gaming experience, you can switch the corresponding mode that will optimize the projector for vivid colors and immediate response time.
Another good point of Optoma HD28HDR is that it can display true 3D content from nearly any 3D source, including 3D Blu-ray players, 3D broadcasting, or game consoles. The trick is that the official website does not offer compatible 3D glasses, and you've got to purchase them separately elsewhere.
This projector has a single 3-watt speaker. It has a sound quality similar to the one in a laptop speaker. I would say it is fine for watching TV, but I lack bass power and mid-range clarity for an immersive theater-like experience.
According to HD28HDR specifications, the projector's lamp delivers a brightness of 3,600 lumens and a contrast ratio of 50,000:1. I measured around 1,500 lumens. For a projector of this price, that's a solid result. The lamp lifespan depends on the modes you use most. You can expect up to 4000 hours in Bright, 15000 hours in Dynamic, and 10000 hours in Eco modes.
There are no in-built wireless connectivity options in this projector. However, you can purchase the wireless system separately to stream Full 1080p and 3D content from a receiver, games console, set-top box, and other devices.
Picture quality
The Optoma HD28HDR can accept and display 4K sources, but this is not a true 4K projector. It will downgrade it to full HD resolution. What annoys me about this feature is that the projector is slow at switching the signal from 4K to HDR. It may take around 20 seconds, 50% of the time.
The projected picture of HD28HDR is good - the colors are bright and accurate. However, I noticed that green colors are fairly muted.
My observation is that the Cinema mode is more appropriate for movies, not HDR. It delivers appropriate color accuracy and enough black levels to make the image clear, even in ambient light.
Installation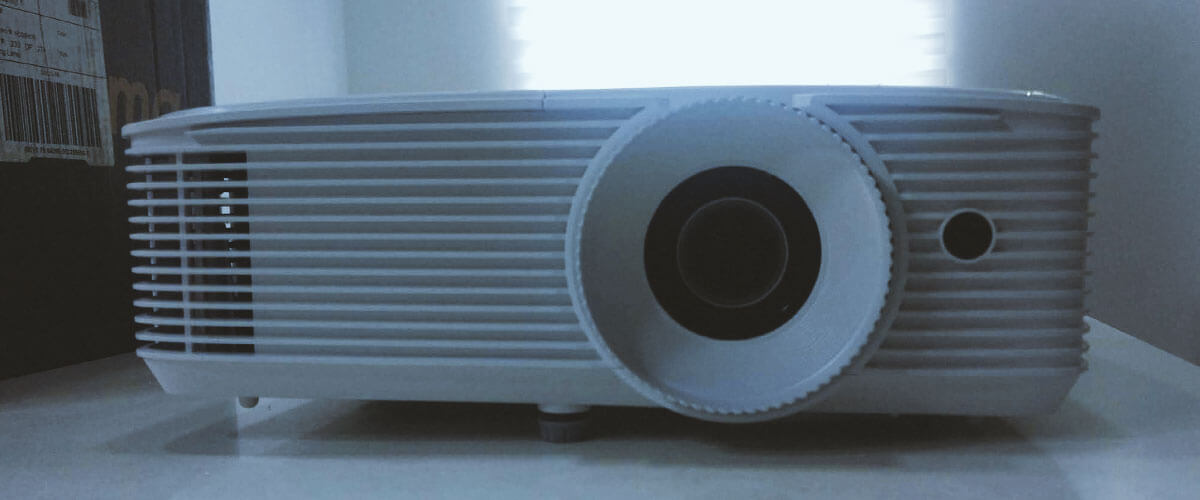 With a throw ratio of 1.47:1 - 1.62:1, the optimal projection distance in this projector is 39.37 - 385.83 inches. Based on the list of Optoma HD28HDR features, you can achieve an image of 28 to 301 inches in diagonal with this device.
As it is common for projectors in this price range, there is a vertical keystone correction. You won't find a lens shift in this model. Also, Optoma's manual zoom range is very limited. These things mean that HD28HDR has very limited placement options and may require more time for you to find the right spot in the room for this projector.
Key specs
Display technology: DLP.
Resolution, px: 1920x1080.
Brightness, lumens: 3600.
Contrast: 50000:1.
Throw distance, ft: 3.2-32.5.
Image size, inch.: 28-301.
Wi-Fi: no.
Built-in speakers: yes.
When you have no compromises and want to watch video content in full HD quality, the Optoma HD28HDR home projector is your device to go. It offers all you need to spend a pleasant evening watching a sports game or movie on a big screen.
Epson Home Cinema 760HD
Do you cast around for a family projector that will add more bright colors to your pastime? Look no more. I caught sight of the Epson Home Cinema 760HD, a portable projector for widescreen entertainment in your living room or the backyard of your house. Once you make it to the end of my Epson Home Cinema 760HD review, you will clearly know whether you want to have this device in your home.
Design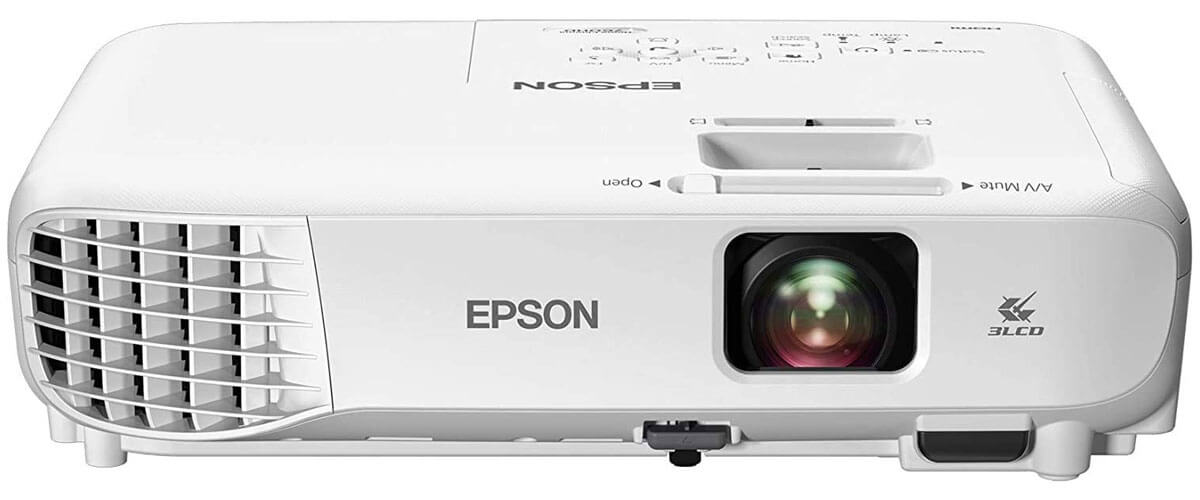 Epson positions this projector as a portable unit for family entertainment. It is neither super lightweight as compact projectors nor too heavy. It's only 5.5 lbs, which is an optimal weight for an average projector. What makes it portable is the size - it is 11.9 x 9.2 x 3 inches.
The device has an entire plastic casing, which feels sturdy, though. I noticed no panel gaps that may result in squeaks. But I doubt it will live through accidental dropping on the floor. So I hope you don't plan to do it very often.
Epson Home Cinema 760HD has one HDMI port. There are also VGA and RCA connectivity options. For added convenience, you can use USB ports (both type A and type B). The connectivity capabilities may seem limited at first sight. But for the money you pay, that's a good projector that will bring more entertainment opportunities for your loved ones.
Features and specs
The Epson Home Cinema 760HD is run by the 3LCD, 3-chip technology. The native 720p (1280 x 800) resolution allows you to enjoy HD-quality content on a bigger screen. Of course, this one won't win the game if you compare it with high-end projectors. But if you aim to set up a home theater for casual usage, you will feel more than satisfied.
As we move to the brightness of this projector, the Home Cinema 760HD specifications claim it has whopping 3300 lumens of color and white brightness, all thanks to the 210 W UHE lamp. In Eco Mode, this lamp will last for around 10,000 hours, by the way.
Home Cinema 760HD reproduces up to 1.07 billion colors for the crisp display of any image. The contrast ratio of 15,000:1 ensures the optimal amount of blacks. Even when my room is lit, the projected image still looks like a television.
The built-in 2W speaker delivers a mediocre performance. The lack of a 3.5 mm audio output disappointed me, as it cut off the option of connecting my speakers to the projector directly for a better audio experience. So if the sound is fundamentally important, you will have to look for options to solve this problem.
It is a rather basic projector for home use, so there are no wireless connectivity options. You've got to purchase a wireless LAN module to be able to transmit the signal wirelessly. In the same way, you can stream content from Chromecast, Roku, Apple TV, and Amazon Fire TV once you are connected to the shared network through your phone or laptop.
Picture quality
The picture quality of Epson Home Cinema 760HD pleasantly surprised me. I was thrilled to see a clear image in daylight and when the lights were on. As the lights are off, things are even better. I want to say that the 3LCD technology is a game changer in this Epson projector. Owing to it, the device outperforms DLP projectors with amazing action scenes without a rainbow effect.
The Epson Home Cinema 760HD is set to Bright Cinema mode out of the box. It is definitely bright, and the colors are vivid, but you can play with other modes to find the optimal setting.
Installation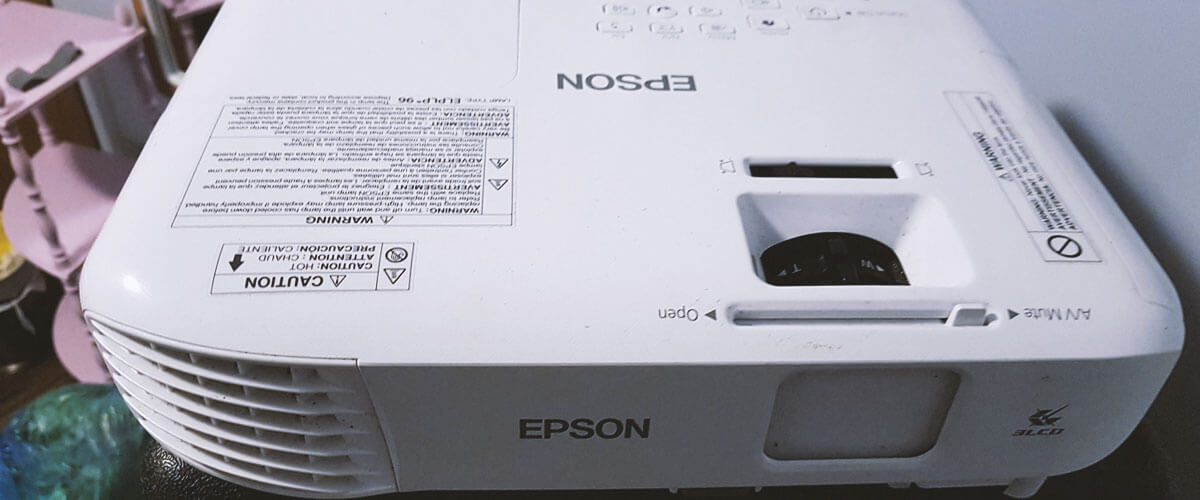 With this widescreen projector, you can display the image up to 300 inches. However, as the throw ratio ranges from 1.30 to 1.56, it is advisable to keep Home Cinema 760HD 33 – 320 inches away from the wall or other surfaces that serve as a screen.
Both vertical and keystone correction (±30 degrees) are available in this model. A 1.0 – 1.2 zoom with manual focus is one of the Epson Home Cinema 760HD features that may require you to play with the settings to get a perfectly sized and centered image on a big screen.
Key specs
Display technology: 3LCD.
Resolution, px: 1280x800.
Brightness, lumens: 3300.
Contrast: 15000:1.
Throw distance, ft: 2.7-26.6.
Image size, inch.: 33-320.
Wi-Fi: no.
Built-in speakers: yes.
For a compact home theater projector under 1000 dollars, the Epson Home Cinema 760HD is a worthy purchase. It is super bright, so it won't spoil your watching experience even when the lights are on. If portability is more important than the ability to watch 4K ultraHD videos, this projector perfectly matches you.
Optoma HD146X
Suppose you browse the projector market to spot the item that will enhance your cinema-watching and gaming experience without paying all the money in the world. In that case, the Optoma HD146X should be a highly satisfying option for you. Its marked specs, bright light output, and cinema- and games-optimized modes will help you stay fully engaged in the movie or game. So, I have put out this Optoma HD146X review to show you why I believe this is one of the greatest value-for-money projectors on the market.
Design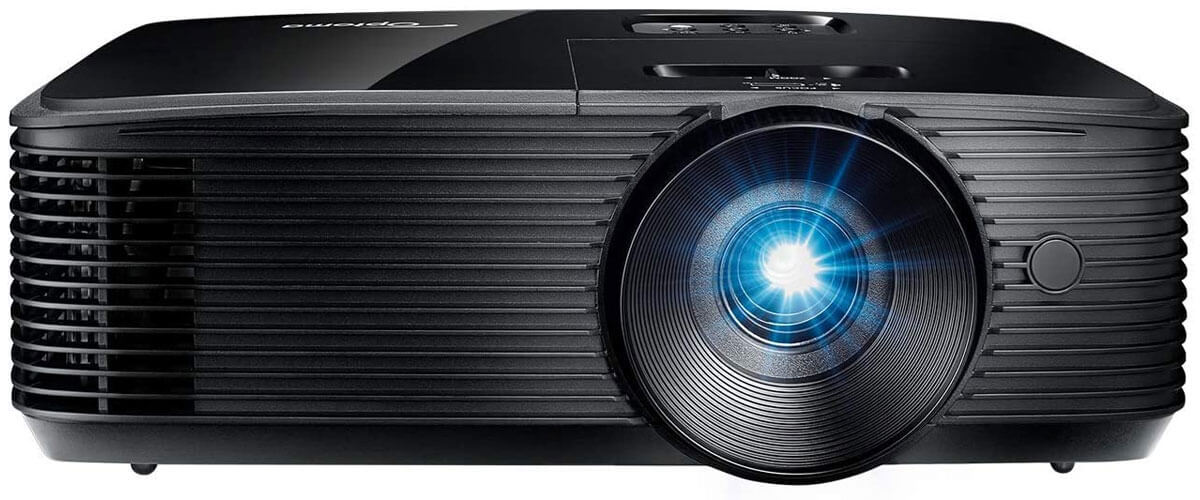 Have you been looking for an off-white colored projector? Then the fact that Optoma HD146X has a completely blacked-out body will sound like a friendly welcome for you. Also, it has a generic design that keeps the price reasonable yet maintains some amazing Optoma HD146X features.
The projector's casing is thoroughly plastic. It looks robust at first sight. Optoma HD146X is 6.17 lbs and has a dimension of 12.44 x 9.61 x 4.25 inches, so it is light, and you can carry it between the rooms without any issues.
When it comes to connectivity, things are straightforward here. Optoma HD146X has only one HDMI 1.4a input with 3D support, which may limit how many devices you can hook. Also, there is an audio 3.5mm and USB-A output for connecting speakers or a laptop.
Features and specs
Optoma HD146X uses DLP display technology, which allows it to deliver good image quality and reproduce bright colors. It supports 1080p Full HD (1920x1080) content and projects it on the screen with a diagonal of 28 - 301 inches. If you are curious whether this is a 4K projector, my answer will be no. But! It can still reproduce 4K videos, though it will downgrade them. Optoma HD146X also has full 3D support, enabling you to turn your living room into a 3D cinema screen. Make sure you get glasses for that, as they are not included in the box.
With 3,600 lumens of brightness and a 25,000:1 contrast ratio, you get an image with vibrant colors and great performance even in ambient light. In the brightest mode, the color accuracy is spectacular. But I guess it is better reserved for classroom work or presentations. In movie and game modes, there is a balance between accuracy and brightness. All thanks to the 240W lamp, which, by the way, promises to last 10,000 hours in Eco mode and 4,000 in Bright mode.
It would be fair not to expect mind-blowing performance from in-built 5W speakers. They are fine unless you are not demanding what sound comes out from the projector. I prefer connecting the projector to a surround sound system, but here is where the connectivity issues show up. There is only one HDMI port, and there is no way to use wireless speakers by default (unless you buy a special wireless system).
The gaming HD146X specifications should find their place in this review as well. The 16.4 ms response time is fine for fast-paced games that rely on rapid reaction. The lag is pretty satisfying for most gamers. Also, the Game Display mode does a great job of improving visibility. It enhances shadows and dark scenes for utmost playability.
Picture quality
The full HD resolution makes video content crisp and clear on the screen. The image is bright even when the light is on and does not blur at all. Moreover, the projector delivers superb image quality in low-light environments, even in ECO mode.
So, while the brightness is good, and the image is razor-sharp, I have witnessed one issue with HD146X. There is a flickering band across the screen. It lasts only for a second but sometimes may occur several times in quick succession.
Installation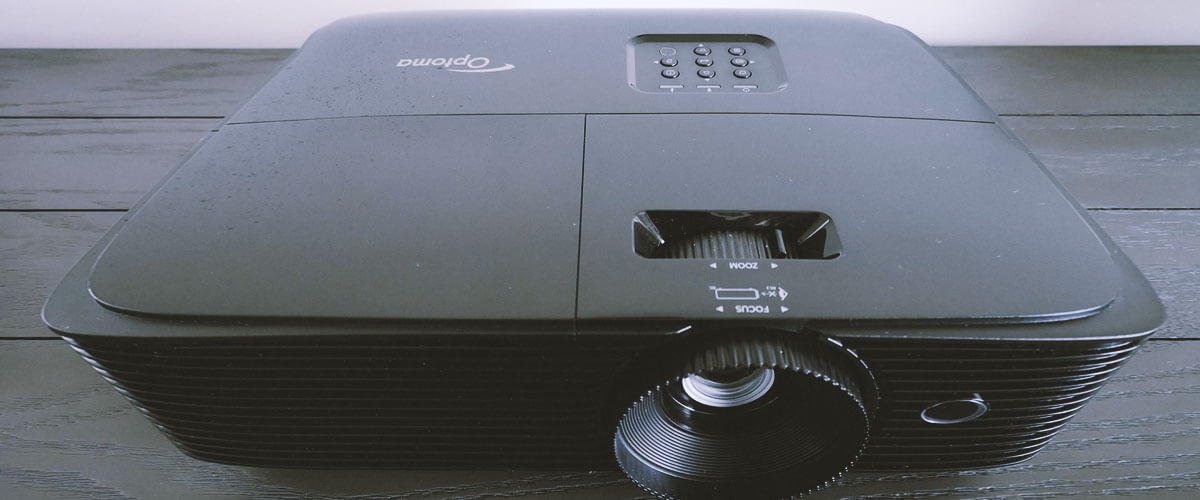 This Optoma projector has a throw ratio of 1.47:1 - 1.62:1, and it works great for a projection distance of around 39.37 - 385.83 inches for a screen image of around 28 - 301 inches.
The vertical adjustment of the keystone and a manual 1.1 zoom may impose some limitations on where to place the projector. Also, if the projector and the screen are not secured, you will have to re-focus and adjust the screen every day. Even a slight movement of the screen or projector can throw off the focus.
Key specs
Display technology: DLP.
Resolution, px: 1920x1080.
Brightness, lumens: 3600.
Contrast: 25000:1.
Throw distance, ft: 3.2-29.5.
Image size, inch.: 28-301.
Wi-Fi: no.
Built-in speaker: yes.
With the support of 3D and full HD, Optoma HD146X proudly takes its place in my best projector under $1000 list. Apart from helping you see every little detail as you watch movies, this device will significantly optimize your gaming experience.
Epson EX5280
Whether you are looking for a projector for your classroom or office, you will find my Epson EX5280 review informative and helpful. I would nominate this sort of projector as one of the greatest devices for displaying large-group presentations, images, spreadsheets, or videos, even in a well-lit room. With crisp text and images, you will deliver the message to the audience clearly and capture their attention.
Design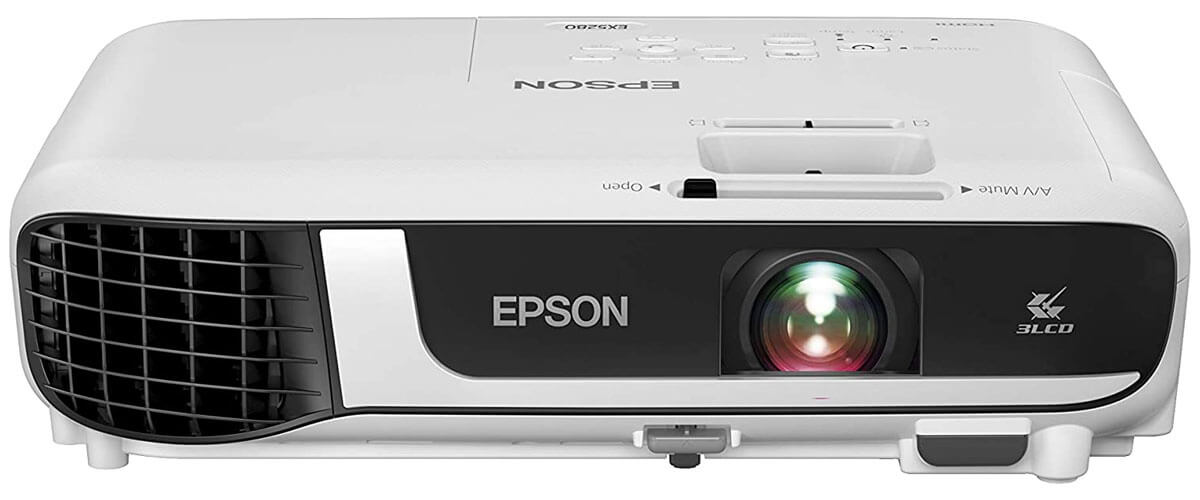 Epson EX5280 is compact. With a weight of 5.5 lbs and dimensions of 11.9 x 9.3 x 3.2 inches, it can easily be mounted to the ceiling. So it won't be an issue to carry it around from one office or classroom to another.
The connectivity options of this model are set up for the minimum. This device has one VGA, HDMI, and a USB-B port. The former supports Plug and Play compatibility for Macs and laptops. There is also a composite video input with left and right audio inputs, as well as a USB-A port. You can also use wireless connectivity, but it is a bit harder to figure out. So, what I see here is that even if you rely on older video sources, you can hook up the devices to project content on a bigger screen.
Features and specs
The star of the Epson EX5280 projector is the UHE 210W lamp. With a brightness of 3600 lumens in the Normal mode and 2200 lumens in the ECO mode, all the wording is clearly seen on the screen. This projector also boasts a 15000:1 contrast ratio with Dynamic color mode, zoom wide, and Normal power consumption mode. The lamp will last for around 12,000 hours in ECO mode. But if you mainly use the projector in Normal mode, the lamp's lifespan will be halved.
Using an advanced true 3-Chip, 3LCD technology, this projector replicates 1024 × 768 pixels (XGA) content in the 4:3 aspect ratio. It also accepts 4K content, but mind that it will be downgraded. So, do not expect spectacular movie scene reproduction with this device. After all, it was not built to serve that purpose. Instead, it will work perfectly in offices and video conference rooms.
According to EX5280 specifications, this projector has a built-in 2W monaural sound system. It's okay for a small boardroom, but it may be insufficient for larger premises. In addition, there is no way to connect an external speaker to the projector. There is no 3.5 mm output anywhere, and the RCA connectors are for input only. So, for better sound quality, I recommend connecting an external sound system to the audio source rather than the projector.
If you still need to stream video content to a wider screen, you can connect to Fire TV, Apple TV, Roku, and Chromecast, through the HDMI port.
Picture quality
The Epson EX5280 projector lives up to its claim to produce a bright image even when it is close to the screen in a well-lit room. Colors and brightness during the dark are even more vivid.
Epson EX5280 features five color modes to play with, and each will work better for different situations. For example, the Presentation mode is my preferred choice for presentations due to color accuracy, brightness, and color saturation. I will go with Cinema and sRGB for graphics or photorealistic images. By the way, sRGB delivers great shadow detail, making it my go-to choice for videos and films.
Installation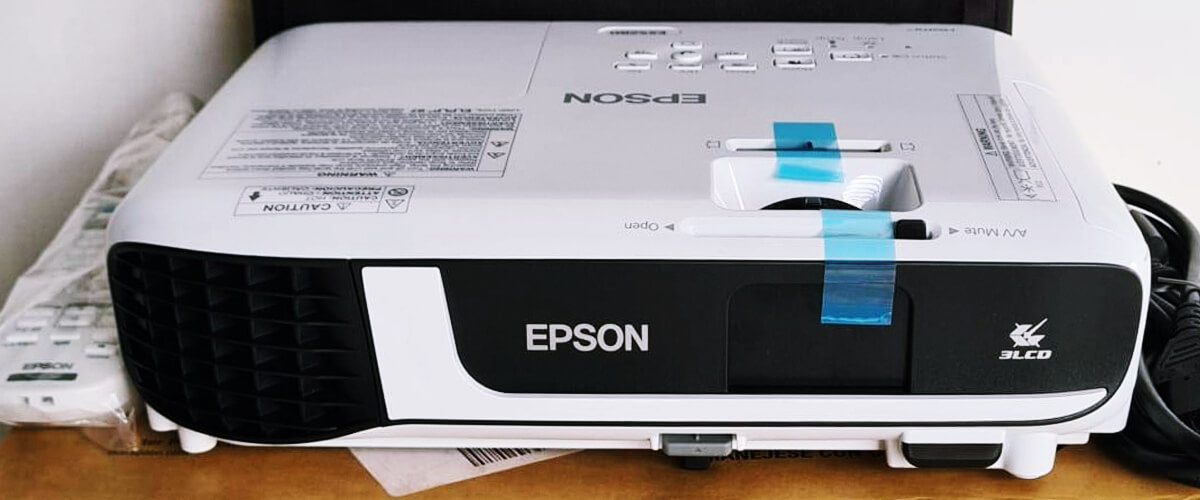 With the throw ratio of 1.48:1 - 1.77:1 and a projection distance of 35 inches to 431 inches, you can get an image from 30 inches to 300 inches using Epson EX5280.
Mostly, the setup for Epson EX5280 is easy. You just set the projector in place, point it at the screen, hook all the devices, and adjust the 1.2x zoom if needed. The auto vertical and manual horizontal ± 30º keystone correction is convenient for projecting onto a freestanding screen. The hard part of this is focusing. No matter how hard I tried, the bottom edges of the image were a little softer than the rest.
Key specs
Display technology: 3LCD.
Resolution, px: 1024x768.
Brightness, lumens: 3800.
Contrast: 15000:1.
Throw distance, ft: 3.5-42.5.
Image size, inch.: 30-300.
Wi-Fi: yes.
Built-in speaker: yes.
It's easy to be in the spotlight with the Epson EX5280. This unit will work as a great classroom or office projector, helping you visualize your speech. It delivers a crisp image, so the text is well-read even in daylight. Great helper for conferences, seminars, and other events where information visualization is important.
Buying guide for projectors under $1000
Projector for home theater or for business?
A projector that runs smoothly at home will have different characteristics than one that you may want to use for business purposes. For example, a business projector must be bright enough to provide high-quality images in bright rooms. However, it may not support ultra-HD content. But a home projector should please you with high video resolution, wireless connectivity, and other useful modern features.
Throw distance
Before you buy a projector, it is important to check the throw distance as one of the first parameters. It will define at what distance you should place the projector to achieve a bigger image on the screen. It is better to consider short-throw or ultra-short-throw projectors if you have a small room. If you go with a long-throw device, there should be at least 6 feet between the screen and the projector's lens to transmit the smallest image.
Display technology
Two basic display technologies are used in projectors under $1000: DLP and LCD. DLP (Digital Light Processing) has been on the market for a while and won the reputation of a more reliable technology that contributes to the lightness and portability of projectors. On the other hand, LCD (Liquid Crystal Display) projectors are known for better video quality without a rainbow effect.
Display resolution
Many devices from this price category are 4K projectors, displaying the image in full 1080p, while more affordable units will only support 720p. The difference between these resolutions can be dramatic as you watch streaming movies and shows.
You may also check other decent projectors:
Best projector under $300
Best projector under $400
Best projector under $500
Best projector under $600