Whether you're engrossed in a cinematic experience at home, conducting a business presentation, or simply sharing a photo slideshow with friends, you've likely used a projector. The question "How do projectors work?" might have crossed your mind as you marvel at how these devices turn tiny images into wall-sized visuals. Believe me, you are not alone.
Projectors have come a long way since their inception, combining various elements of optics, electronics, and even computer science. In this article, I will share with you the workings of projectors, demystifying the technology that makes large-scale image display possible.
Types of projectors and projection technologies in detail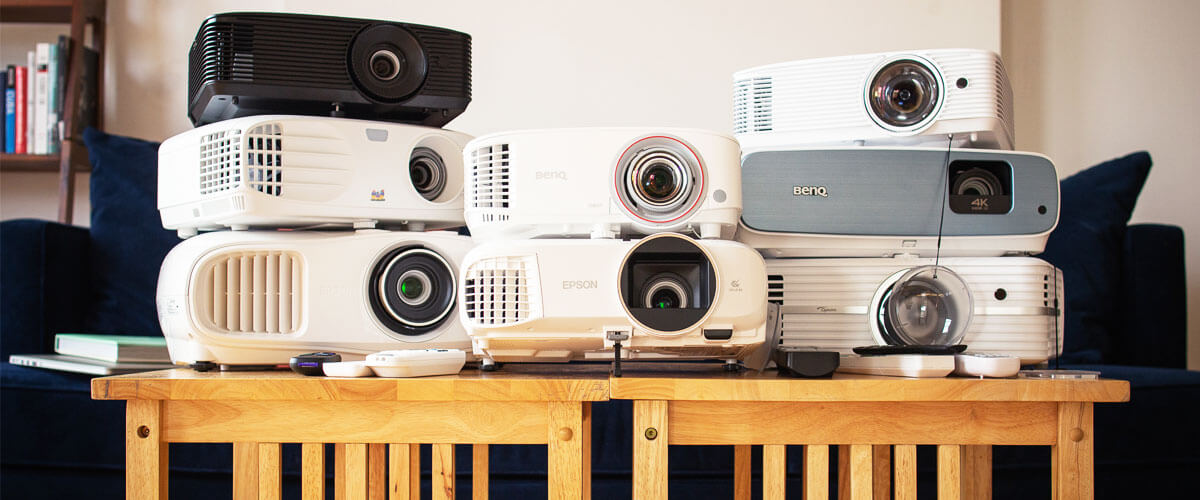 Before diving into the intricate mechanism of how a projector works, it's important to understand that not all projectors are created equal. Various types and technologies come into play, each with its own set of advantages and limitations. From the traditional cathode ray tube (CRT) systems to modern digital light processing (DLP) and liquid crystal display (LCD) projectors, the landscape is diverse. But first things first.
CRT (Cathode Ray Tube) projectors
Basic principle:
CRT projectors work on the foundational technology of cathode ray tubes, where three separate tubes are utilized for the primary colors: red, green, and blue. These tubes shoot electron beams onto a phosphorescent screen to create images.
Features:
Color accuracy: Exceptional color reproduction due to individual tubes for red, green, and blue.
Black levels: Capable of true blacks, offering excellent contrast ratios.
Non-pixelated images: As they don't use pixels, images tend to be smoother.
Advantages:
High picture quality: Renowned for rich colors and deep blacks.
Longevity: CRT tubes can last a long time if properly maintained.
Versatility: Compatibility with various input sources like VGA, component, and more.
No 'Screen door' effect: The absence of a pixel grid eliminates the "screen door" effect common in other technologies.
Disadvantages:
Size and weight: These projectors are bulky and heavy, making them impractical for portable use.
Energy consumption: Generally consume more power compared to modern projector types.
Maintenance: Require frequent calibration and may suffer from "burn-in" of static images.
While CRT projectors may be considered antiquated compared to modern projection technologies, they still have a niche market. They are particularly valued by enthusiasts and professionals who prioritize image quality and color accuracy over portability and convenience.
LCD (Liquid Crystal Display) projectors
Basic principle:
LCD projectors use liquid crystal panels to create images. Light from a high-intensity lamp passes through these panels, which modulate the light to produce colors and images. Generally, there are three LCD panels—one each for red, green, and blue light.
Features:
Brightness: Typically offer high levels of brightness, making them suitable for well-lit environments.
Color saturation: Good color reproduction and saturation.
Sharpness: High resolution with clear and sharp image details.
Advantages:
Affordability: Often less expensive than other types of projectors.
Portability: Usually compact and lightweight, making them easier to move.
Low noise: Generally quieter than other projector types.
Disadvantages:
Limited black levels: Struggle to produce true blacks, leading to lower contrast ratios.
Dust sensitivity: Prone to dust particles, which can appear as spots on the projected image.
Limited lifespan: The high-intensity lamps have a shorter lifespan and can be expensive to replace.
LCD projectors are popular for their versatility and are widely used in classrooms, boardrooms, and home theaters. They offer a good balance between performance and cost but do come with their own set of limitations, especially when it comes to contrast and sensitivity to environmental factors like dust.
DLP (digital light processing) projectors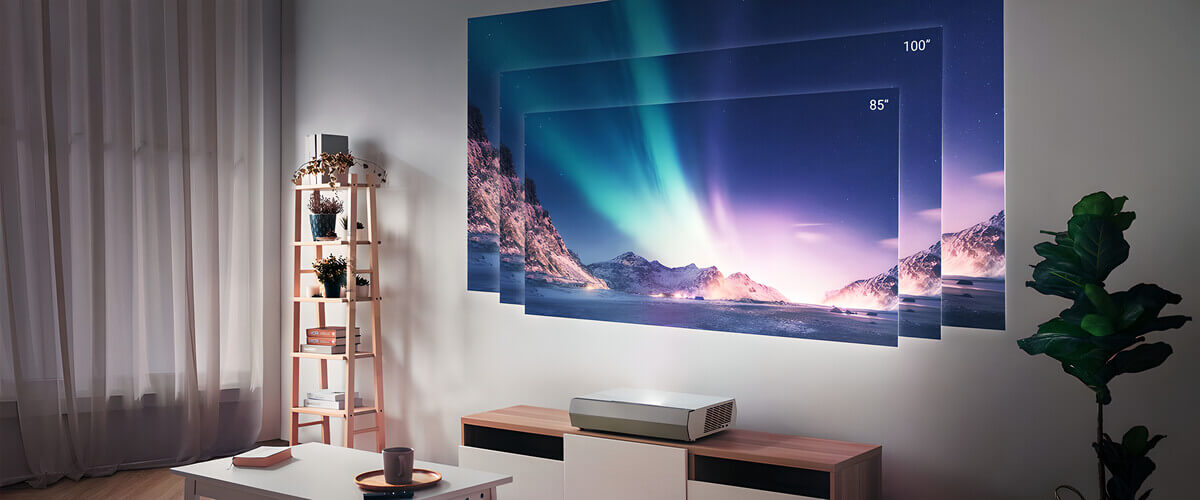 Basic principle:
DLP projectors utilize a chip made of tiny microscopic mirrors and a spinning color wheel to generate images. Light from a lamp is directed onto the chip, where each mirror represents a pixel.
Features:
Sharpness: Extremely sharp and clear images, thanks to the high resolution.
Brightness: High levels of brightness suitable for various lighting conditions.
Reliability: Fewer components that can degrade over time, making them more durable.
Advantages:
Compact size: Generally smaller and lighter than other types of projectors.
Low maintenance: Fewer parts that can fail or require cleaning.
3D capability: Often support high-quality 3D projections.
Disadvantages:
Rainbow effect: Some people may notice flashes of color, known as the "rainbow effect.".
Noise: The spinning color wheel can generate more noise.
Cost: Often more expensive due to the innovative technology involved.
DLP projectors are highly regarded for their sharpness and reliability, making them popular choices for home theaters, business presentations, and even cinema screenings. While they offer many advantages in terms of performance and durability, they may not be the best fit for everyone due to their higher cost.
LCoS (Liquid Crystal on Silicon) projectors
Basic principle:
LCoS projectors employ a combination of liquid crystal panels and reflective technology. Light is projected onto a liquid crystal panel that is reflected off a silicon backing. The liquid crystals modulate the light to create the image, which is then combined through a prism for full-color projection.
Features:
Image quality: Exceptional image quality with high resolution and excellent color accuracy.
Smooth imagery: Lacks the pixel grid found in other projection technologies, offering smoother images.
Brightness: Moderate levels of brightness suitable for controlled lighting environments.
Advantages:
Superior image quality: Known for some of the best color accuracy and resolution among projectors.
No rainbow effect: The absence of a spinning color wheel eliminates the rainbow effect.
Low noise: Generally quieter operations compared to DLP projectors.
Disadvantages:
Cost: Generally the most expensive among mainstream projector technologies.
Complexity: More complex optical pathways can make them harder to maintain.
Limited brightness: Not as bright as DLP or LCD projectors, making them less suitable for well-lit spaces.
LCoS projectors are often the choice for those who are willing to invest in superior image quality and smoother visuals. They excel in settings where color accuracy and image detail are paramount, such as professional presentations and high-end home theaters.
Laser projectors
Basic principle:
Laser projectors employ laser beams as the light source rather than traditional lamps. These lasers are directed by either a DLP, LCD, or LCoS engine to form the images. The laser beams provide a highly focused and stable source of light that allows for precise color and brightness modulation.
Features:
High brightness: Exceptionally bright, making them suitable for a variety of lighting conditions.
Color accuracy: Extremely accurate and vivid colors.
Longevity: Laser light sources can last much longer than traditional lamps.
Advantages:
Low maintenance: Rarely need bulb replacements, reducing long-term costs.
Instant On/Off: No warm-up or cool-down time is required.
Energy Efficiency: More energy-efficient than lamp-based projectors.
Disadvantages:
Initial cost: High upfront costs compared to other projector types.
Heat production: Can generate a significant amount of heat, requiring better ventilation.
Laser projectors are cutting-edge devices that offer superb image quality and long-term durability. They are particularly beneficial for commercial applications like cinemas, concerts, and high-stakes business presentations, where both image quality and reliability are critical.
What type of projector to choose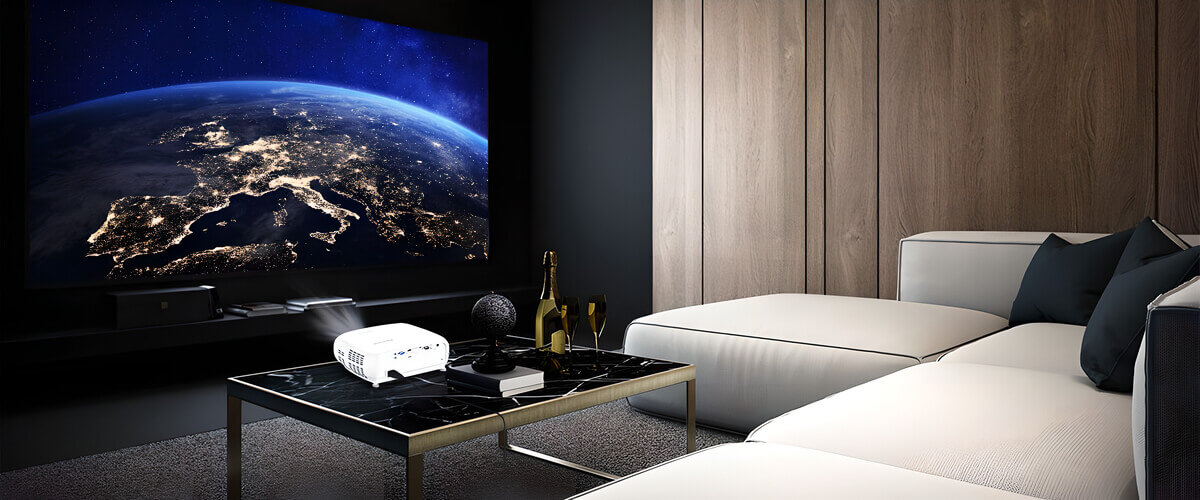 Choosing the right projector can be a daunting task, given the plethora of options and technologies available. Your choice will be influenced by various factors like usage environment, image quality preferences, and budget constraints. To simplify your decision-making process, I've compiled a comparative table that outlines the key aspects of each projector type.
| Type of projector | Key advantages | Key disadvantages | Best suited for |
| --- | --- | --- | --- |
| CRT | High picture quality, longevity | Bulky, high maintenance | Enthusiasts, large installations |
| LCD | Affordable, portable | Limited blacks, dust sensitivity | Classrooms, small presentations |
| DLP | Sharpness, low maintenance | Rainbow effect, cost | Home theaters, business meetings |
| LCoS | Superior image quality | High cost, limited brightness | High-end presentations, home theaters |
| Laser | Longevity, high brightness | High initial cost, heat | Large venues, professional use |
After reviewing this table and considering your specific needs, you should be better equipped to make an informed choice. Keep in mind that while some projectors excel in image quality, others may be more practical for different lighting conditions or easier on the pocket.