Projector manufacturers are more concerned than ever about equipping projectors with built-in speakers. That's because users of these devices want a sound option right out of the box, with no clutter with wires, speakers, and additional investments in a soundbar. But not all projectors are equal in terms of sound output. That is why I have put out this review – to give you an idea of what the best projectors with speakers look like and what items to consider.
Our pick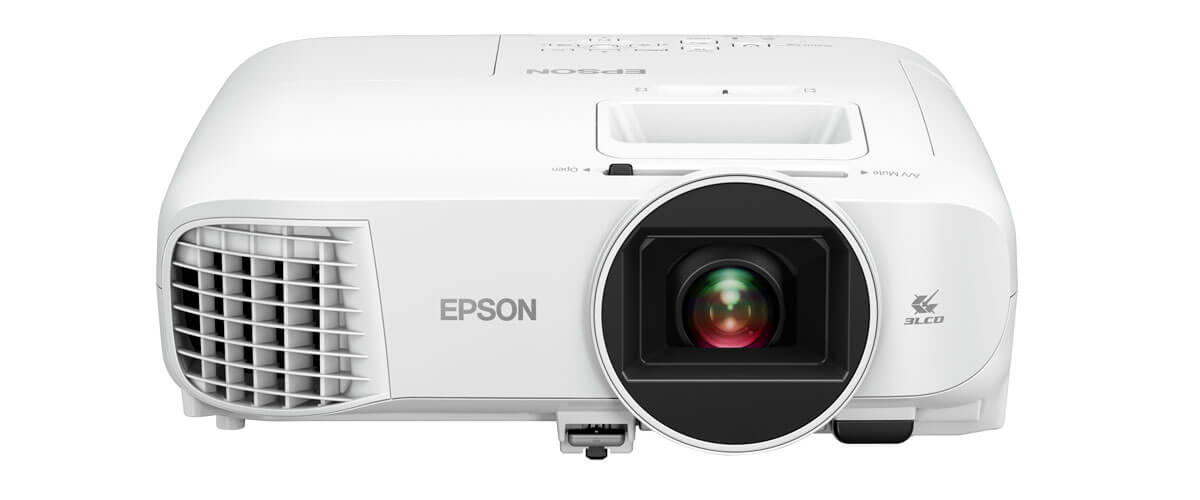 Epson Home Cinema 2200
Best projectors with speakers
The Epson Home Cinema 2200 projector, with built-in speakers, brings your streaming TV shows, sporting events, and movies to the next level. Aslo, this projector produces an astounding Full HD picture.
Read the full review
.
Projector with speakers comparison table
Name
Display technology
Resolution, px
Brightness, lumens
Contrast
Review
Epson Home Cinema 2200

best overall

3LCD
1920×1080
2700
35000:1
Review
BenQ TK700STi

for gaming

DLP
3840×2160
3000
10000:1
Review
Epson Home Cinema 760HD

for business and presentations

3LCD
1280×800
3300
15000:1
Review
Yaber ACE K1

budget

LCD
1920×1080
1560
1600:1
Review
Anker NEBULA Capsule

portable

DLP
854×480
1660
400:1
Review
Best projectors with speakers reviews
There were times when home theater systems with projectors were luxury items. But as Epson Home Cinema 2200 and similar projectors entered the market, more and more people finally got opportunities to bring big-screen entertainment to their place. With Full HD resolution, rich color reproduction, a bright lamp, and integration with popular at services, the Cinema 2200 projector gives all you need for an exceptional viewing at at home. But I do not trust the big ananof manufacturing companies, so I've tested this projector to verify whether it lives up to expectations. You are welcome to get at in-depth look at my findings in this Epson Home Cinema 2200 review. I will pinpoint its strong and weak, all from firsthand experience.
Design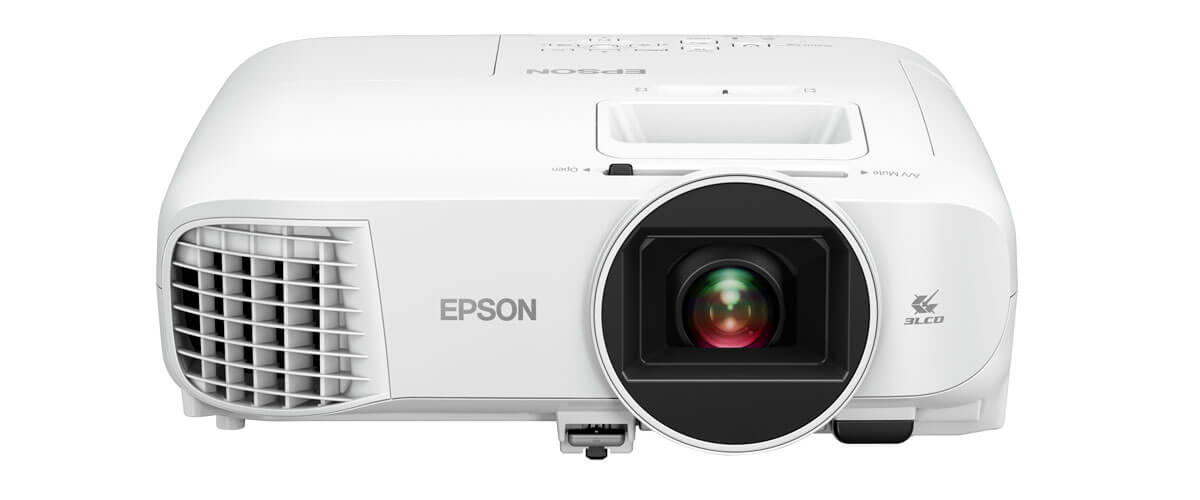 At 7.9 pounds and 4.8 x 12.2 x 12.4 inches, Home Cinema 2200 by Epson is a pretty compact home projector. It easily fits into my IKEA cube, and some space is left for ventilation.
There is nothing extraordinary about the design of this projector. Its external parts are made of plastic, which is sturdy enough to withstand slight bumps. The control panel, ​​keystone slider, zoom slider, and other controls are at the top. If either of your remote controls is dead (by the way, there are two remote controls) and the projector is mounted to the ceiling, you may have a hard time getting to those sliders or buttons.
The connectivity capabilities of Epson Home Cinema 2200 are sufficient to meet the needs of most users. There is one HDMI port, audio out: 3.5 mm stereo port, and micro USB-B. You can also connect to the projector wirelessly via Bluetooth and Wi-Fi.
Features and specs
With the Epson 3LCD, 3-chip technology, the Home Cinema 2200 reproduces images with a native 1080p (1920 x 1080) resolution in the 16:9 aspect ratio. Epson's 3LCD technology also contributes to a rainbow-free image display and good color accuracy for every frame. You can choose one of the color modes for a better experience: Dynamic, Bright Cinema, Cinema, and Game. With a contrast ratio of up to 35,000:1, you can expect rich detail in dark scenes.
This projector has a 200W UHE lamp, which ensures up to 4,500 hours in normal mode and 7,500 hours in eco mode, according to Home Cinema 2200 specifications. It has a rated brightness of 2,700 lumens. Out of the box, this device will run in a bright mode, which overdrives the ventilation. It's relatively noisy even in cinema mode - I heard a whizzing sound during some scenes, but that's a common issue for many projectors. That noise only bothers at lower volumes, so it is not a big deal.
The Home Cinema 2200 has a built-in 10W speaker of average quality, which is a frequent option for home projectors. I prefer empowering this device with my own speaker by connecting it via an audio port, not Bluetooth. I am not completely satisfied with how it pairs with my Bluetooth-enabled speakers. There are minor latency issues, which occur from time to time.
The biggest trouble I had with this device was regarding the streaming services and Android TV. Netflix lags almost always. The Hulu app also didn't work correctly - the number of lags is noticeable enough to play on your nerves. The only way to fix the issue is to cast Hulu from the phone. The App Store has a poor selection, and many apps malfunction. I have no complaints about the Chromecast function, though.
Picture quality
The quality of the picture is definitely the strong side of Epson Home Cinema 2200. This one won't disappoint you compared to other projectors with similar lumens that may be easily drowned out by light. The image is easily viewable in a sunlit room with a horizontal viewing size of at least 10 feet. Even with the brightness reduced to 40%, the picture is sharp. This definitely has more to do with the contrast ratio. The blacks are also super dark, and bright colors are vivid.
This Epson projector model supports Full HD, and I was pleasantly surprised when all movements were clear and smooth, even during dynamic action scenes (while watching movies).
Installation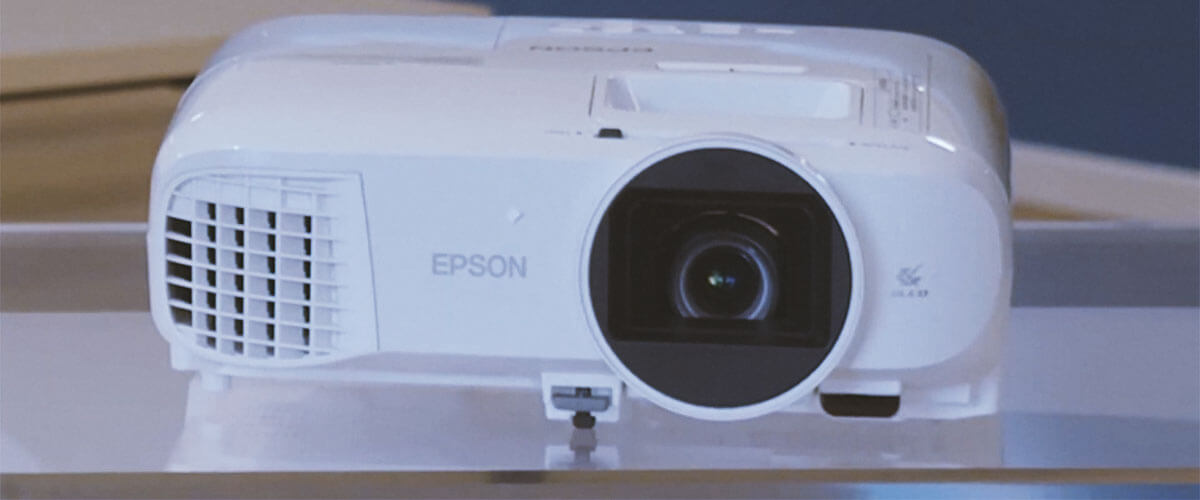 The screen size can range from 30 – 300 inches, depending on your needs and preferences. The throw rate is optimal - 1.22 (zoom: wide) and 1.47 (zoom: tele), allowing you to place the projector at an optimal distance. The Epson Home Cinema 2200 features horizontal (manual) and vertical (auto) keystone correction, 1.2x manual zoom, and manual focus. While I would prefer a little bit more automation and a vertical lens shift, this projector is still good to let you enjoy Full HD videos on a big screen.
Key specs
Display technology: 3LCD.
Resolution, px: 1920x1080.
Brightness, lumens: 2700.
Contrast: 35000:1.
Throw distance, ft: 3-50.
Image size, inch.: 30-300.
Wi-Fi: yes.
Built-in speakers: yes.
You won't go wrong when you decide to pick Epson Home Cinema 2200. It is the best projector with speakers because the sound that goes from the built-in 10W speaker is really good. I would say that it will easily cover an average room, even when it's noisy out there.
BenQ TK700STi – for gaming
Do you feel like a big screen will help you win the video game? Perhaps you are one of those gamers who wants to immerse yourself in complete control of the gaming realm. Whatever resonates with you, I am here to present one of the projectors designed to thrill video game players - BenQ TK700STi. Yet, you can use it as a home entertainment projector as well. So, jump into my BenQ TK700STi review to figure out what makes it so universal.
Design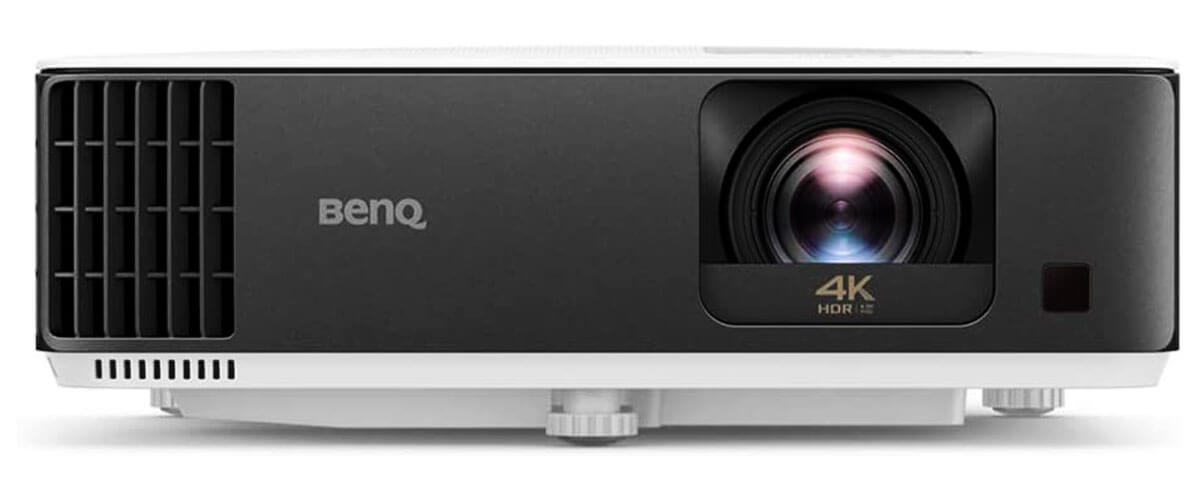 At first sight, BenQ TK700STi looks like an ordinary solid projector. It is relatively compact, measuring 12.2 x 4.3 x 9.6 inches. Yet, it is heavier than many similar devices - 6.83 lbs. Nevertheless, you can effortlessly mount it to the ceiling if you believe this is a winning placement solution.
The back of the projector faces two HDMI ports (2.0b/HDCP2.2), an RS-232 port, a 3.5mm audio jack, a USB-A port, and a standard power port. In the box, you will also find an internal HDMI port and USB power for the Android smart dongle.
Features and specs
A lot of TK700STi specifications are built around gaming. For instance, gamers will be fascinated by ultra-fast low input lag (4 ms in 1080p@240Hz, 8ms in 1080p@120Hz, and 16ms in 4K@60Hz), which allows seeing your actions on the screen immediately without delays. Besides, with the Black Detail Enhancement, you will see more details in dark scenes without compromising color performance in brighter areas. The Game mode is thoroughly optimized to let you become one of those characters in your engaging game.
At the same time, BenQ TK700STi, which runs on the DLP projection system, can become an excellent device for arranging a home theater from the comfort of your home, even in a small room. It is a short-throw projector requiring a minimal distance (from 6.5 feet for a 100-inch image). But that's not all.
With 4K UHD (3840×2160) native resolution with 8.3 million distinct pixels, you can watch quality movies and see every fiber of closing on a big screen. The 10,000:1 contrast ratio is enough to ensure the image doesn't look washed out.
As for brightness, the lamp delivers 3,000 lumens. Combined with 96% Rec.709 coverage, the images look pretty decent. Based on the list of BenQ TK700STi features, the lamp in this projector is going to serve you 4,000 hours in Normal mode. The LampSave mode will prolong the life of the lamp to 15,000 hours.
BenQ TK700STi is pretty loud because it has a built-in 5W speaker. In addition, the BenQ audio-enhancing technology powered by EQ algorithms is helpful for games as it allows you to hear approaching footsteps or other lurking dangers. But the bass is very punchy and lacks depth, so explosions are very hollow.
You can enjoy a wireless connection with Bluetooth 4.2, 2.4G/5G Wi-Fi, and Chromecast. In addition, this projector has Android TV that lets you use Prime Video, Hulu, YouTube, and more. However, Netflix is not natively available on BenQ TK700STi.
Picture quality
The picture quality in BenQ TK700STi is nothing short of amazing. It is bright without ruining the color balance. As for resolution, it is better in 4K, of course. The only thing I noticed was a faint ghost around the sides of the letters on a white background. But it's not a big deal.
Great graphics in games help you feel connected to the action. There are different modes for you to choose from, including Sport, RPG, and Game, all of which make the gaming experience exceptional. The projector nicely renders fine details and shadows, so you can spot someone hiding in the dark.
Installation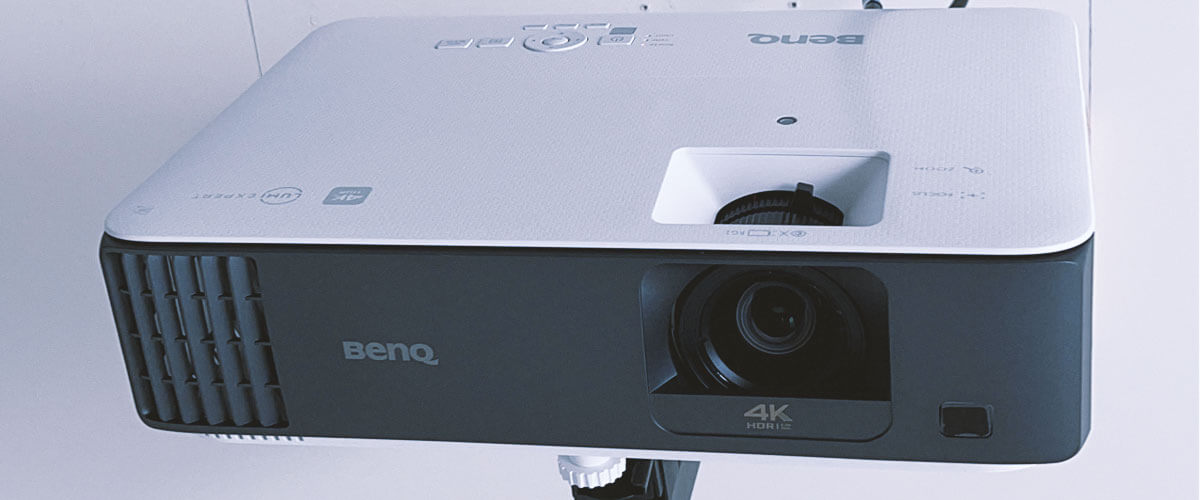 The setup of BenQ TK700STi is standard, with a manual focus and 1.2x zoom. You can also make manual or automated horizontal and vertical keystone adjustments. There is a rotation keystone function, which is handy if you find yourself without a flat spot.
It is a short-throw projector, so its throw ratio is 0.9~1.08. Therefore, even from a distance of 6.5 feet, you will project the image of 100 inches. All in all, you can get the image from 29.96 to 300.15 inches.
Key specs
Display technology: DLP.
Resolution, px: 3840x2160.
Brightness, lumens: 3000.
Contrast: 10000:1.
Throw distance, ft: 6.5-27.
Image size, inch.: 30-300.
Wi-Fi: yes.
Built-in speaker: yes.
That's the projector with the sound all gamers will be crazy about. However, the greatest thing about BenQ TK700STi is the audio-enhancing technology. It amplifies sound effects that might slip your attention, so you will always be aware of lurking dangers in video games.
Epson Home Cinema 760HD – for business and presentations
Do you cast around for a family projector that will add more bright colors to your pastime? Look no more. I caught sight of the Epson Home Cinema 760HD, a portable projector for widescreen entertainment in your living room or the backyard of your house. Once you make it to the end of my Epson Home Cinema 760HD review, you will clearly know whether you want to have this device in your home.
Design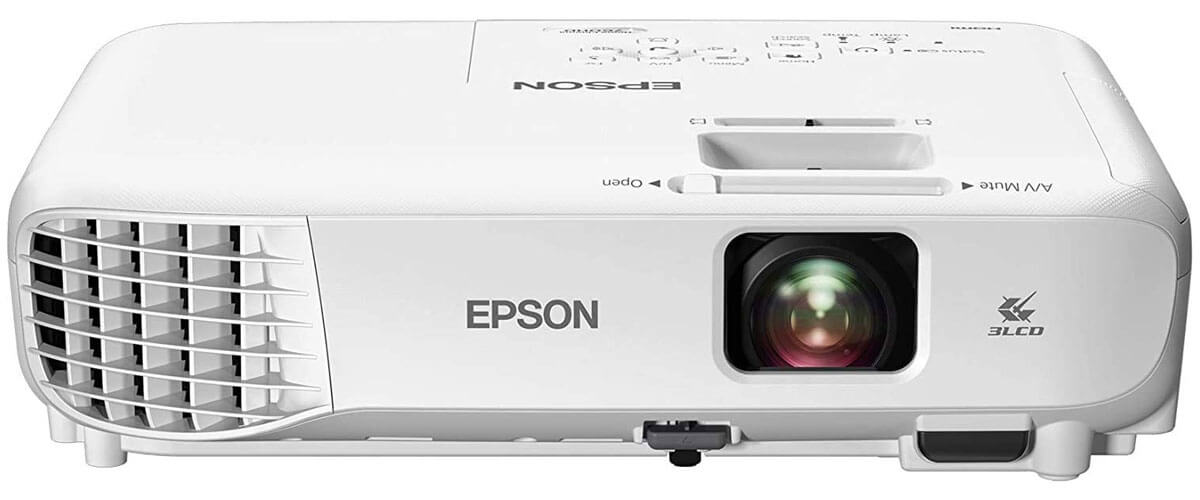 Epson positions this projector as a portable unit for family entertainment. It is neither super lightweight as compact projectors nor too heavy. It's only 5.5 lbs, which is an optimal weight for an average projector. What makes it portable is the size - it is 11.9 x 9.2 x 3 inches.
The device has an entire plastic casing, which feels sturdy, though. I noticed no panel gaps that may result in squeaks. But I doubt it will live through accidental dropping on the floor. So I hope you don't plan to do it very often.
Epson Home Cinema 760HD has one HDMI port. There are also VGA and RCA connectivity options. For added convenience, you can use USB ports (both type A and type B). The connectivity capabilities may seem limited at first sight. But for the money you pay, that's a good projector that will bring more entertainment opportunities for your loved ones.
Features and specs
The Epson Home Cinema 760HD is run by the 3LCD, 3-chip technology. The native 720p (1280 x 800) resolution allows you to enjoy HD-quality content on a bigger screen. Of course, this one won't win the game if you compare it with high-end projectors. But if you aim to set up a home theater for casual usage, you will feel more than satisfied.
As we move to the brightness of this projector, the Home Cinema 760HD specifications claim it has whopping 3300 lumens of color and white brightness, all thanks to the 210 W UHE lamp. In Eco Mode, this lamp will last for around 10,000 hours, by the way.
Home Cinema 760HD reproduces up to 1.07 billion colors for the crisp display of any image. The contrast ratio of 15,000:1 ensures the optimal amount of blacks. Even when my room is lit, the projected image still looks like a television.
The built-in 2W speaker delivers a mediocre performance. The lack of a 3.5 mm audio output disappointed me, as it cut off the option of connecting my speakers to the projector directly for a better audio experience. So if the sound is fundamentally important, you will have to look for options to solve this problem.
It is a rather basic projector for home use, so there are no wireless connectivity options. You've got to purchase a wireless LAN module to be able to transmit the signal wirelessly. In the same way, you can stream content from Chromecast, Roku, Apple TV, and Amazon Fire TV once you are connected to the shared network through your phone or laptop.
Picture quality
The picture quality of Epson Home Cinema 760HD pleasantly surprised me. I was thrilled to see a clear image in daylight and when the lights were on. As the lights are off, things are even better. I want to say that the 3LCD technology is a game changer in this Epson projector. Owing to it, the device outperforms DLP projectors with amazing action scenes without a rainbow effect.
The Epson Home Cinema 760HD is set to Bright Cinema mode out of the box. It is definitely bright, and the colors are vivid, but you can play with other modes to find the optimal setting.
Installation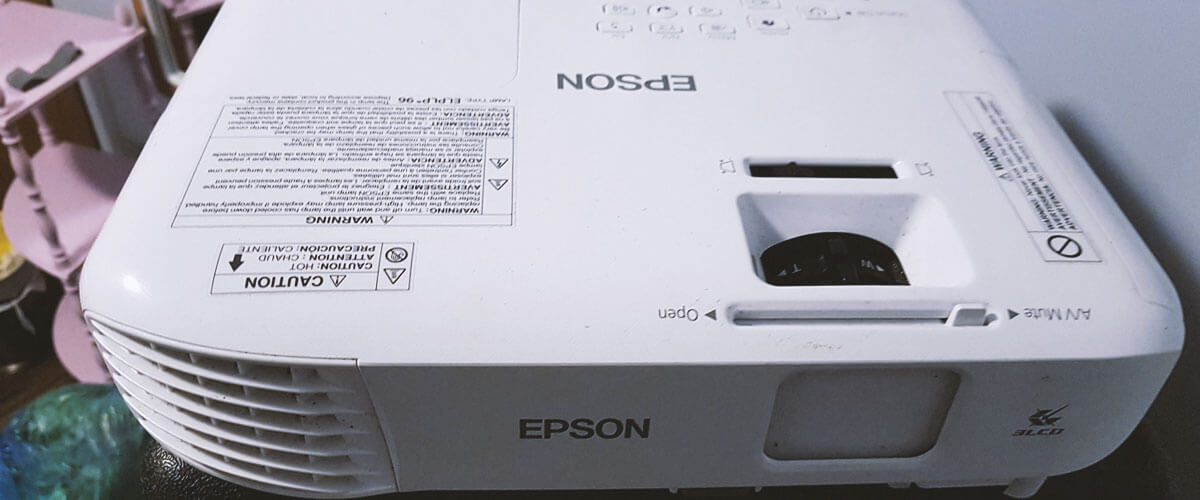 With this widescreen projector, you can display the image up to 300 inches. However, as the throw ratio ranges from 1.30 to 1.56, it is advisable to keep Home Cinema 760HD 33 – 320 inches away from the wall or other surfaces that serve as a screen.
Both vertical and keystone correction (±30 degrees) are available in this model. A 1.0 – 1.2 zoom with manual focus is one of the Epson Home Cinema 760HD features that may require you to play with the settings to get a perfectly sized and centered image on a big screen.
Key specs
Display technology: 3LCD.
Resolution, px: 1280x800.
Brightness, lumens: 3300.
Contrast: 15000:1.
Throw distance, ft: 2.7-26.6.
Image size, inch.: 33-320.
Wi-Fi: no.
Built-in speakers: yes.
The Epson Home Cinema 760HD will be especially handy for office meetings and presentations in conference rooms. The built-in speaker may not give you the desired power and sound depth in a home environment. But as you have to share video or audio with the audience during the meeting, this projector with built-in speakers is good for that.
Yaber ACE K1 – budget
In my Yaber ACE K1 review, I will share my opinion on a very simple home projector that nevertheless shows quite good functionality. This device is worth its money with acceptable image quality, wireless connectivity, and other features. So let's take a closer look at what you get if you decide to buy the Yaber ACE K1 as part of a home theater system.
Design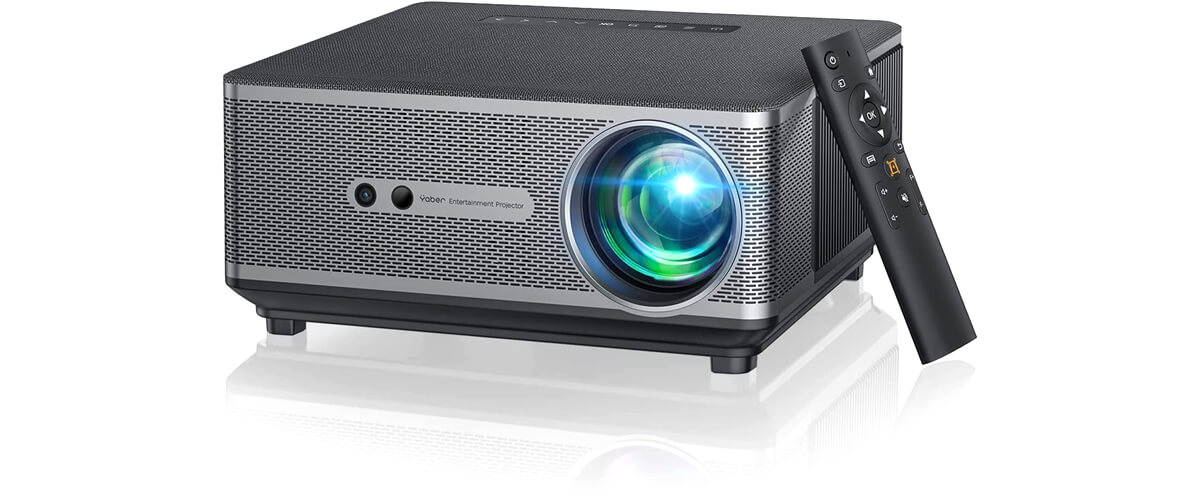 Yaber Ace K1 has a rectangular case with rounded corners, so it looks much like many other projectors. Its sides are made of plastic, with vents towards the back. They allow the cooling fans to work, so you won't experience an issue of overheating. The projector bottom has sturdy rubber feet for superior stability. They also enhance air circulation and improve cooling efficiency.
As for the size, it is a standard projector. It measures 11.8 x 10.1 x 5.4 inches and weighs 8.60 lbs, which I think is optimal for this type of device.
The Yaber ACE K1 features dual-band Wi-Fi (2.4/5GHz) and Bluetooth 5.0 to be compatible with a bunch of wireless devices like phones, laptops, speakers, games consoles, and more. Additionally, you will also find two USB 2.0, two HDMI, and one AV port for hooking to Blu-Ray players, computers, TVs, flash drivers, and more. I think the connectivity is quite extensive for a device of this level.
Features and specs
Yaber Ace K1 has a 1080p native resolution and supports 4K content. So, it will accept content up to 4K but downscale anything above 1080p.
You will like color saturation, and sharp image as this is an LCD projector. The 1600:1 contrast ratio makes the colors pop up and look more vibrant. Paired with a 650 ANSI lumens lamp, you will get enough brightness to enjoy videos in moderately dark rooms. But remember that in bright environments, you may consider the image too washed out.
Looking at ACE K1 specifications, you'll see that it has a set of 15W stereo speakers. For sure, it may not be as powerful as a properly set up Hi-Fi audio system. But believe me, it is more than enough to enjoy a TV show or a movie at an optimal volume level.
The great thing about Yaber Ace K1 is that it supports Wi-Fi 6 technology, providing a more stable, quicker, and low-latency connection. It will also be able to adapt to mainstream network systems in the future.
There are no built-in streaming services or the Android operating system here, but that won't be a big deal. As you connect any of the devices (phone, laptop, tablet) to the projector wirelessly or via ports, you will stream content from any app.
Picture quality
The image projected by Yaber Ace K1 is at quite a decent level. It replicates colors in their true gamut without blurring or other unwanted effects. The color spectrum is vivid, and the blacks are dark enough for you to notice every hidden detail. High-definition content I streamed from YouTube looked really good with this projector.
Note that the image's brightness will fade away with the bigger image size and larger distance. Therefore, I recommend keeping the image up to 100 - 150 inches to preserve image sharpness.
Installation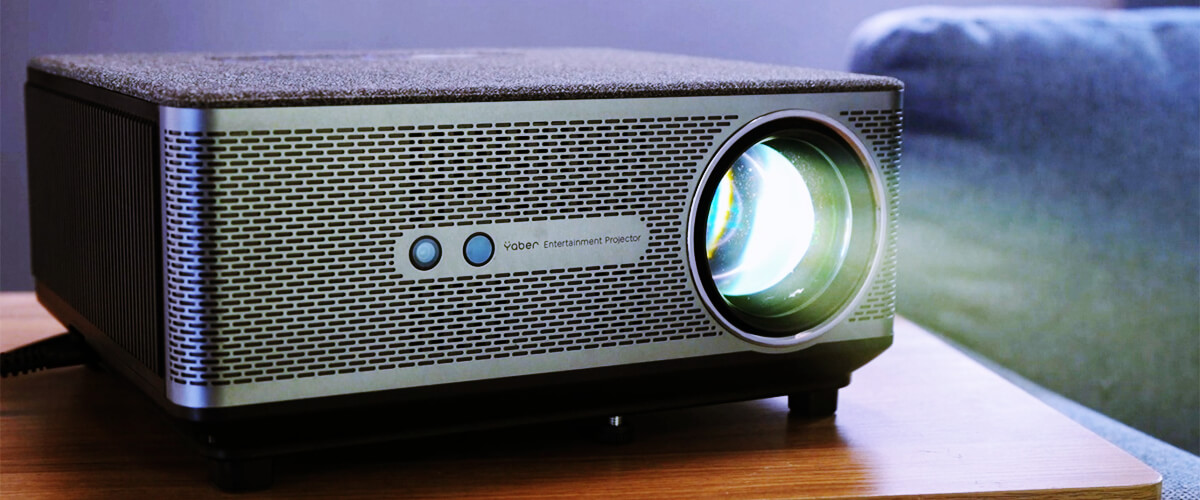 Some great features make Yaber Ace K1 easy to install. Auto focus and auto keystone adjustments will save the day if you don't want to bother yourself with hours of setup. Just press the button, and within a couple of seconds, you will have a crisp and well-proportioned image. On top of that, there is an option of a 50% digital zoom. It's not an optical one, so the further you zoom, the grainier the image will be.
Consider that the throw ratio of this projector is 1.54:1. For a 100-inch image, it should be at least 11 feet away from the screen. In general, you can get an image size between 45 to 150 inches.
Key specs
Display technology: LCD.
Resolution, px: 1920x1080.
Brightness, lumens: 1560.
Contrast: 1600:1.
Throw distance, ft: 3.7-12.5.
Image size, inch.: 40-150.
Wi-Fi: no.
Built-in speaker: yes.
For sure, Yaber ACE K1 is a good projector for the money. The stereo speaker system is what you do not expect to see in a budget device. Yet, this model has two powerful speakers that eliminate the need for external audio sources.
Anker NEBULA Capsule – portable
As you look at the Anker NEBULA Capsule, the first thing you will think is, "Wow, what an interesting concept. But does it deliver?" Indeed, the soda-can design makes this projector truly unique and suitable for applications when you want to have a device for outdoor theater bliss. While things are pretty clear that this is one of the most portable projectors, you may wonder if it can project a decent-quality image. Let's put guesswork aside. My Anker NEBULA Capsule review will give you a comprehensive answer to this question.
Design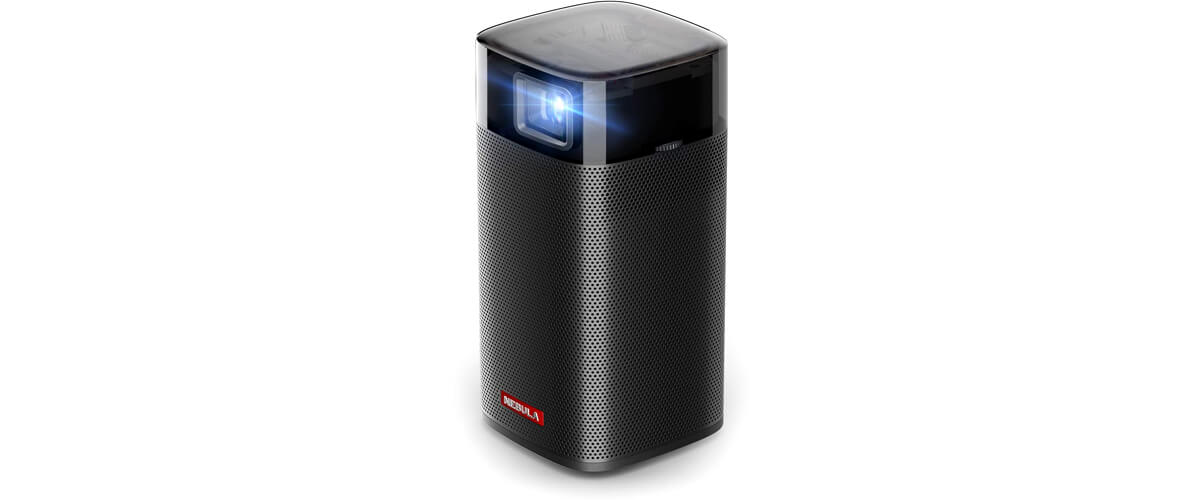 If you need to reproduce a larger image without lugging around a massive box, Anker NEBULA Capsule is your choice. With a 1.0 lb weight and 2.7 x 2.7 x 4.7 inches size, it easily fits into a bag along with other stuff. So, whether you are going to use it in your backyard or at the campfire under the stars, you won't bother yourself with carrying this little guy much.
The HDMI port is a nice thing. If you want to stream content from other devices, the HDMI port makes this easy. Also, there is a mini USB port for charging and hooking to other gadgets.
Features and specs
Here is the most exciting part of my review, where we will delve into NEBULA Capsule specifications. And we'll start with the display and picture capabilities. This device runs on a DLP technology supporting 854x480 native resolution. It's not HD quality, but you can stream content from Netflix, YouTube, Hulu, and other Android apps on a screen 20 to 100 inches from a device you can fit into your pocket. Agree that this is awesome!
The projector is powered by the Android 7.1 operating system with 8GB eMMC of ROM and 1GB DDR3 of RAM. You can use Android or iOS devices to download an app to control the projector. You can also use Bluetooth, 2.4GHz / 5GHz Wi-Fi, and Screen Mirroring for streaming video content to a bigger screen.
However, NEBULA Capsule is slightly dim. Its brightness ranks only at 100 ANSI lumens. Thus, it should better be used in dimmer environments. The lamp will last 30,000 hours before you need to replace it, which is a decent amount of time.
The built-in 5200 mAh battery delivers 4 hours of movie playtime in Battery mode. You will get 30 hours of autonomous operation when you switch to Bluetooth Speaker mode. It takes 2.5 hours to fully recharge the projector, all thanks to a quick charge 2.0 9V2A.
For your convenience, there are multiple projection modes: Front, Rear, Front Inverted, and Rear Inverted. This gives enough flexibility in terms of placement.
For its size, this projector is pretty loud. It has an internal 5W speaker, which turns out to work fine. However, I believe that it is a bit shouty at max volume.
Picture quality
As for the image quality, it is definitely less crisp than what you get on a flat TV screen. But when you buy a projector of the can size, you take it for granted. Though I would say, the picture gets crisper when you downsize the image. You may notice pixels as you project the image at the top of the recommended size. However, if you sit a few feet away from the screen, you shouldn't notice the low resolution. The brightness also suffers in NEBULA Capsule, just like in all compact projectors, but the image is satisfactory in a dark room.
Installation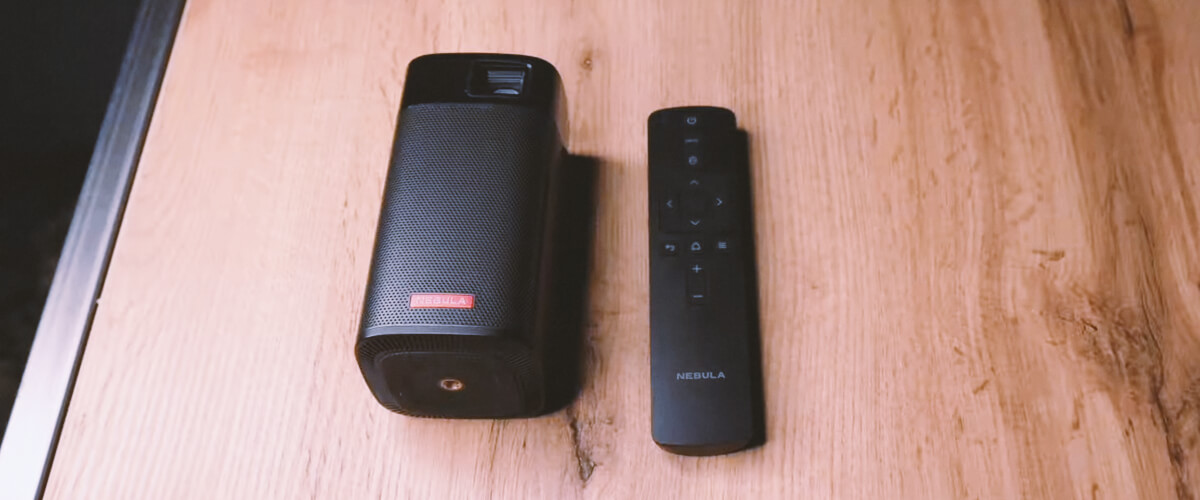 I like the tripod mount on the bottom, among other NEBULA Capsule features, which is handy for convenient placement. Because of the 1.3:1 throw ratio, you can project an image of 20 - 100 inches at a distance of 1.9 - 10 feet.
NEBULA Capsule is designed for fast and simple installation. There is no zoom and a lens shift. Thus, you've got to move the projector around to get a smaller or bigger straight-edged image. The focus is manual and is achieved via a small dial. The auto vertical and manual horizontal keystone correction will enable you to adjust the image so that you have a rectangular shape.
Key specs
Display technology: DLP.
Resolution, px: 854x480.
Brightness, lumens: 1660.
Contrast: 400:1.
Throw distance, ft: 1.9-10.
Image size, inch.: 20-100.
Wi-Fi: yes.
Built-in speaker: yes.
This little fellow will surprise you. As a portable projector with speakers, Anker NEBULA Capsule does more than an average device from this category. It is pretty loud, so you do not have to carry extra speakers wherever you go to extend the projector's capabilities.
FAQ
Do home theater projectors have speakers?
Nearly every modern home theater projector comes with built-in speakers. Some of the speakers perform better, and some are not that good. So, you can do pretty well these days without an external sound system if you pick the right projector.
Can you connect speakers to a projector?
Can you connect a Bluetooth speaker to a projector?
If the projector is equipped with Bluetooth technology, then yes, you can. But even if your projector is not Bluetooth-enabled, you can buy a Bluetooth transmitter and set up a wireless connection.
How do I get sound from my speakers to my projector?
To make speakers work with the projector, you've got to use a 3.5 mm audio cable to connect these two devices. In particular, run the cable from the projector's audio output to the corresponding input in speakers.