Are you desperate to find the best projector under $400? Do you still believe it's impossible to get a high-quality projector within such a budget? Well, you're in luck that there are still budget projectors on the market that can provide an unparalleled viewing experience, and that's exactly what you'll find in my review. I considered many factors when picking the products for my review, including brightness, resolution, display technology, lamp life, throw distance, and more. So, read on to see the results of rigorous research and hours of testing.
Our pick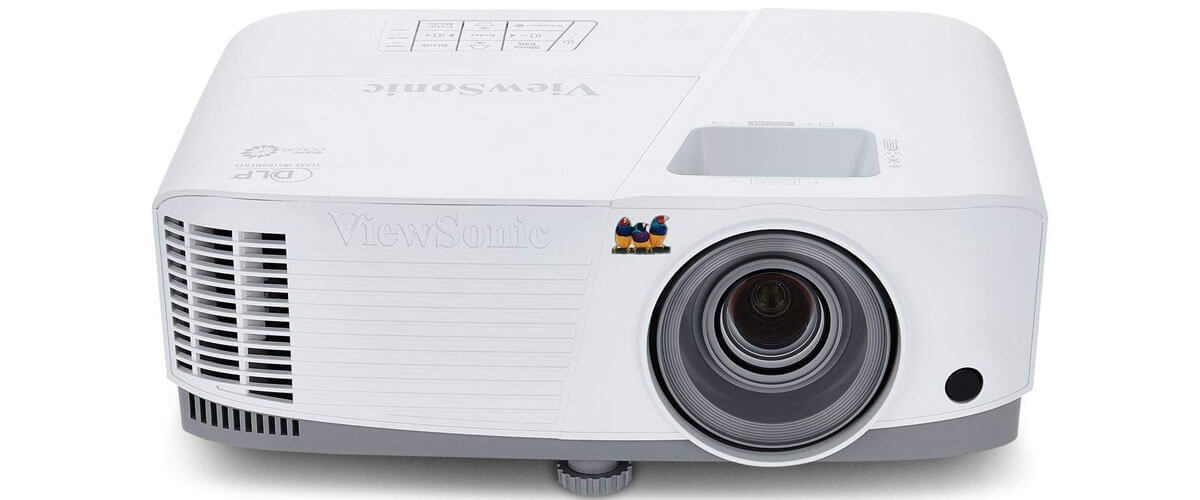 ViewSonic PA503X
Best projector under $400
ViewSonic exclusive SuperColour technology offers a broader range of displayable colors, ensuring true-to-life color accuracy in bright and dark environments without sacrificing image quality.
Read the full review
.
Projector under $400 comparison table
Name
Display technology
Resolution, px
Brightness, lumens
Contrast
Review
ViewSonic PA503X

best overall

DLP
1024×768
3800
22000:1
Review
Anker NEBULA Capsule

portable choice

DLP
854×480
1660
400:1
Review
LG PH30N
DLP
1280×720
4100
100000:1
Review
Best projector under $400 reviews
When you are on the hunt for high-performance yet affordable projectors, look in the direction of ViewSonic devices. This US-based company excels in value-for-money electronics, and the PA503X is one of the projectors one should consider when looking for a budget-friendly yet powerful device. So, my ViewSonic PA503X review is devoted to the projector that is a frequent choice for offices and classrooms because of its high lumen brightness and contrast ratio. But this projector will surprise you with other advanced features. Read on to learn how ViewSonic performed while I took it for a test. I will also review its strong and weak points, so stick with me.
Design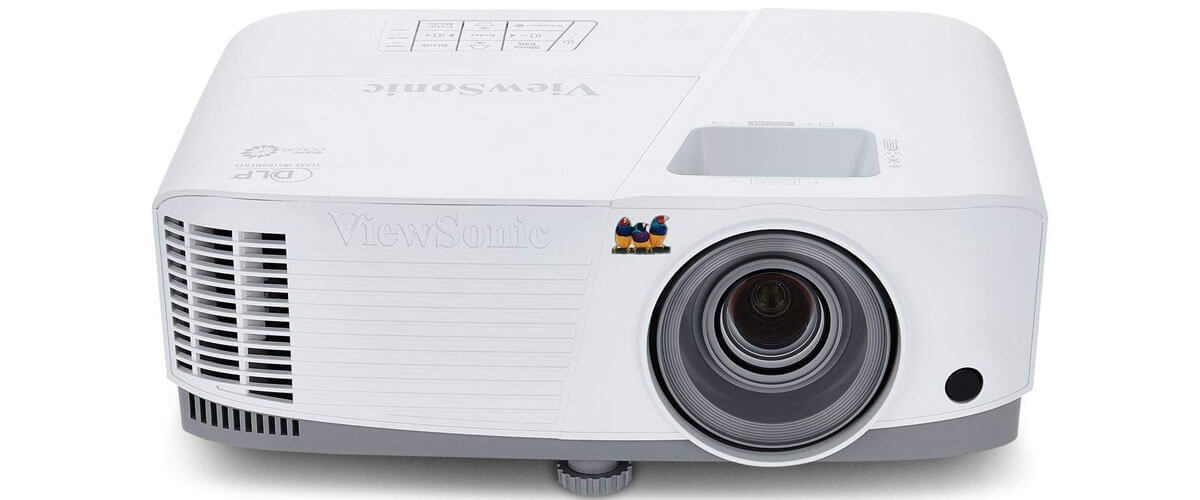 Out of the box, the ViewSonic PA503X doesn't create a wow effect. It's just an ordinary 11.6 x 4.3 x 8.6 plastic projector that looks neither too bulky nor super compact. It weighs more than 7 pounds, which is somewhat more than you expect from an office device. Nevertheless, you can still mount it to the ceiling or place it on the tabletop without any issues.
The connectivity options are abundant, and, like most projectors, they are located at the back of the device. There is 1x HDMI 1.4 port (compatible with 3D, by the way), 2x VGA, 1x monitor out, 1x RS-232, mini-USB type B, RCA video, and 3.5 mm audio in and out ports. I find the connectivity options to be slightly outdated here. I wouldn't mind having a USB-C port as well as the possibility of a wireless connection.
Features and specs
ViewSonic PA503X features 3,800 lumens and native XGA 1024 x 768 resolution to produce bright images in nearly any environment.
This device has a DLP lamp, which delivers around 5,000 hours of operation in normal mode. However, SuperEco mode dims the brightness by up to 70% and allows to extend the lamp's lifespan to 15,000 hours.
While the PA503X projector by ViewSonic has a built-in speaker, you may want to connect additional speakers to it. I traced distortions at higher volumes. Besides, the sound has no bass, making it slightly plain. Luckily, there is a 3.5 mm audio jack output to hook speakers or headphones. Once I paired this projector with speakers, the sound quality significantly improved.
There is a 3D blu-ray-ready HDMI input, so you can enjoy theater-like 3D projection at home or in the office. Mind that you need to get DLP link 3D glasses as ordinary cinema Real D 3D glasses won't work (I've checked it out). With the rise of 4K and 8K, filmmakers have abandoned this movie format. So, if you expect to watch the newest movies on your home screen in 3D, you may be disappointed.
The lack of Bluetooth and connectivity to streaming platforms is understandable in this projector model. After all, it's primarily designed for offices and classrooms.
Picture quality
As PA503X specifications state, this projector is bright enough to let you see the screen during the daytime. The letters this device reproduces are crisp, and I could easily read them from a far-off distance. However, I would still use limited shades on windows to get a clearer image.
The focus is easy to adjust, so the screen edges have no softness. The color quality is decent and is regulated by SuperColor technology. However, similarly priced projectors designed for home use may slightly outperform it in terms of color palette reproduction.
Installation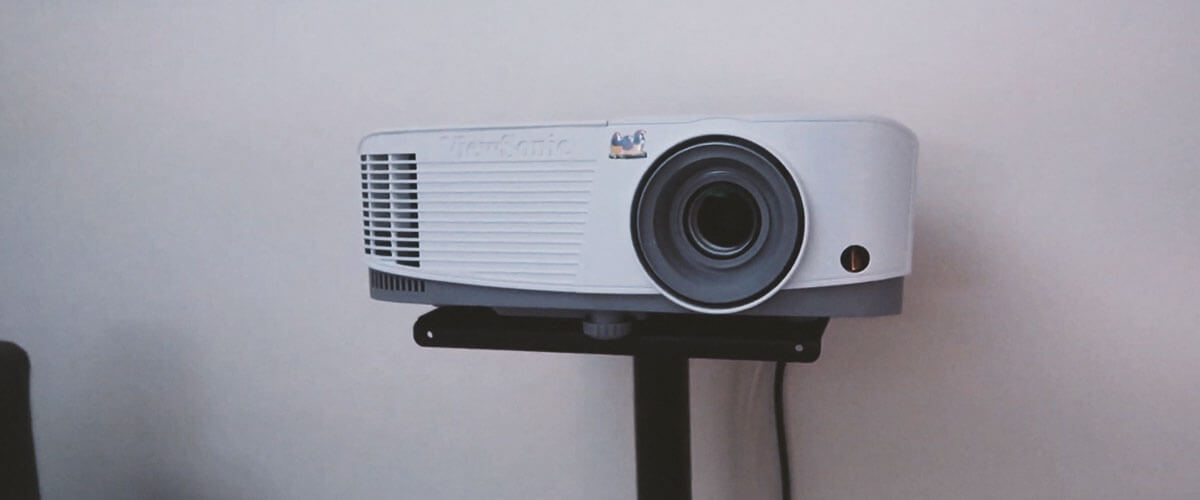 If you are a first-time projector user, you may need more instructions in the manual. All you will find are the images without detailed explanations. You can intuitively control most settings via remote control.
PA503X projects an image of 30 - 300 inches in an aspect ratio of 4:3 and 16:9 from a distance of 3.9 - 43 feet. The projector has an adjustable foot at the front to set it at an optimal angle. With vertical keystone adjustment, you can properly line up the projection edges. There is a 1.1x optical zoom that enables you to calibrate the size of the projection, which is handy for small rooms considering the 1.96 ~ 2.15 throw ratio.
Key specs
Display technology: DLP.
Resolution, px: 1024x768.
Brightness, lumens: 3800.
Contrast: 22000:1.
Throw distance, ft: 3.9-43.
Image size, inch.: 30-300.
Wi-Fi: no.
Built-in speakers: yes.
Considering fantastic brightness, native XGA 1024×768 resolution, and long battery life, the PA503X is one of the best projectors under $400. It also delivers a crisp image even in ambient light, is easy to set up, and can give you a wide range of screen sizes, from 30 to 300 inches. I think it is an excellent option for a very reasonable price!
Anker NEBULA Capsule – portable choice
As you look at the Anker NEBULA Capsule, the first thing you will think is, "Wow, what an interesting concept. But does it deliver?" Indeed, the soda-can design makes this projector truly unique and suitable for applications when you want to have a device for outdoor theater bliss. While things are pretty clear that this is one of the most portable projectors, you may wonder if it can project a decent-quality image. Let's put guesswork aside. My Anker NEBULA Capsule review will give you a comprehensive answer to this question.
Design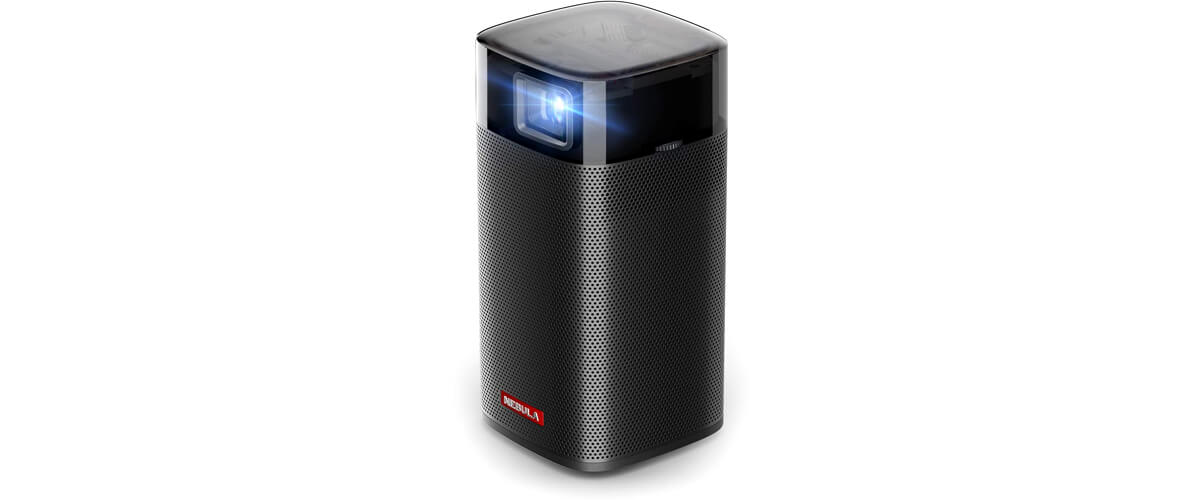 If you need to reproduce a larger image without lugging around a massive box, Anker NEBULA Capsule is your choice. With a 1.0 lb weight and 2.7 x 2.7 x 4.7 inches size, it easily fits into a bag along with other stuff. So, whether you are going to use it in your backyard or at the campfire under the stars, you won't bother yourself with carrying this little guy much.
The HDMI port is a nice thing. If you want to stream content from other devices, the HDMI port makes this easy. Also, there is a mini USB port for charging and hooking to other gadgets.
Features and specs
Here is the most exciting part of my review, where we will delve into NEBULA Capsule specifications. And we'll start with the display and picture capabilities. This device runs on a DLP technology supporting 854x480 native resolution. It's not HD quality, but you can stream content from Netflix, YouTube, Hulu, and other Android apps on a screen 20 to 100 inches from a device you can fit into your pocket. Agree that this is awesome!
The projector is powered by the Android 7.1 operating system with 8GB eMMC of ROM and 1GB DDR3 of RAM. You can use Android or iOS devices to download an app to control the projector. You can also use Bluetooth, 2.4GHz / 5GHz Wi-Fi, and Screen Mirroring for streaming video content to a bigger screen.
However, NEBULA Capsule is slightly dim. Its brightness ranks only at 100 ANSI lumens. Thus, it should better be used in dimmer environments. The lamp will last 30,000 hours before you need to replace it, which is a decent amount of time.
The built-in 5200 mAh battery delivers 4 hours of movie playtime in Battery mode. You will get 30 hours of autonomous operation when you switch to Bluetooth Speaker mode. It takes 2.5 hours to fully recharge the projector, all thanks to a quick charge 2.0 9V2A.
For your convenience, there are multiple projection modes: Front, Rear, Front Inverted, and Rear Inverted. This gives enough flexibility in terms of placement.
For its size, this projector is pretty loud. It has an internal 5W speaker, which turns out to work fine. However, I believe that it is a bit shouty at max volume.
Picture quality
As for the image quality, it is definitely less crisp than what you get on a flat TV screen. But when you buy a projector of the can size, you take it for granted. Though I would say, the picture gets crisper when you downsize the image. You may notice pixels as you project the image at the top of the recommended size. However, if you sit a few feet away from the screen, you shouldn't notice the low resolution. The brightness also suffers in NEBULA Capsule, just like in all compact projectors, but the image is satisfactory in a dark room.
Installation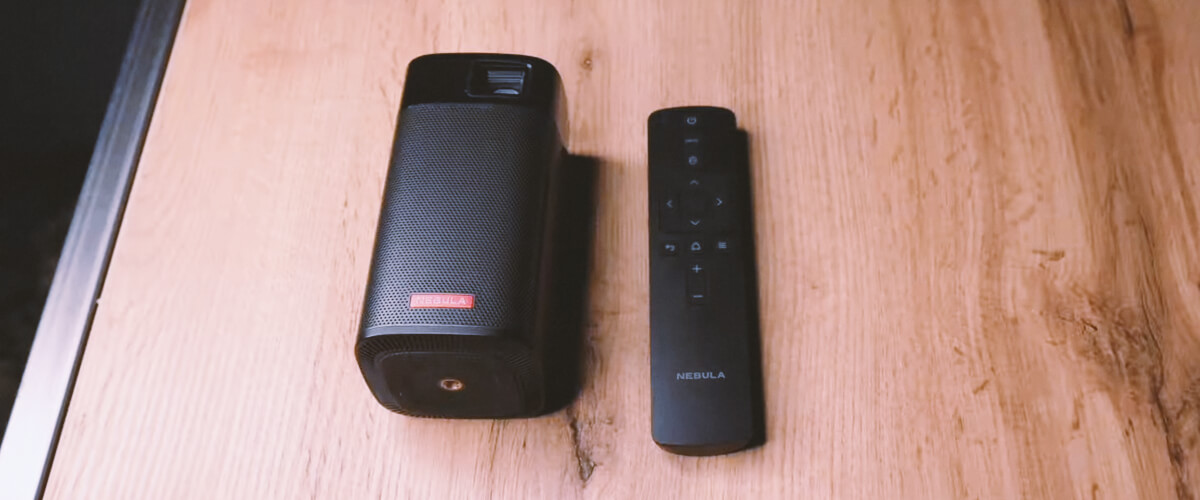 I like the tripod mount on the bottom, among other NEBULA Capsule features, which is handy for convenient placement. Because of the 1.3:1 throw ratio, you can project an image of 20 - 100 inches at a distance of 1.9 - 10 feet.
NEBULA Capsule is designed for fast and simple installation. There is no zoom and a lens shift. Thus, you've got to move the projector around to get a smaller or bigger straight-edged image. The focus is manual and is achieved via a small dial. The auto vertical and manual horizontal keystone correction will enable you to adjust the image so that you have a rectangular shape.
Key specs
Display technology: DLP.
Resolution, px: 854x480.
Brightness, lumens: 1660.
Contrast: 400:1.
Throw distance, ft: 1.9-10.
Image size, inch.: 20-100.
Wi-Fi: yes.
Built-in speaker: yes.
Being as compact as it is, the NEBULA Capsule is the best portable projector under $400. It's not HD quality, which is understandable, but nonetheless, it features a handy Android TV, so you can watch content directly from downloaded streaming apps. Besides, it was built for quick and simple installation, so you will avoid tedious projector configuration.
LG PH30N
Do you fish for a portable yet high-capacity projector you can carry? Then you will be pleased to learn about this palm-sized device in my LG PH30N review. It has some appealing features you will appreciate when arranging a cinema night outdoors or taking it with you for hiking. So, what is so special about this projector? Find this out in a minute as you read on.
Design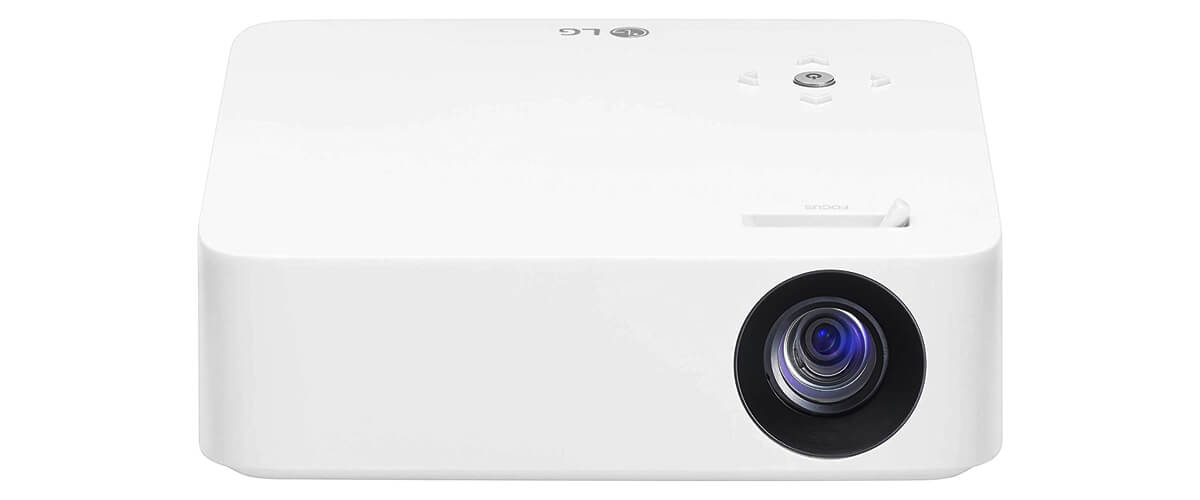 I can't say that LG PH30N feels sturdy and super heavy-duty. Agree that for a projector, this is not so important. But it has another advantage. At a weight of 1.1 lbs and dimensions of 5.1 x 1.5 x 5.1 inches, this is a type of projector you can hold in your hands or put into your pocket. Because of the LG PH30N features, you can recreate the bigger image in places other projectors don't fit. For instance, use it to throw an image on your ceiling or desk, creating a second screen. In addition, you can use this projector to stream recipes in the kitchen when cooking.
There are HDMI and USB 2.0 ports. You will also find a 3.5mm mini Jack port for connecting speakers.
Features and specs
This DLP projector supports the HD 720p (1280 x 720) native resolution. It can throw an image of 40 - 100-inch size, which is pretty good for a device of this size.
You can use five modes in this projector, four of which are pre-defined: Vivid, Standard, Cinema, and Game. In the Expert mode, you can adjust contrast, brightness, color, sharpness, and tint. There is not much difference in the image quality as you switch between the modes, though.
There's not a lot of light here. The LED lamp emits 250 lumens, an average brightness level you can expect from a similarly-sized device. Therefore, it will reveal its potential in dark rooms. If there is ambient light or you use the projector during the daytime, you risk seeing something that reminds you of a shade rather than a high-quality image. With the 100,000:1 contrast ratio, LG PH30N retains surprisingly good contrast and shadow detail for this class of projector. Depending on the mode, the lamp can last up to 30,000 hours before you need to replace it.
To be fully portable, the LG company added an embedded battery to ensure 2 hours of operation. You can also attach it to the power supply for extended use.
With the built-in 1W speaker, you can achieve moderate sound reproduction. It will do for a very small room, but it won't work if you gather with a big gang to watch a movie. Luckily, you can connect speakers via an audio port or Bluetooth.
The great news is that the LG PH30N projector supports Miracast streaming. But it definitely lacks internal apps that let you watch content from your fave services without much effort.
Picture quality
As PH30N is an HD 1280 x 720 projector, it can recreate a fairly large image before you start seeing pixels. The image quality is fine, though do not expect to experience something extraordinary with this device.
I was pleased to reveal no rainbow artifacts with this projector. Though, color accuracy surprised me. It changed from one scene to another without any logical pattern that might explain the unusual behavior.
Installation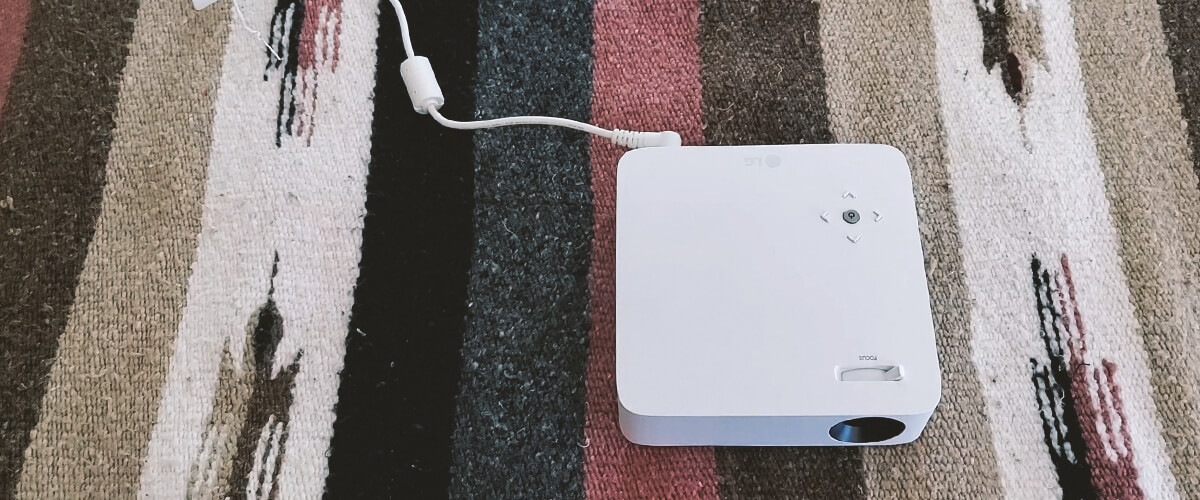 At the throw distance of 4.6 feet, I got an image of 40 inches, just what the PH30N specifications say. To get a 100-inch image, the projector should be at least 10.8 feet away from the screen.
As you set up the projector, you should get ready that it will take more than plugging it in and focusing the image. There is neither zoom nor lens shift in LG PH30N. So, to adjust the image size, you've got to move the projector. The auto and manual +/- 40-degree vertical keystone correction will help you tilt the image. After all, you can make use of the tripod hole for a tripod or camera ceiling mount to place the projector in the winning position.
Key specs
Display technology: DLP.
Resolution, px: 1280x720.
Brightness, lumens: 4100.
Contrast: 100000:1.
Throw distance, ft: 4.6-10.8.
Image size, inch.: 25-100.
Wi-Fi: yes.
Built-in speaker: yes.
As a portable HD projector, LG PH30N will give you a pleasing watching experience no matter where you go. It will let you watch 720p (1280×720) content without pixels (given that you keep the projecting image small or medium-sized). Two hours of operation are impressive for this price category, so LG PH30N is indeed a good projector in the value-for-the-price aspect.
What to expect from projectors under $400?
To downgrade the price, manufacturers of projectors have to sacrifice something. The thing that suffers most is the brightness. This hurts the image contrast and size because the larger image will require more lumens, which may be insufficient in a budget projector model.
Also, resolution and color accuracy may be affected. While budget-friendly projectors still can support HD content, the lower-quality lens can make the image blurry or soft. The absence of optic zoom and lens shift is also explained by the need to keep the price down.
Additionally, inexpensive projectors may lack wireless connectivity options found in high-end devices. This way, you won't be able to stream your favorite shows or movies from Netflix or YouTube without attaching the cables to the source device.
Still, a budget device can make a good home theater projector if you do not set many expectations and confine yourself to its basic capabilities.
FAQ
Is it worth getting a cheap projector?
It all depends on your needs. If you want to spice up your living room and get a bigger scale for your movies, a cheap home projector is a great way to do that without breaking the bank. In case you plan to use a projector on the go, you will also appreciate affordable portable projectors that will create a big-screen experience outside your home.
How long do projectors under $400 last?
The bulb type is the major factor to consider when estimating the projector's lifespan. Cheap devices usually have halide bulbs, which deliver 3,000 hours of operation. So as you replace the bulb, you can extend the projector's life for a while.
Do projectors under 400 dollars have 4K?
There is hardly a projector with 4K at the price of $400. Finding a decent HD 1080p unit within this cost is challenging, saying nothing about 4K. So, to get a 4K resolution, you've got to either
increase your budget
or lower your expectations.
You may also check other decent projectors:
Best projector under $300
Best projector under $500
Best projector under $600
Best projector under $1000