This model appeared in 2022 and is one of the newest Artlii products. The Energon 2 is equipped with an expanded set of features, which, as the manufacturer claims, provides even more convenient and enjoyable viewing of various content. The developers also state that this device works equally great for indoor and outdoor entertainment. But is it really the case? Check out my investigation in the new Artlii Energon 2 review.
Design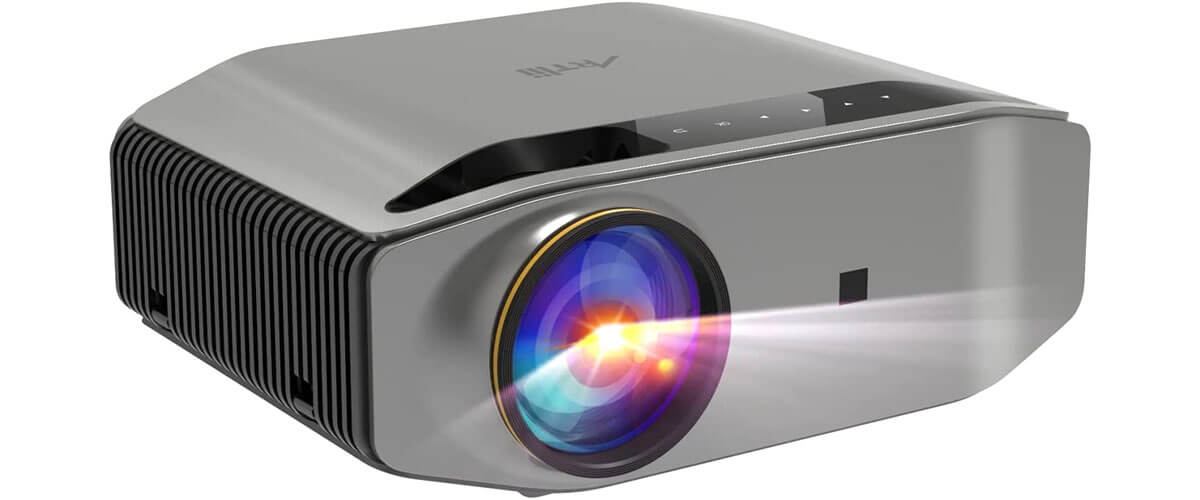 The design of the Energon 2 is pretty appealing and, I would say, quite futuristic. I particularly like the matte grayish finish and the lenses (by the way, there are five layers of refractive glass lenses). The casing is made of plastic, which feels pretty sturdy. On top of the device, you will find a wheel for adjusting keystone and touch controls.
It is an average-sized projector measuring 12.2 x 10.24 x 4.33 inches and weighing 5.72 pounds. Pretty standard size. Of course, it won't fit in your pocket, but it certainly won't take up much space.
The back of this Artlii projector has a variety of ports – from standard HDMI and USB to VGA for connecting to a TV stick, Blu-ray player, gaming console, computer, and HDR. There is an audio 3.5 mm output as well. You will also find a slot for an SD card.
Features and specs
As you opt for Artlii Energon 2, you will enjoy content in full HD as its native resolution is 1080p. It will allow you to play Ultra HD 4K multimedia files as well with a single condition – it will downconvert them to its native 1080p.
The Energon 2 can reproduce 17 million colors. During the latest debugging of the projector, three basic colors (red, green, and blue) have been strengthened and expanded. This improvement, along with Gamma correction, contributes to accurate color reproduction during most scenes and enhances the sensory effects of the projected image.
The projector can accept content both via wire and wirelessly. Wired options are pretty clear; I've already covered them in the previous section. As for the wireless connection, I should say that you can use the fastest 5G Wi-Fi with Artlii Energon 2. Wireless streaming is supported for iOS, Android, Windows, and other operating systems. You simply connect via Airplay or Miracast to mirror the screen from the shared device. Note that you can't stream content directly from some services like Netflix as its content is protected by copyright. You can use a TV stick to enjoy content from Netflix, Hulu, or other streaming services, though.
In the Energon 2, the manufacturer improved its brightness to 340 ANSI lumens using the Mstar performance chip. My observation is that it is brighter than other similar 1080p projectors with brightness measured in lux with 8,000 – 9,000 lux. Thanks to this, the device works equally great indoors and outdoors.
The built-in stereo speakers work fine and are pretty loud. However, if you want to get louder or achieve an immersive experience when watching a movie, just connect the projector to an external soundbar setup via Bluetooth or cable.
Picture quality
The picture quality is very good. The contrast between blacks and whites is fine, giving the image the desired depth and clarity. As for the picture brightness and color production, I find them appealing, too. Even with a few lights on, the picture is clear. Turn the lights off, and it gets even better.
In an outdoor environment, the image is still bright. But not as sharp as indoors in complete darkness. Also, the larger the image gets, the more washed out it appears to be. So even if you have a large screen, keep the image size at an optimal level if you want to enjoy content in an optimal quality outdoors.
The only issue I faced with the Energon 2 was a quick glitch that appeared on the screen from time to time.
Installation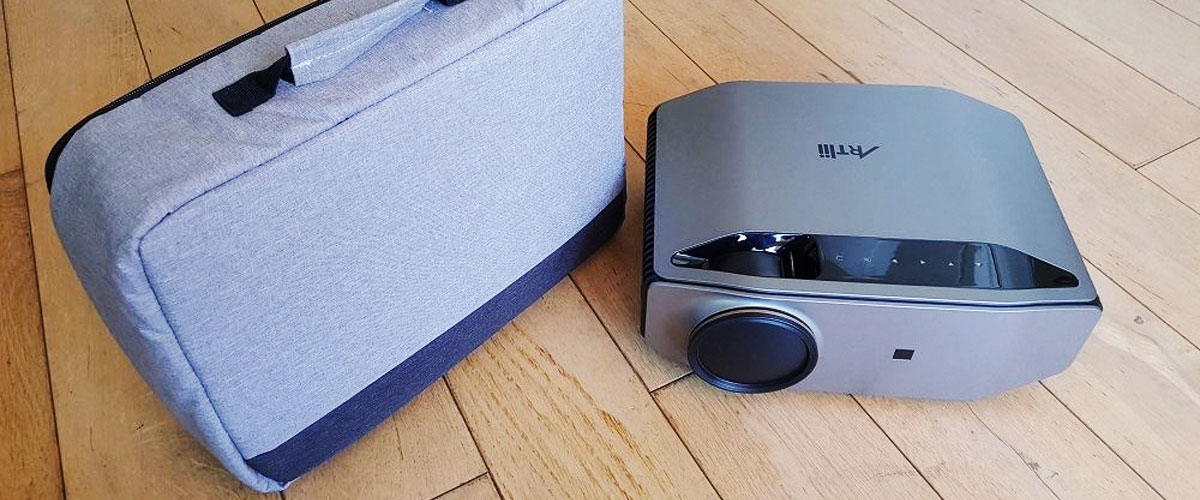 Based on Energon 2 specifications, the projector offers a screen of 44 – 250 inches from a distance of 5 – 27 ft. Additionally, a manual ±15° keystone correction lets you position the image proportionally. To customize the image size from 60% to 100%, you may want to use the remote control to zoom it in and out.
Key specs
Display technology: LCD.
Resolution, px: 1920×1080.
Brightness, ANSI lumens: 340.
Contrast: 10000:1.
Throw distance, ft: 5-27.
Image size, inch.: 44-250.
Wi-Fi: yes.
Built-in speaker: yes.