With a huge selection of high-quality content and ease of navigation, Netflix's popularity is booming worldwide. Many people use it as a default app to watch TV shows and movies. That is why when they consider getting themselves a projector to enjoy content on a big screen, they usually consider the availability of Netflix not as a luxury but as an imperative feature. But not all devices let stream content from this platform. In this review, I've gathered the best mini projectors for Netflix watching, both at home and anywhere else.
Our pick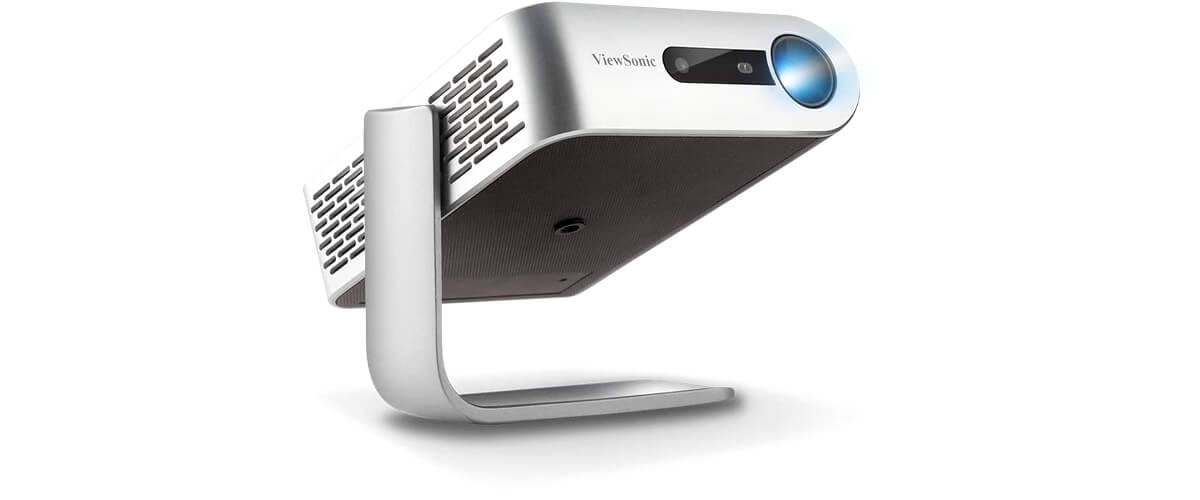 ViewSonic M1+
Best mini projectors for Netflix
The ViewSonic M1+ is an ultra-portable projector with a built-in battery and over 30,000 hours of operational life, it will deliver years of multimedia entertainment wherever it goes.
Read the full review
.
Mini projectors for Netflix comparison table
Name
Display technology
Resolution, px
Brightness, lumens
Contrast
Review
ViewSonic M1+

best overall

DLP
854×480
288
120000:1
Review
Anker NEBULA Capsule
DLP
854×480
1660
400:1
Review
KODAK Luma 150
DLP
854×480
144
400:1
Review
Best mini projectors for Netflix reviews
The ViewSonic M1+ projector entered the market in 2019 to replace the much-acclaimed M1 model. Similarly to its predecessor, the M1+ refers to the category of pico projectors - small devices capable of upsizing the image to 100 inches. Yet, it brings a few updates - 16 GB internal storage, wireless connectivity, and app compatibility. So what else does this device bring forward? That's what you will learn in my ViewSonic M1+ review.
Design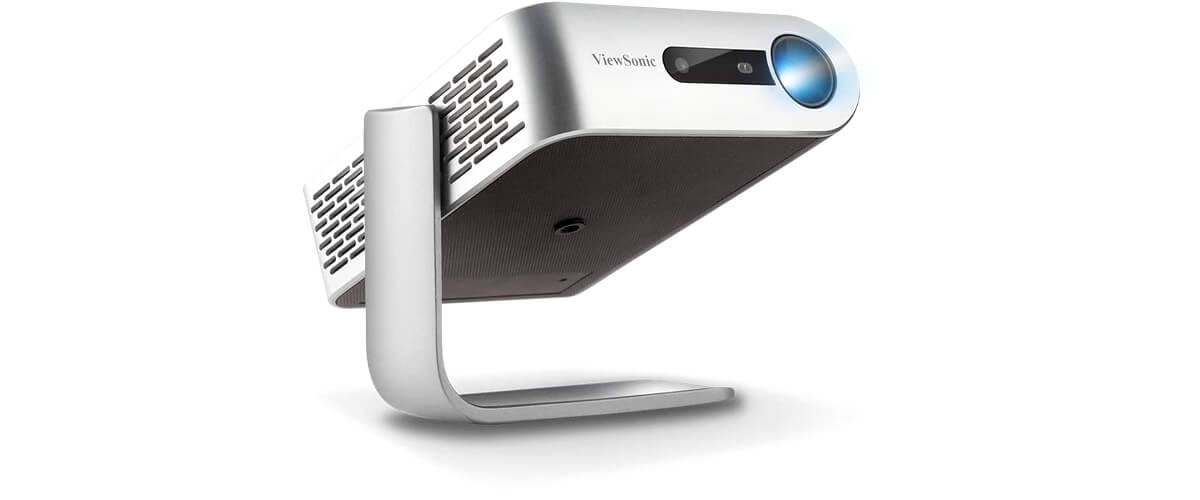 The design of ViewSonic M1+ is probably the first thing that immediately grabs attention - it's very sensible and convenient. The projector features a rotating handle, which is also a stand and a lens cover, depending on the position you set it.
Should I say that the unit is surprisingly small? It is only 4.96 x 1.59 x 5.83 inches and 1.54 lbs! So, whether you go on a business trip, go camping, or just want a compact projector you can store at home, ViewSonic M1+ is your choice to go.
You can use an HDMI or USB port to connect the projector to the video source (both USB-A and USB-C are available). To hook speakers, there is a 3.5 mm output.
Features and specs
Let's dive into the M1+ specifications and see whether it meets the cut. The native resolution of this projector is on the lower side - 854x480p, which is fine for a battery-powered device within this price category.
The ViewSonic rates the M1+ model as 300 lumens. What does this figure say? For its size, it's pretty bright. Other pico projectors can deliver 200 or even 60 lumens. Though it still needs a dark environment for its utmost performance. The LED light source has a considerable lifespan - 30,000 hours.
The 3W stereo Harman Kardon speakers are surprisingly loud - they easily fill a nice-sized room. But for a more satisfying listening experience, you can use a 3.5 mm headphone jack or Bluetooth to connect external speakers.
One of the things that I find appealing is the ability to control the projector using your phone. Once you install a ViewSonic vCastSender app on your phone, you can pair these devices. In addition, the UI design is intuitive, so it's pretty easy to navigate the app and pick the right command.
This ViewSonic portable projector runs on Android and has a link to the Aptoide store for loading applications. Not all apps are listed there - I didn't find Netflix, which is a pity.
This projector has three modes: Cinema, Music, and User. In User mode, you can adjust audio to the parameters that are the most appealing to you.
A 5G Wi-Fi module allows transmitting the signal at the fastest speed. You can also mirror the screen of your phone or another smart device.
Picture quality
M1+ provides a very watchable image. It does not come close to the brightness and image clarity of home projectors, but that's the common thing for all portable devices. With a little bit of light, the image looked washed out - 300 lumens are to blame for that.
In dark scenes, the projection lacked a bit of detail. There was no noticeable rainbowing, which is inherent to many DLP projectors - so I added extra points to this device for overcoming this issue.
Installation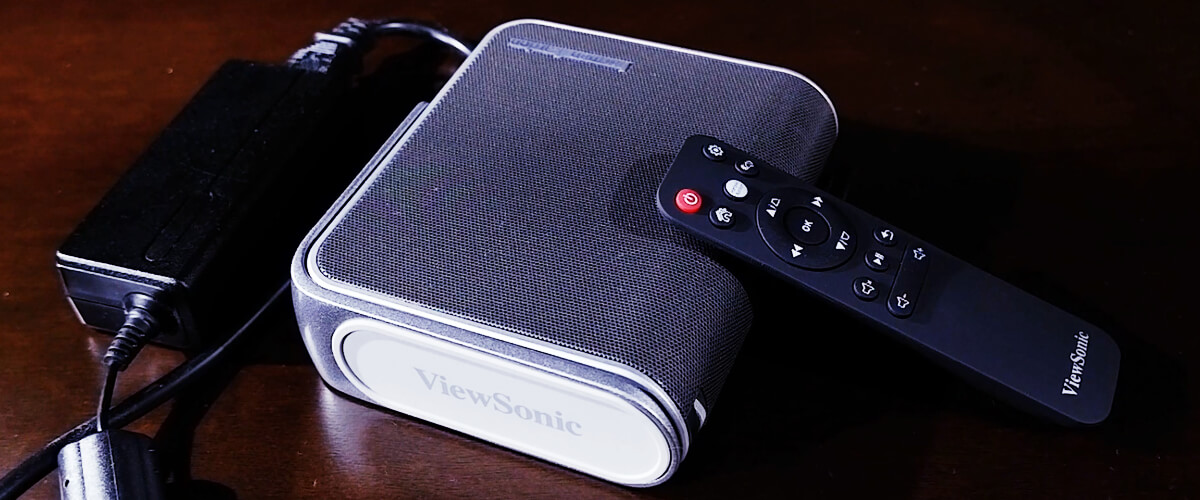 From a distance of 3 feet, I was able to achieve a 36-inch image - the equivalent of a 36-inch TV. For a larger image, like 100 inches, the device should be eight feet away from the screen. Though at this distance, the image was noticeably less intense than when the projector was closer to the screen. So, since this is a short-throw projector with a throw ratio of 1.2, you may want to use it on a smaller screen at a closer distance.
The auto keystone correction is a handy thing for a portable projector - you just place it in the desired place, and you always know that the bottom and top of the image are of the same size. But mind that it won't save the day when you put the device at a dramatic angle. In this case, you will need to move it to spot a better place.
Key specs
Display technology: DLP.
Resolution, px: 854x480.
Brightness, ANSI lumens: 120.
Contrast: 120000:1.
Throw distance, ft: 2-8.7.
Image size, inch.: 24-100.
Wi-Fi: yes.
Built-in speaker: yes.
No matter where you use it, the battery-powered portable ViewSonic M1+ projector lets you watch Netflix content just anywhere. Once you arrange a dark room, you will be amazed by how easy it is to have a cinema-like experience with this device. That is why I believe this is the best mini projector for Netflix.
Anker NEBULA Capsule II
As you look at the Anker NEBULA Capsule, the first thing you will think is, "Wow, what an interesting concept. But does it deliver?" Indeed, the soda-can design makes this projector truly unique and suitable for applications when you want to have a device for outdoor theater bliss. While things are pretty clear that this is one of the most portable projectors, you may wonder if it can project a decent-quality image. Let's put guesswork aside. My Anker NEBULA Capsule review will give you a comprehensive answer to this question.
Design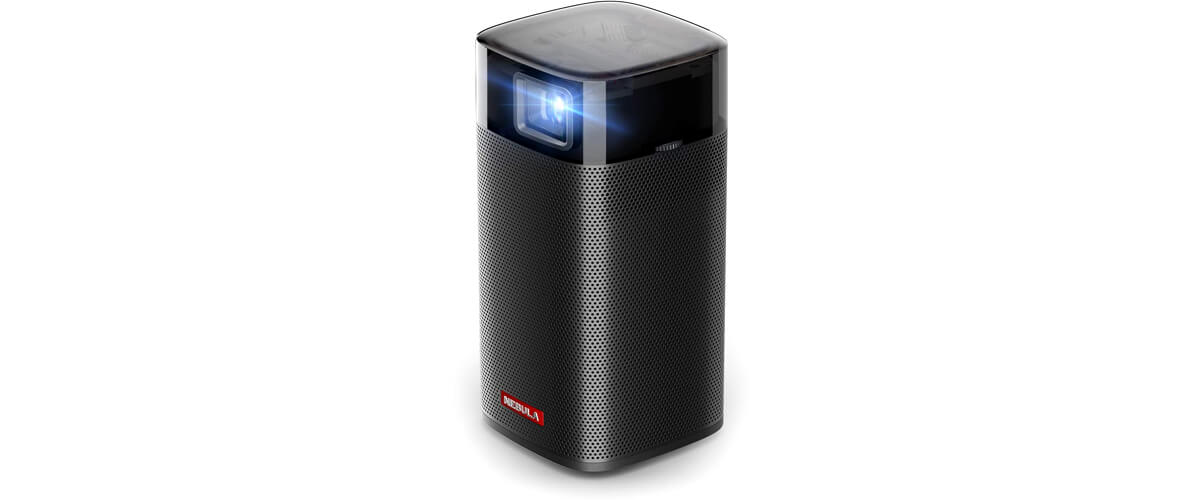 If you need to reproduce a larger image without lugging around a massive box, Anker NEBULA Capsule is your choice. With a 1.0 lb weight and 2.7 x 2.7 x 4.7 inches size, it easily fits into a bag along with other stuff. So, whether you are going to use it in your backyard or at the campfire under the stars, you won't bother yourself with carrying this little guy much.
The HDMI port is a nice thing. If you want to stream content from other devices, the HDMI port makes this easy. Also, there is a mini USB port for charging and hooking to other gadgets.
Features and specs
Here is the most exciting part of my review, where we will delve into NEBULA Capsule specifications. And we'll start with the display and picture capabilities. This device runs on a DLP technology supporting 854x480 native resolution. It's not HD quality, but you can stream content from Netflix, YouTube, Hulu, and other Android apps on a screen 20 to 100 inches from a device you can fit into your pocket. Agree that this is awesome!
The projector is powered by the Android 7.1 operating system with 8GB eMMC of ROM and 1GB DDR3 of RAM. You can use Android or iOS devices to download an app to control the projector. You can also use Bluetooth, 2.4GHz / 5GHz Wi-Fi, and Screen Mirroring for streaming video content to a bigger screen.
However, NEBULA Capsule is slightly dim. Its brightness ranks only at 100 ANSI lumens. Thus, it should better be used in dimmer environments. The lamp will last 30,000 hours before you need to replace it, which is a decent amount of time.
The built-in 5200 mAh battery delivers 4 hours of movie playtime in Battery mode. You will get 30 hours of autonomous operation when you switch to Bluetooth Speaker mode. It takes 2.5 hours to fully recharge the projector, all thanks to a quick charge 2.0 9V2A.
For your convenience, there are multiple projection modes: Front, Rear, Front Inverted, and Rear Inverted. This gives enough flexibility in terms of placement.
For its size, this projector is pretty loud. It has an internal 5W speaker, which turns out to work fine. However, I believe that it is a bit shouty at max volume.
Picture quality
As for the image quality, it is definitely less crisp than what you get on a flat TV screen. But when you buy a projector of the can size, you take it for granted. Though I would say, the picture gets crisper when you downsize the image. You may notice pixels as you project the image at the top of the recommended size. However, if you sit a few feet away from the screen, you shouldn't notice the low resolution. The brightness also suffers in NEBULA Capsule, just like in all compact projectors, but the image is satisfactory in a dark room.
Installation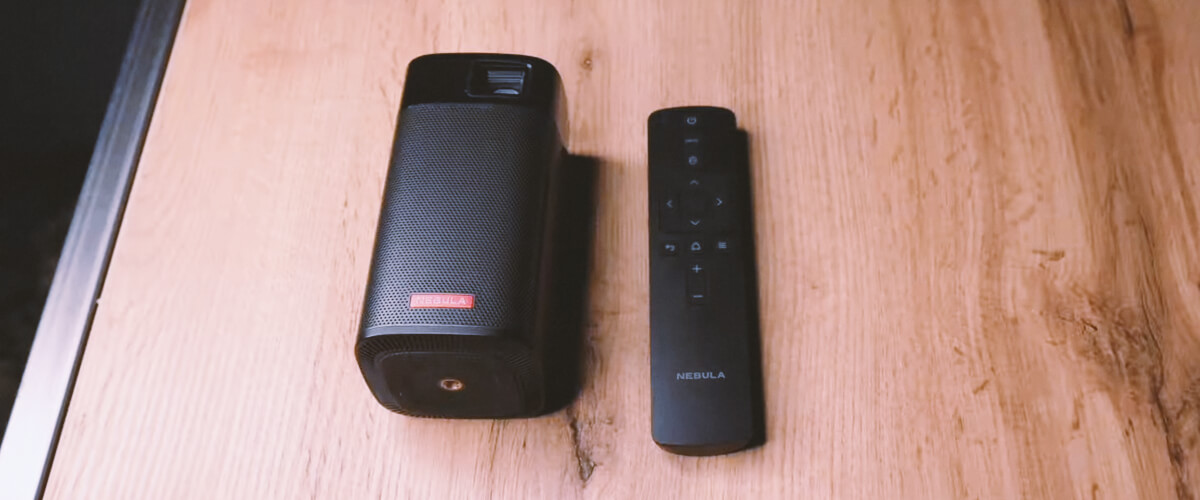 I like the tripod mount on the bottom, among other NEBULA Capsule features, which is handy for convenient placement. Because of the 1.3:1 throw ratio, you can project an image of 20 - 100 inches at a distance of 1.9 - 10 feet.
NEBULA Capsule is designed for fast and simple installation. There is no zoom and a lens shift. Thus, you've got to move the projector around to get a smaller or bigger straight-edged image. The focus is manual and is achieved via a small dial. The auto vertical and manual horizontal keystone correction will enable you to adjust the image so that you have a rectangular shape.
Key specs
Display technology: DLP.
Resolution, px: 854x480.
Brightness, lumens: 1660.
Contrast: 400:1.
Throw distance, ft: 1.9-10.
Image size, inch.: 20-100.
Wi-Fi: yes.
Built-in speaker: yes.
The soda-can-sized Anker NEBULA Capsule II is a perfect match for everyone who does not want to deal with heavy projectors just to leisurely watch a few episodes of a Netflix show in the evening. Auto pic-adjustment features are really handy in this model, and the image is quite watchable, so you will love this projector.
KODAK Luma 150 – budget
When you have KODAK LUMA 150, streaming multimedia content wherever you go becomes nothing short of ordinary. So, whether you are an avid traveler enjoying watching movies on a big screen or a business person looking for flexibility in sharing presentations, the KODAK Luma 150 may fall within your interest. It is a palm-sized projector that meets a diverse range of needs by letting you get a big-screen experience in the middle of nowhere. But will it cover yours? Dive into my KODAK Luma 150 review to find the clues to your dilemma.
Design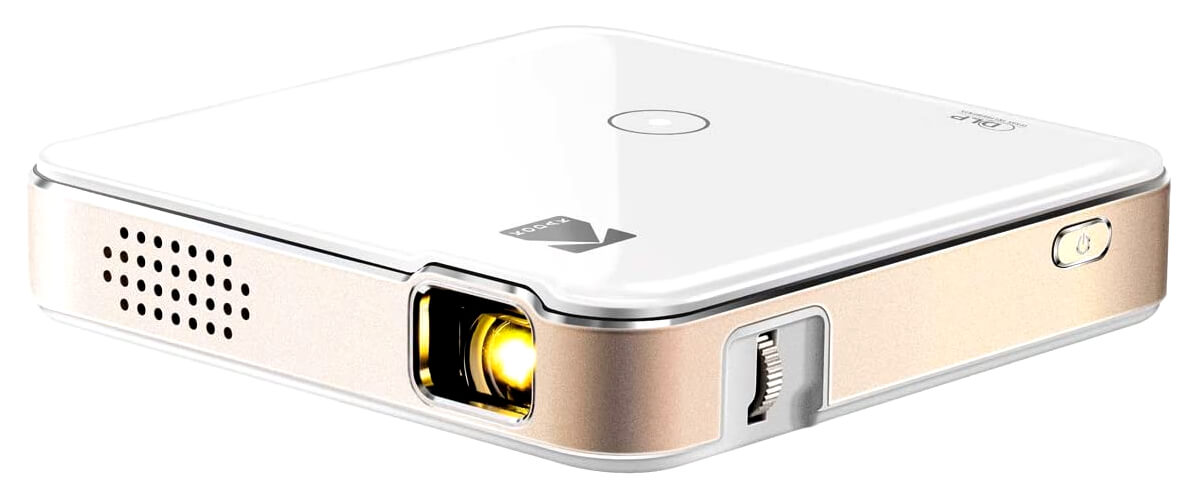 The Luma 150 by KODAK is remarkably small (3.1 x 3.1 x 0.87 inches) and lightweight (1 lb), so it won't bother you carrying it in your backpack or pouch at all.
The interior of the Luma 150 is appealing and sleek. A white frame with gold trim gives this projector an elegant feel. The casing is made of plastic, which doesn't feel too sturdy. The top of the device has touch controls, while the sides feature the power button, focus wheel, MicroSD slot, and a speaker. At the bottom, you will find a connector to attach the projector to the tripod. HDMI, USB, and DC presence will become a nice bonus. You will also find a 3.5mm audio output.
Features and specs
KODAK Luma 150 pocket projector is a DLP-based LED projector. The 854 x 480 native resolution and 1000:1 contrast ratio are more than understandable in this device. Though it can reproduce 1080p and even 4K videos - downgrading them, of course.
The projector's lamp outputs 60 ANSI lumens, which is around 420 lumens. Is it enough to project a large image or deliver a crisp one in a lit room? Nope, but take the tiny Luma 150's size into consideration. Brightness and image quality are the things you have to sacrifice in favor of portability.
Luma 150 has a built-in speaker, which is not louder than a phone speaker. Would you like to make it louder? Then use the 3.5 mm output or connect to speakers wirelessly.
Like many portable projectors, this one has a battery. It is capable of operating for 2.5 hours on a full charge - pretty enough for a single movie or a quick meeting. The power cord is too short, so it may be pretty hard to find a proper spot for this little one when the battery is dead.
To stream content, you can wirelessly connect via Miracast or Airplay (which doesn't work for Hulu and Netflix). The projector also plays multimedia content, images, presentations, and other files from a microSD memory card or USB flash drive.
Picture quality
Considering the Luma 150 specifications, it would be fair not to take hopes too high about this projector. The image quality is fine, but nothing more. The colors are replicated well, and the contrast is decent, but only for the 36-inch image. When the image goes larger, it starts looking faded.
The same goes for the room with ambient light. A 24-inch image looks reasonably bright. However, you will notice that it gets washed out if you increase its size.
I traced no signs of the rainbow artifacts, which frequently plague DLP projectors. Which I believe is great!
Installation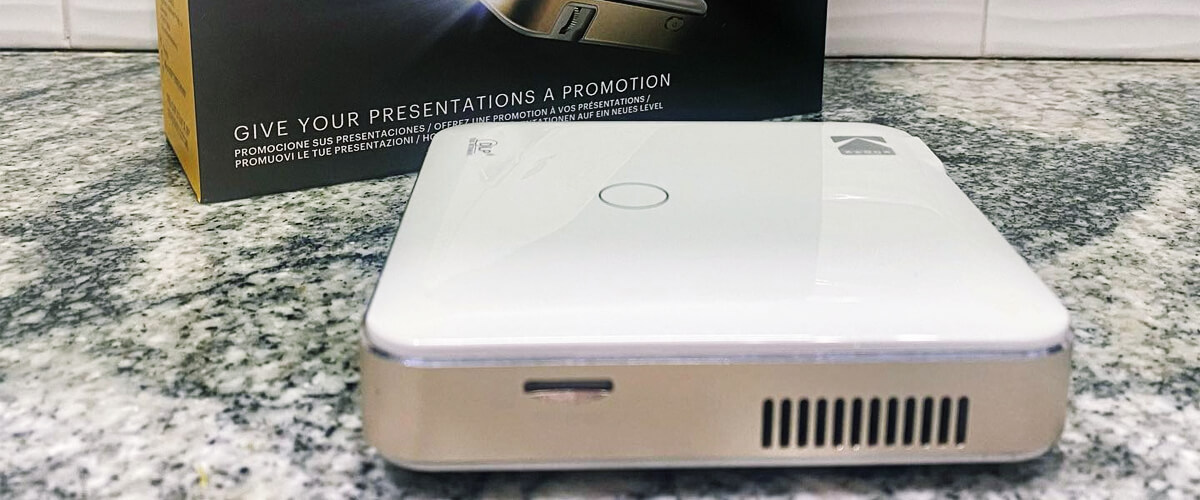 The maximum image you can obtain with the Luma 150 is 150 inches. Though it may be hard to throw a full-sized image without affecting its quality and brightness. The larger the image gets, the more lumens it requires. And with this model, you may have issues at this point. So I would recommend sticking between 24 and 36 inches, depending on the room's level of light, to get an image of reasonable quality.
The vertical keystone correction is missing in this model. There is a manual focus, but a wheel is not convenient enough to let you achieve a good focus.
As I placed Luma 150 on the table, relying solely on the device's feet, I projected a complete image without parts of the image being cut off. But if you want to raise the device over the obstructions, there is a threaded hole for a tripod.
Key specs
Display technology: DLP.
Resolution, px: 854x480.
Brightness, ANSI lumens: 60.
Contrast: 1000:1.
Throw distance, ft: 0.6-12.5.
Image size, inch.: 10-150.
Wi-Fi: yes.
Built-in speakers: yes.
The Luma 150 mini projector, compatible with Netflix, is a great companion for fans of the series. Its foldable design makes it super-easy to carry it with you without the risk of damaging the lens. Even though the screen size is not as big as you may want it to be with this model, its image quality is pretty good. So Netflix fun is guaranteed.
FAQ
Can you watch Netflix on a projector?
Yes, you can watch Netflix on a projector, but there are a few things to consider. Some projectors with Netflix as a built-in app let you watch content without any additional manipulations. But mind that you won't be able to mirror the screen from your phone or laptop because of copyright restrictions.
Are mini projectors worth it?
Mini projectors usually give the advantage of portability and flexibility of use. Though these things may come at a
cost
– the brightness may be dimmer, and the
screen
size will be limited to a maximum of 100 inches.
Does Netflix allow screen mirroring projector?
No, mirroring the screen from your phone, laptop, or tablet is prohibited when it comes to casting Netflix content.