The ViewSonic M1+ projector entered the market in 2019 to replace the much-acclaimed M1 model. Similarly to its predecessor, the M1+ refers to the category of pico projectors – small devices capable of upsizing the image to 100 inches. Yet, it brings a few updates – 16 GB internal storage, wireless connectivity, and app compatibility. So what else does this device bring forward? That's what you will learn in my ViewSonic M1+ review.
Design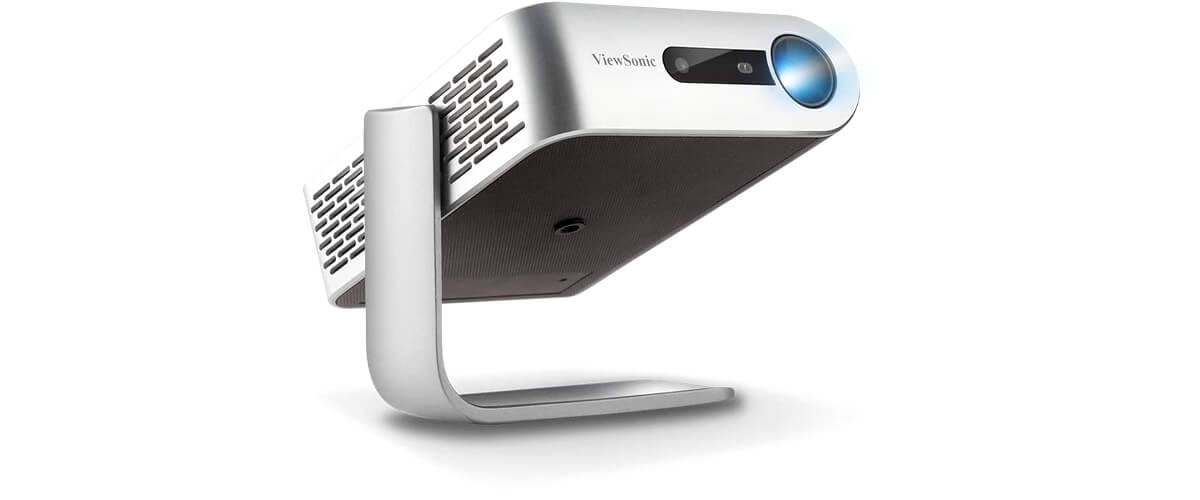 The design of ViewSonic M1+ is probably the first thing that immediately grabs attention – it's very sensible and convenient. The projector features a rotating handle, which is also a stand and a lens cover, depending on the position you set it.
Should I say that the unit is surprisingly small? It is only 4.96 x 1.59 x 5.83 inches and 1.54 lbs! So, whether you go on a business trip, go camping, or just want a compact projector you can store at home, ViewSonic M1+ is your choice to go.
You can use an HDMI or USB port to connect the projector to the video source (both USB-A and USB-C are available). To hook speakers, there is a 3.5 mm output.
Features and specs
Let's dive into the M1+ specifications and see whether it meets the cut. The native resolution of this projector is on the lower side – 854x480p, which is fine for a battery-powered device within this price category.
The ViewSonic rates the M1+ model as 300 lumens. What does this figure say? For its size, it's pretty bright. Other pico projectors can deliver 200 or even 60 lumens. Though it still needs a dark environment for its utmost performance. The LED light source has a considerable lifespan – 30,000 hours.
The 3W stereo Harman Kardon speakers are surprisingly loud – they easily fill a nice-sized room. But for a more satisfying listening experience, you can use a 3.5 mm headphone jack or Bluetooth to connect external speakers.
One of the things that I find appealing is the ability to control the projector using your phone. Once you install a ViewSonic vCastSender app on your phone, you can pair these devices. In addition, the UI design is intuitive, so it's pretty easy to navigate the app and pick the right command.
This ViewSonic portable projector runs on Android and has a link to the Aptoide store for loading applications. Not all apps are listed there – I didn't find Netflix, which is a pity.
This projector has three modes: Cinema, Music, and User. In User mode, you can adjust audio to the parameters that are the most appealing to you.
A 5G Wi-Fi module allows transmitting the signal at the fastest speed. You can also mirror the screen of your phone or another smart device.
Picture quality
M1+ provides a very watchable image. It does not come close to the brightness and image clarity of home projectors, but that's the common thing for all portable devices. With a little bit of light, the image looked washed out – 300 lumens are to blame for that.
In dark scenes, the projection lacked a bit of detail. There was no noticeable rainbowing, which is inherent to many DLP projectors – so I added extra points to this device for overcoming this issue.
Installation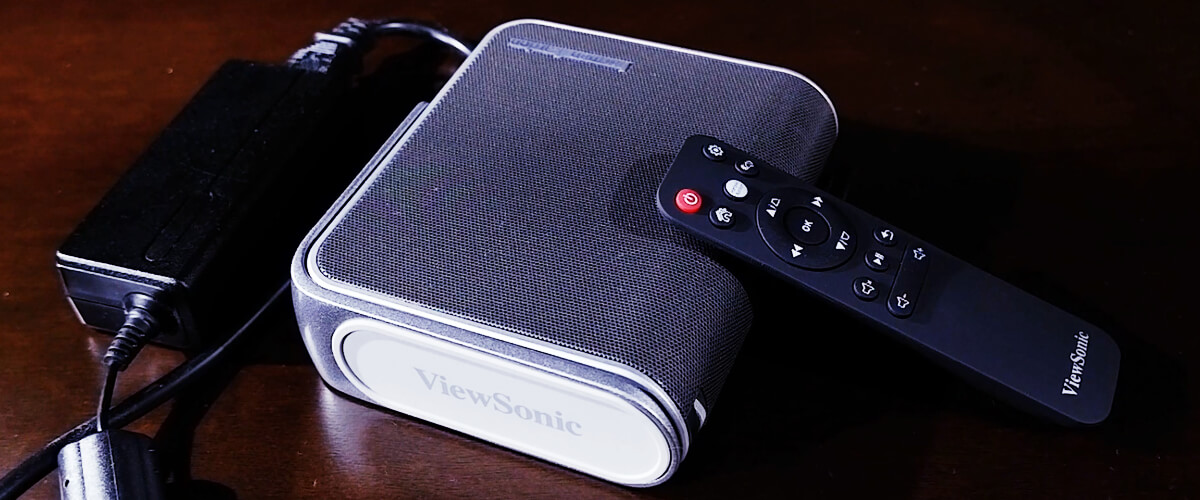 From a distance of 3 feet, I was able to achieve a 36-inch image – the equivalent of a 36-inch TV. For a larger image, like 100 inches, the device should be eight feet away from the screen. Though at this distance, the image was noticeably less intense than when the projector was closer to the screen. So, since this is a short-throw projector with a throw ratio of 1.2, you may want to use it on a smaller screen at a closer distance.
The auto keystone correction is a handy thing for a portable projector – you just place it in the desired place, and you always know that the bottom and top of the image are of the same size. But mind that it won't save the day when you put the device at a dramatic angle. In this case, you will need to move it to spot a better place.
Key specs
Display technology: DLP.
Resolution, px: 854×480.
Brightness, ANSI lumens: 120.
Contrast: 120000:1.
Throw distance, ft: 2-8.7.
Image size, inch.: 24-100.
Wi-Fi: yes.
Built-in speaker: yes.