If you are limited by the budget of $600, you may be misled by the misconception that you won't find a quality one within this price range. Actually, you will be surprised to reveal that there are plenty of decent devices for you to consider. So, in this review, I will cover the best projectors under $600. I will help you pick the one that meets your needs and let you enjoy the big-screen experience in your living room, office, classroom, or other locations.
Our pick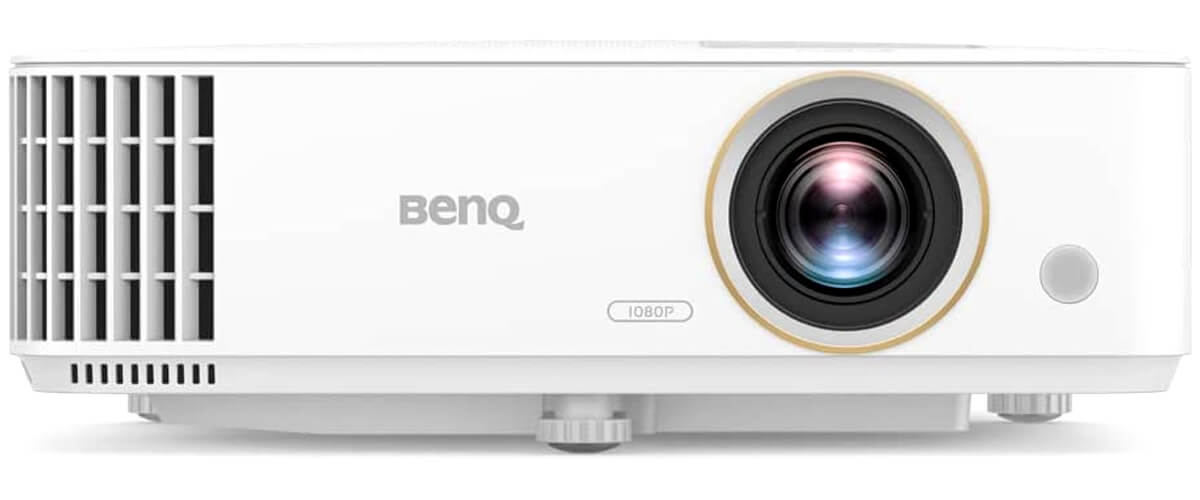 BenQ TH585P
Best Projector Under $600
Treat your eyes to the brilliance of Full HD 1080p visuals, with fantastic detail clarity and sharpness for exceptional home cinematic experiences in well-lit environments.
Read the full review
.
Projector under $600 comparison table
Name
Display technology
Resolution, px
Brightness, lumens
Contrast
Review
BenQ TH585P

best overall

DMD
1920×1080
3500
10000:1
Review
Epson EX5280
3LCD
1024×768
3800
16000:1
Review
ViewSonic PS600X
DLP
1024×768
3700
22000:1
Review
Optoma HD146X
DLP
1920×1080
3600
25000:1
Review
Best Projector Under $600 Reviews
If you can't decide on a projector for gaming and home entertainment, you will find my BenQ TH585P review very helpful. The TH585P projector is a modified version of the BenQ TH585 model, which is now available with a manual focus and longer lamp life. Let's take a closer look at the BenQ TH585P to see why it's worth your attention.
Design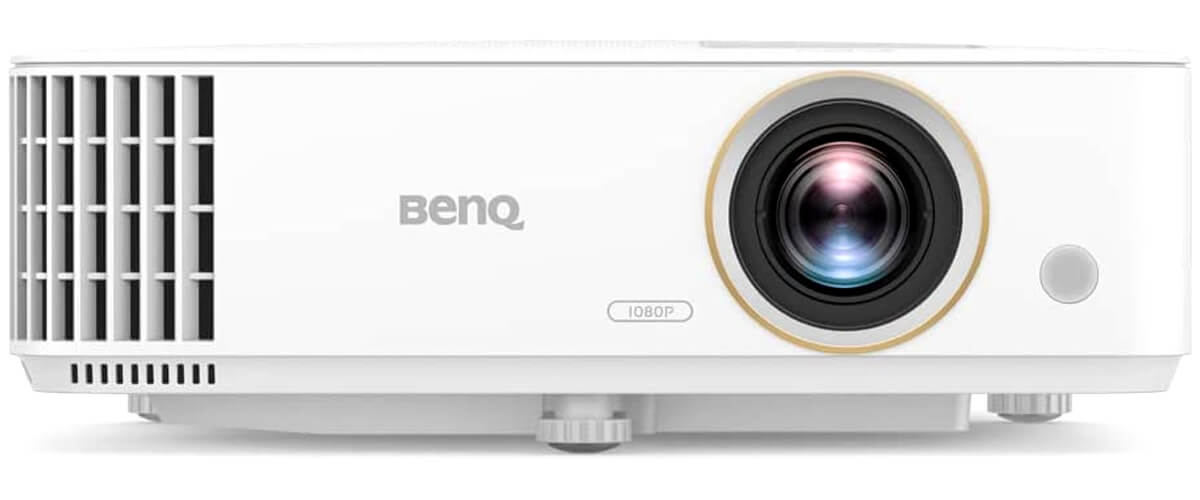 A projector looks simple yet performs its primary mission. That's what I can say about the BenQ TH585P. At just 6.2 pounds and 4.3 by 12.3 by 8.9 inches (HWD), it's easy to bring from one room to another. You can take it to the backyard for a movie night or even to a friend's place for gaming.
It has two HDMI ports for hooking to most video sources, game consoles, and PCs. There is also one 2.0/1.5A USB-A and RS232 in (DB-9pin). So, even if you have an older desktop PC, you will connect it to this projector without issues. To maximize the audio experience, you can use the 3.5mm Mini Jack port.
Features and specs
Based on TH585P specifications and my experience, I will say that this DLP projector is a good choice for a relatively large space. This standard-throw device will produce a 100-inch image around 11-12 feet between the lens and screen.
It delivers Full HD 1080P (1920x1080) visuals in a 16:9 native aspect ratio with great detail clarity. With 30-bit (1.07 billion) displayed colors and a 10,000:1 contrast ratio, you can expect nothing more but sharp and accurate image reproduction. Moreover, given that there are several viewing modes (3D, Bright, Cinema, Game, Living Room, and Sports) and an option to save two custom modes, you can get the utmost from all kinds of multimedia content.
The 3500-lumen lamp makes the image or text sharp, even in a light room. The lamp will last for 4000 hours in a normal mode and 10000 hours in an ECO mode. If you switch to the LampSave mode, you will extend the battery's life to 15000 hours.
There is an in-built 10W speaker. It's enough for a small or medium room. However, if you want a more complex and louder sound, you've got to connect the projector to an external audio system.
Gamers will like BenQ TH585P for its special features. First, it has an ultra-low input lag (16.7 ms), so you can see instant reactions on the screen. It also has a BenQ-exclusive Black Detail Enhancement technology, which accentuates fine details in dark scenes. Now defeating enemies in the game will be not only pleasant (because of the large screen) but also faster.
Unfortunately, there are no Wi-Fi and Bluetooth connectivity options. So, you've got to connect all the devices via cables.
Picture quality
With BenQ TH585P, you will enjoy a clear and bright 1080HD image with factory default settings. It reproduces roughly 95% of the colors in the Rec.709 spectrum, so I really have no complaints about the color accuracy.
This projector depicts the image nuances like textures, shades, and hues, even in fast-paced content, like sports. But I noticed some distracting rainbow artifacts, which you might consider a serious issue.
Installation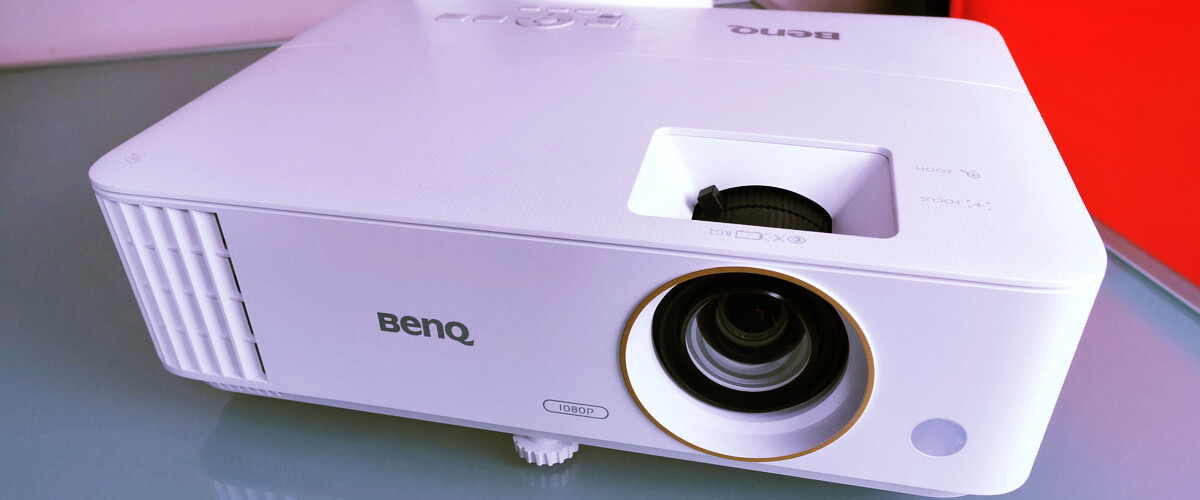 Do not worry about the installation process - things are pretty simple here. BenQ TH585P features a digital lens shift, meaning that you won't have issues with blurred image edges. The auto vertical keystone is a good thing as it enables projecting aligned images from different angles. With the manual focus and 1.1x zoom, you can maximize available space with a range of throw distances. Considering the 1.5~1.65 throw ratio, you can produce a 100-inch image from an 11-12 feet distance. For getting an image of 150 inches, you've got to ensure the distance from the lens to the screen of 16.3 - 18 feet.
Key specs
Display technology: DMD.
Resolution, px: 1920x1080.
Brightness, lumens: 3500.
Contrast: 10000:1.
Throw distance, ft: 2.2-27.
Image size, inch.: 30-300.
Wi-Fi: no.
Built-in speaker: yes.
With BenQ TH585P, you will get the desired entertainment experience, whether you watch movies or play games. With vivid colors, dark detail enhancement, and flexible settings, you will see every little detail on the screen. That is why it is at the top of my list and makes the best projector under $600.
Epson EX5280
Whether you are looking for a projector for your classroom or office, you will find my Epson EX5280 review informative and helpful. I would nominate this sort of projector as one of the greatest devices for displaying large-group presentations, images, spreadsheets, or videos, even in a well-lit room. With crisp text and images, you will deliver the message to the audience clearly and capture their attention.
Design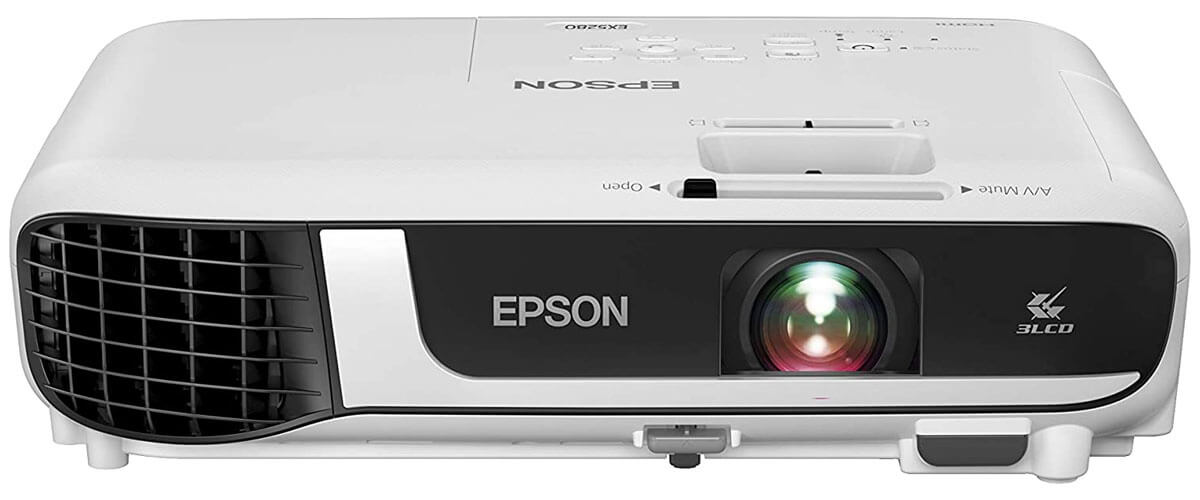 Epson EX5280 is compact. With a weight of 5.5 lbs and dimensions of 11.9 x 9.3 x 3.2 inches, it can easily be mounted to the ceiling. So it won't be an issue to carry it around from one office or classroom to another.
The connectivity options of this model are set up for the minimum. This device has one VGA, HDMI, and a USB-B port. The former supports Plug and Play compatibility for Macs and laptops. There is also a composite video input with left and right audio inputs, as well as a USB-A port. You can also use wireless connectivity, but it is a bit harder to figure out. So, what I see here is that even if you rely on older video sources, you can hook up the devices to project content on a bigger screen.
Features and specs
The star of the Epson EX5280 projector is the UHE 210W lamp. With a brightness of 3600 lumens in the Normal mode and 2200 lumens in the ECO mode, all the wording is clearly seen on the screen. This projector also boasts a 15000:1 contrast ratio with Dynamic color mode, zoom wide, and Normal power consumption mode. The lamp will last for around 12,000 hours in ECO mode. But if you mainly use the projector in Normal mode, the lamp's lifespan will be halved.
Using an advanced true 3-Chip, 3LCD technology, this projector replicates 1024 × 768 pixels (XGA) content in the 4:3 aspect ratio. It also accepts 4K content, but mind that it will be downgraded. So, do not expect spectacular movie scene reproduction with this device. After all, it was not built to serve that purpose. Instead, it will work perfectly in offices and video conference rooms.
According to EX5280 specifications, this projector has a built-in 2W monaural sound system. It's okay for a small boardroom, but it may be insufficient for larger premises. In addition, there is no way to connect an external speaker to the projector. There is no 3.5 mm output anywhere, and the RCA connectors are for input only. So, for better sound quality, I recommend connecting an external sound system to the audio source rather than the projector.
If you still need to stream video content to a wider screen, you can connect to Fire TV, Apple TV, Roku, and Chromecast, through the HDMI port.
Picture quality
The Epson EX5280 projector lives up to its claim to produce a bright image even when it is close to the screen in a well-lit room. Colors and brightness during the dark are even more vivid.
Epson EX5280 features five color modes to play with, and each will work better for different situations. For example, the Presentation mode is my preferred choice for presentations due to color accuracy, brightness, and color saturation. I will go with Cinema and sRGB for graphics or photorealistic images. By the way, sRGB delivers great shadow detail, making it my go-to choice for videos and films.
Installation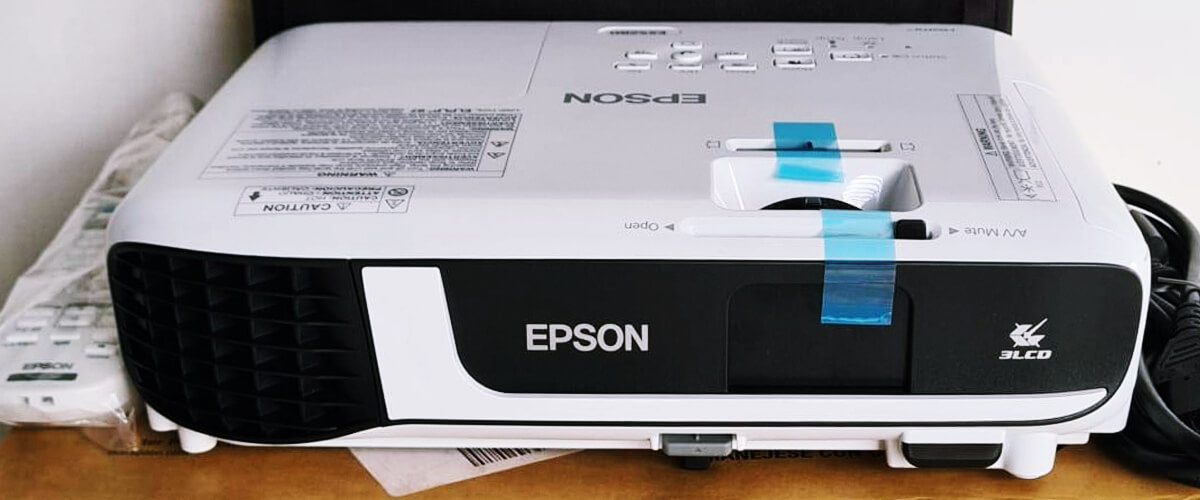 With the throw ratio of 1.48:1 - 1.77:1 and a projection distance of 35 inches to 431 inches, you can get an image from 30 inches to 300 inches using Epson EX5280.
Mostly, the setup for Epson EX5280 is easy. You just set the projector in place, point it at the screen, hook all the devices, and adjust the 1.2x zoom if needed. The auto vertical and manual horizontal ± 30º keystone correction is convenient for projecting onto a freestanding screen. The hard part of this is focusing. No matter how hard I tried, the bottom edges of the image were a little softer than the rest.
Key specs
Display technology: 3LCD.
Resolution, px: 1024x768.
Brightness, lumens: 3800.
Contrast: 15000:1.
Throw distance, ft: 3.5-42.5.
Image size, inch.: 30-300.
Wi-Fi: yes.
Built-in speaker: yes.
Even when close to the screen and in a well-lit room, EX5280 will not disappoint you. That's why it will make a good projector under 600 dollars for offices or classrooms. With great color accuracy and adjustable installation, it will help you conduct engaging presentations that grab the audience's attention.
ViewSonic PS600X
As a teacher or a business coach, you may be looking for a projector to let you share visual aids with your students in different environments. ViewSonic PS600X has been specially designed to become an indispensable assistant to those craving to deliver an engaging learning experience. It's bright enough to overcome ambient light. Additionally, it's compact and can be used even in small classrooms. But these are not the only merits of this device. To learn more, read my ViewSonic PS600X review.
Design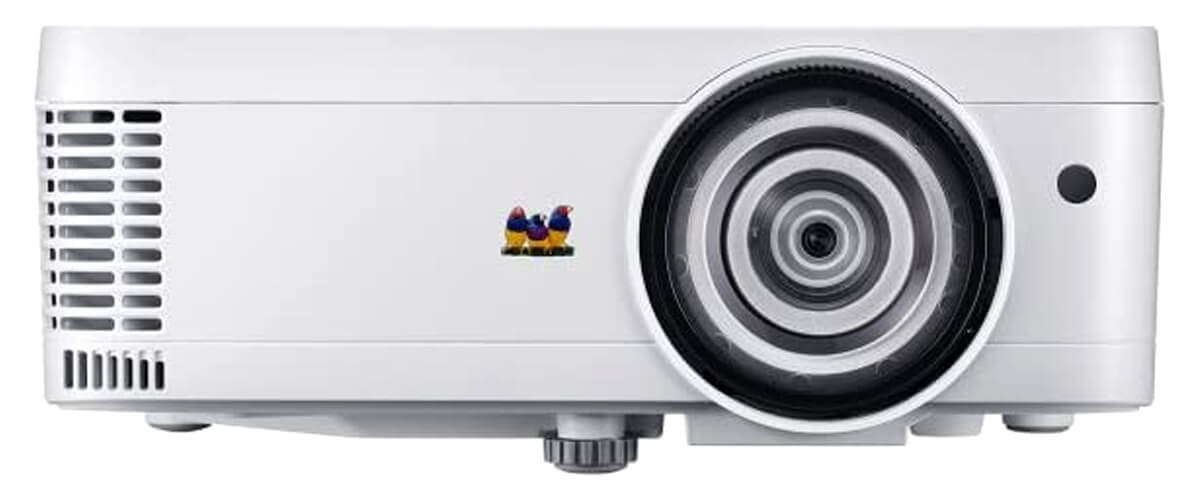 The ViewSonic PS600X projector will easily fit into any room. It's 11.5 x 9 x 4.5 inches and weighs around 5.7 pounds. Thus, you will get the flexibility and versatility of use with this device. It will make a good one-room projector, or you will easily carry it between the rooms to bring presentations or other visual materials to a large screen.
The PS600X has plenty of connectivity options. Let's start with two HDMI ports, which let you project high-definition content by connecting to nearly all sources. There are also two VGA ports for hooking to older computers or laptops. And you will also find a composite and S-video input. Finally, you can use a USB type or 3.5 mm in/out.
Features and specs
As a DC3 projector with the latest DLP imaging chip in the lineup, this device offers good contrast (22,000:1 contrast ratio) and speed. With resolution support ranging from VGA (640 x 480) to FullHD (1920 x 1080) and 3D compatibility, you can share different types of content with extra detail. Yet, I want to say that it is more suitable for sharing presentations, slides, etc. For sharing videos, you should go with a widescreen projector with WXGA resolution to match the aspect ratio.
The projector's lamp delivers 3,700 lumens, so you don't need to worry about image reproduction, even in spaces with high ambient lighting. The lamp's lifespan is 15,000 hours, sparing you from the need to replace it frequently. In addition, with auto Eco technology, the projector will switch to energy-saving settings when idle to save your power consumption.
As a short-throw device, it will project the image of 100 inches from a distance of 4 feet according to PS600X specifications. With the flexibility of placement, you will obtain a clear image without shadows.
ViewSonic PS600X is compatible with an interactive module, transforming virtually any surface into a whiteboard. You can write, draw, or annotate on the projected image. Additionally, there is a built-in presenter timer, which helps you stay on track with timing during the presentation.
The built-in 10W speaker is a great additive. With it, you do not have to worry about connecting an extra audio source for sharing video content. Besides, this projector allows you to connect speakers to amplify the sound for a larger room.
Picture quality
SuperColor technology delivers a wide range of colors, resulting in precise color reproduction in dark and light environments. The image quality is excellent, whether sitting up close or at the back. I noticed no shadows, so there will be no such thing as a bad place for your audience.
The image is crisp, even in the daytime. Every letter is readable and sharp, so reading the text on the slides won't be difficult.
Installation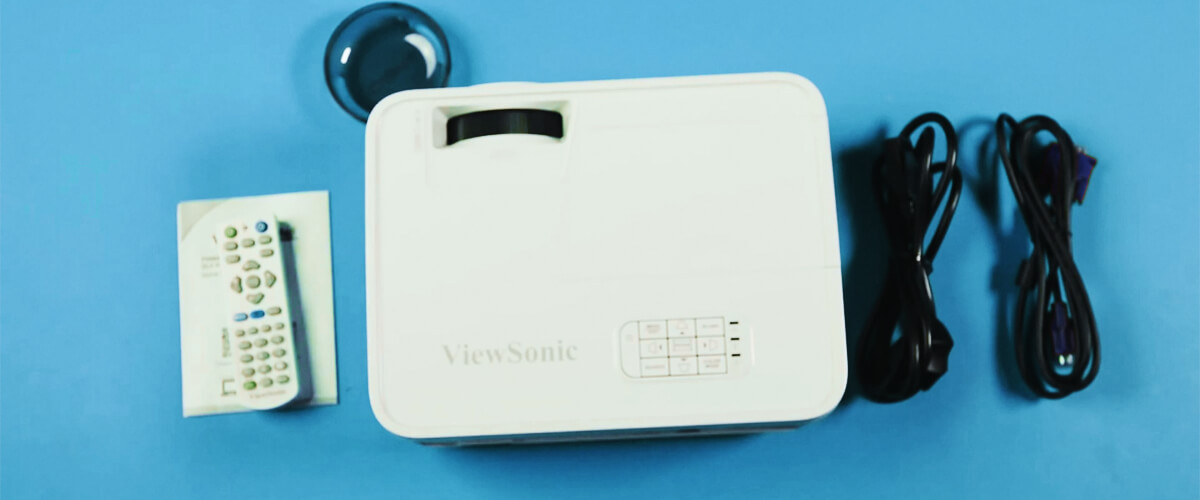 The ViewSonic PS600X features define this device as a 0.61 short throw projection. You can work with it literally from any position in the room, even if it's a few inches from the screen. For instance, from a distance of 4 feet, you can produce an image of 100 inches. The further you place the projector, the larger the image will be. The maximum image size you can get is 300 inches, though you will need at least 7 feet between the screen and the projector's lens.
Horizontal and vertical keystone correction complemented with 4-corner adjustment allows you to eliminate crooked or distorted images. Thus, you get a well-proportioned image without much effort.
Key specs
Display technology: DLP.
Resolution, px: 1024x768.
Brightness, lumens: 3700.
Contrast: 22000:1.
Throw distance, ft: 4-12.
Image size, inch.: 60-300.
Wi-Fi: no.
Built-in speaker: yes.
The PS600X will make a great classroom, training room, office, or home theater projector under $600. It offers a wide range of connectivity options, delivers an image without shadows, and works equally well in dark and light environments. Yet, it may be especially appealing for teachers or business coaches as it has added features that make presentations more engaging
Optoma HD146X
Suppose you browse the projector market to spot the item that will enhance your cinema-watching and gaming experience without paying all the money in the world. In that case, the Optoma HD146X should be a highly satisfying option for you. Its marked specs, bright light output, and cinema- and games-optimized modes will help you stay fully engaged in the movie or game. So, I have put out this Optoma HD146X review to show you why I believe this is one of the greatest value-for-money projectors on the market.
Design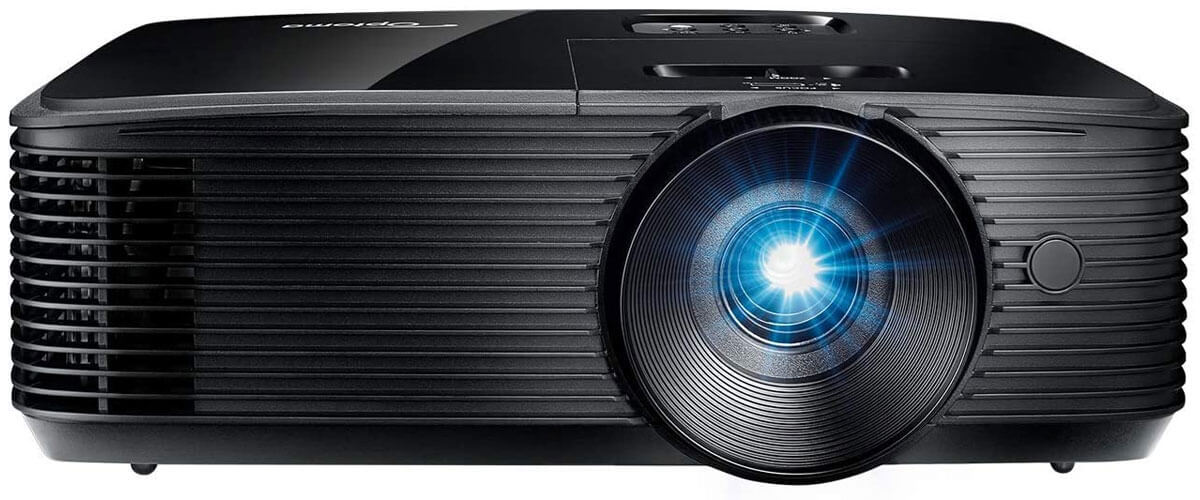 Have you been looking for an off-white colored projector? Then the fact that Optoma HD146X has a completely blacked-out body will sound like a friendly welcome for you. Also, it has a generic design that keeps the price reasonable yet maintains some amazing Optoma HD146X features.
The projector's casing is thoroughly plastic. It looks robust at first sight. Optoma HD146X is 6.17 lbs and has a dimension of 12.44 x 9.61 x 4.25 inches, so it is light, and you can carry it between the rooms without any issues.
When it comes to connectivity, things are straightforward here. Optoma HD146X has only one HDMI 1.4a input with 3D support, which may limit how many devices you can hook. Also, there is an audio 3.5mm and USB-A output for connecting speakers or a laptop.
Features and specs
Optoma HD146X uses DLP display technology, which allows it to deliver good image quality and reproduce bright colors. It supports 1080p Full HD (1920x1080) content and projects it on the screen with a diagonal of 28 - 301 inches. If you are curious whether this is a 4K projector, my answer will be no. But! It can still reproduce 4K videos, though it will downgrade them. Optoma HD146X also has full 3D support, enabling you to turn your living room into a 3D cinema screen. Make sure you get glasses for that, as they are not included in the box.
With 3,600 lumens of brightness and a 25,000:1 contrast ratio, you get an image with vibrant colors and great performance even in ambient light. In the brightest mode, the color accuracy is spectacular. But I guess it is better reserved for classroom work or presentations. In movie and game modes, there is a balance between accuracy and brightness. All thanks to the 240W lamp, which, by the way, promises to last 10,000 hours in Eco mode and 4,000 in Bright mode.
It would be fair not to expect mind-blowing performance from in-built 5W speakers. They are fine unless you are not demanding what sound comes out from the projector. I prefer connecting the projector to a surround sound system, but here is where the connectivity issues show up. There is only one HDMI port, and there is no way to use wireless speakers by default (unless you buy a special wireless system).
The gaming HD146X specifications should find their place in this review as well. The 16.4 ms response time is fine for fast-paced games that rely on rapid reaction. The lag is pretty satisfying for most gamers. Also, the Game Display mode does a great job of improving visibility. It enhances shadows and dark scenes for utmost playability.
Picture quality
The full HD resolution makes video content crisp and clear on the screen. The image is bright even when the light is on and does not blur at all. Moreover, the projector delivers superb image quality in low-light environments, even in ECO mode.
So, while the brightness is good, and the image is razor-sharp, I have witnessed one issue with HD146X. There is a flickering band across the screen. It lasts only for a second but sometimes may occur several times in quick succession.
Installation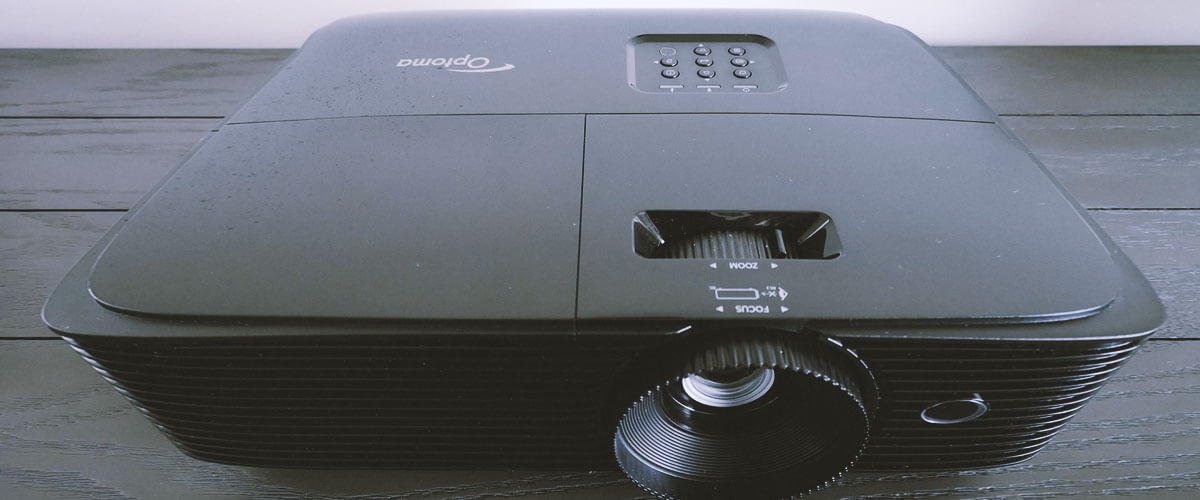 This Optoma projector has a throw ratio of 1.47:1 - 1.62:1, and it works great for a projection distance of around 39.37 - 385.83 inches for a screen image of around 28 - 301 inches.
The vertical adjustment of the keystone and a manual 1.1 zoom may impose some limitations on where to place the projector. Also, if the projector and the screen are not secured, you will have to re-focus and adjust the screen every day. Even a slight movement of the screen or projector can throw off the focus.
Key specs
Display technology: DLP.
Resolution, px: 1920x1080.
Brightness, lumens: 3600.
Contrast: 25000:1.
Throw distance, ft: 3.2-29.5.
Image size, inch.: 28-301.
Wi-Fi: no.
Built-in speaker: yes.
The Optoma HD146X projector is a good choice for video games and movies. With accurate color reproduction, a gaming-optimized mode, the ability to work in both dark and lit rooms, and full HD resolution, this model carries all you will appreciate in a cool home projector. Here, no matter what objectives you have for purchasing a projector. This one will cover them all.
FAQ
How much money do I need to spend on a projector?
Generally, it all depends on your expectations and tolerance towards the image quality. If you agree only on a 4K projector, it will cost you $3,000 on average or more. Yet, there are full HD projectors that are available at $700. Though, the reproduction of ultra-high-definition content will probably be unavailable for these devices as they are in the budget projector segment.
Can you find a good projector under $600?
Yes, there are decent projectors within the price range of $600. They may be good for upsizing the image to 300 inches and bringing it to the large screen without losing image sharpness and color accuracy. However, auto image adjustment features may be cut, which will involve more time spent setting up a picture that is evenly represented on the screen. Brightness can also suffer, so keep in mind that these units will work better in dark rooms.
What to look for when choosing a projector?
The features you should consider will depend on the use cases. If you search for a projector for your home, consider a native resolution, the number of lumens, connectivity options, and availability of streaming services. For offices and classrooms, brightness and connectivity are the core parameters. Regardless of the use, you should pay attention to the throw distance to be sure the room has enough space for proper projector placement. Consider short- or ultra-short-throw projectors if you have a small room. If there is enough space, a long-throw projector will do.
You may also check other decent projectors:
Best projector under $400
Best projector under $500
Best projector under $1000