If you want to buy a projector but have limited financial resources, you will most likely choose among the budget devices. As a result, you may be uncertain about what features to look for. Or worry that there is hardly a good projector that costs around $300. But let me assure you – some gems out there will dispel the myth that low-cost gadgets are poor by default. So, I've reviewed some of the best projectors under $300 to prove that you should never stick to prejudicial beliefs.
Our pick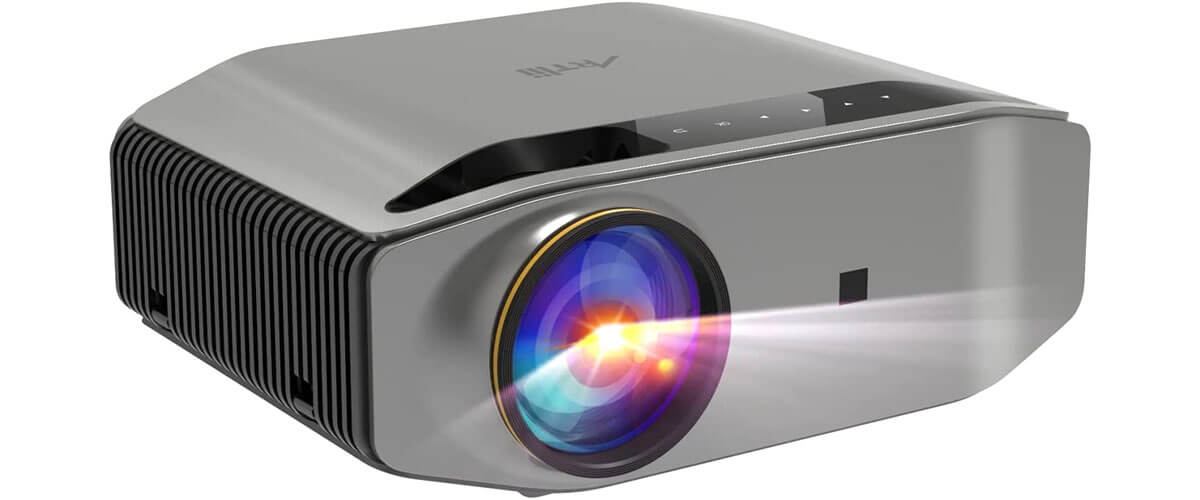 Artlii Energon 2
Best projector under $300
The Artlii Energon 2 is an outdoor projector with Full HD native 1080p resolution, supporting 4K and wireless connection by 5G WiFi and Bluetooth, and is also compatible with TV Stick, iOS, and Android.
Read the full review
.
Projector under $300 comparison table
Name
Display technology
Resolution, px
Brightness, lumens
Contrast
Review
Artlii Energon 2

best overall

LCD
1920×1080
816
10000:1
Review
YABER V10
LCD
1920×1080
400
1200:1
Review
Anker NEBULA Capsule
DLP
854×480
1660
400:1
Review
KODAK Luma 150
DLP
854×480
144
400:1
Review
Best projector under $300 reviews
This model appeared in 2022 and is one of the newest Artlii products. The Energon 2 is equipped with an expanded set of features, which, as the manufacturer claims, provides even more convenient and enjoyable viewing of various content. The developers also state that this device works equally great for indoor and outdoor entertainment. But is it really the case? Check out my investigation in the new Artlii Energon 2 review.
Design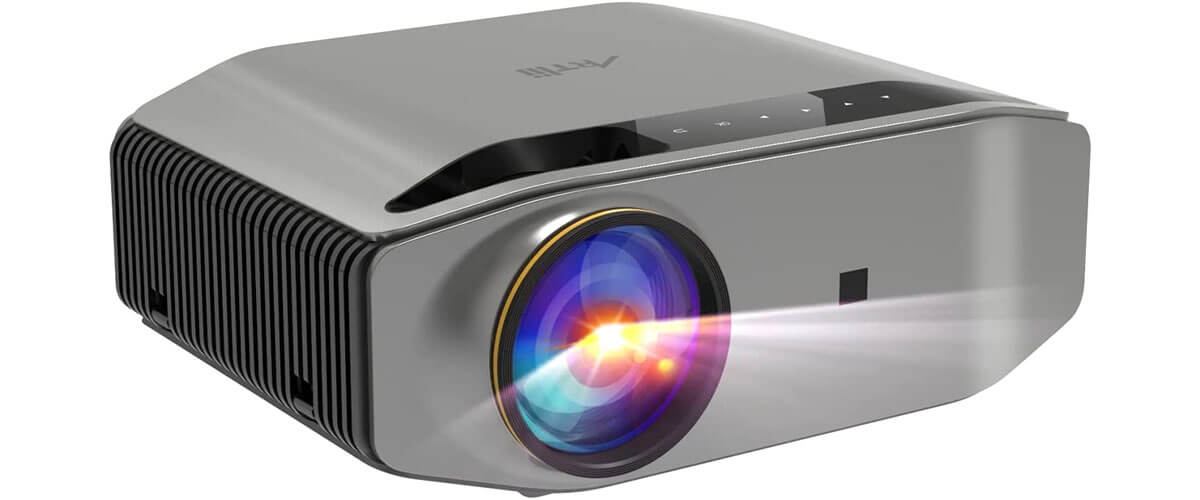 The design of the Energon 2 is pretty appealing and, I would say, quite futuristic. I particularly like the matte grayish finish and the lenses (by the way, there are five layers of refractive glass lenses). The casing is made of plastic, which feels pretty sturdy. On top of the device, you will find a wheel for adjusting keystone and touch controls.
It is an average-sized projector measuring 12.2 x 10.24 x 4.33 inches and weighing 5.72 pounds. Pretty standard size. Of course, it won't fit in your pocket, but it certainly won't take up much space.
The back of this Artlii projector has a variety of ports - from standard HDMI and USB to VGA for connecting to a TV stick, Blu-ray player, gaming console, computer, and HDR. There is an audio 3.5 mm output as well. You will also find a slot for an SD card.
Features and specs
As you opt for Artlii Energon 2, you will enjoy content in full HD as its native resolution is 1080p. It will allow you to play Ultra HD 4K multimedia files as well with a single condition - it will downconvert them to its native 1080p.
The Energon 2 can reproduce 17 million colors. During the latest debugging of the projector, three basic colors (red, green, and blue) have been strengthened and expanded. This improvement, along with Gamma correction, contributes to accurate color reproduction during most scenes and enhances the sensory effects of the projected image.
The projector can accept content both via wire and wirelessly. Wired options are pretty clear; I've already covered them in the previous section. As for the wireless connection, I should say that you can use the fastest 5G Wi-Fi with Artlii Energon 2. Wireless streaming is supported for iOS, Android, Windows, and other operating systems. You simply connect via Airplay or Miracast to mirror the screen from the shared device. Note that you can't stream content directly from some services like Netflix as its content is protected by copyright. You can use a TV stick to enjoy content from Netflix, Hulu, or other streaming services, though.
In the Energon 2, the manufacturer improved its brightness to 340 ANSI lumens using the Mstar performance chip. My observation is that it is brighter than other similar 1080p projectors with brightness measured in lux with 8,000 - 9,000 lux. Thanks to this, the device works equally great indoors and outdoors.
The built-in stereo speakers work fine and are pretty loud. However, if you want to get louder or achieve an immersive experience when watching a movie, just connect the projector to an external soundbar setup via Bluetooth or cable.
Picture quality
The picture quality is very good. The contrast between blacks and whites is fine, giving the image the desired depth and clarity. As for the picture brightness and color production, I find them appealing, too. Even with a few lights on, the picture is clear. Turn the lights off, and it gets even better.
In an outdoor environment, the image is still bright. But not as sharp as indoors in complete darkness. Also, the larger the image gets, the more washed out it appears to be. So even if you have a large screen, keep the image size at an optimal level if you want to enjoy content in an optimal quality outdoors.
The only issue I faced with the Energon 2 was a quick glitch that appeared on the screen from time to time.
Installation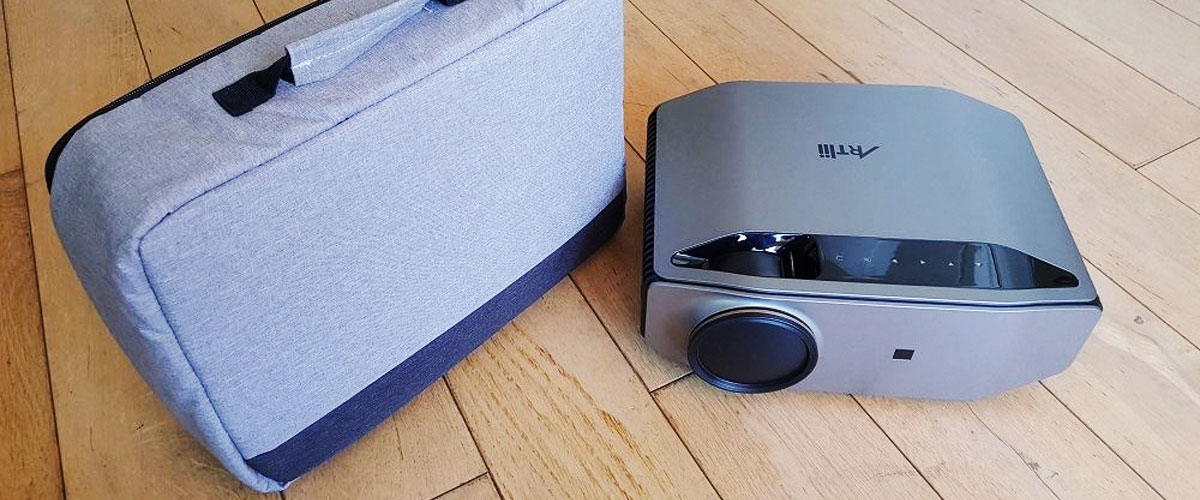 Based on Energon 2 specifications, the projector offers a screen of 44 - 250 inches from a distance of 5 - 27 ft. Additionally, a manual ±15° keystone correction lets you position the image proportionally. To customize the image size from 60% to 100%, you may want to use the remote control to zoom it in and out.
Key specs
Display technology: LCD.
Resolution, px: 1920x1080.
Brightness, ANSI lumens: 340.
Contrast: 10000:1.
Throw distance, ft: 5-27.
Image size, inch.: 44-250.
Wi-Fi: yes.
Built-in speaker: yes.
The Artlii Energon 2 projector is a bright example of great performance for which it is not a pity to pay. It is the best projector under $300 because it enables a super-fast Wi-Fi connection for lag-free content watching and a pretty high resolution. But brightness is a deal breaker in this model and is indeed higher than in any other projectors with the same price tag. That's why it ranks at the top of my list!
YABER V10
On the market of portable home projectors, YABER V10 is by far not a last-resort option. Once it was released in September 2021, it immediately won the hearts of its users with its image brightness, user-friendly features, and overall performance. Yet, the device has quite a few problems you should be aware of before you opt for it. In this YABER V10 review, I will give my impression of what makes this projector great and where there is room for improvement.
Design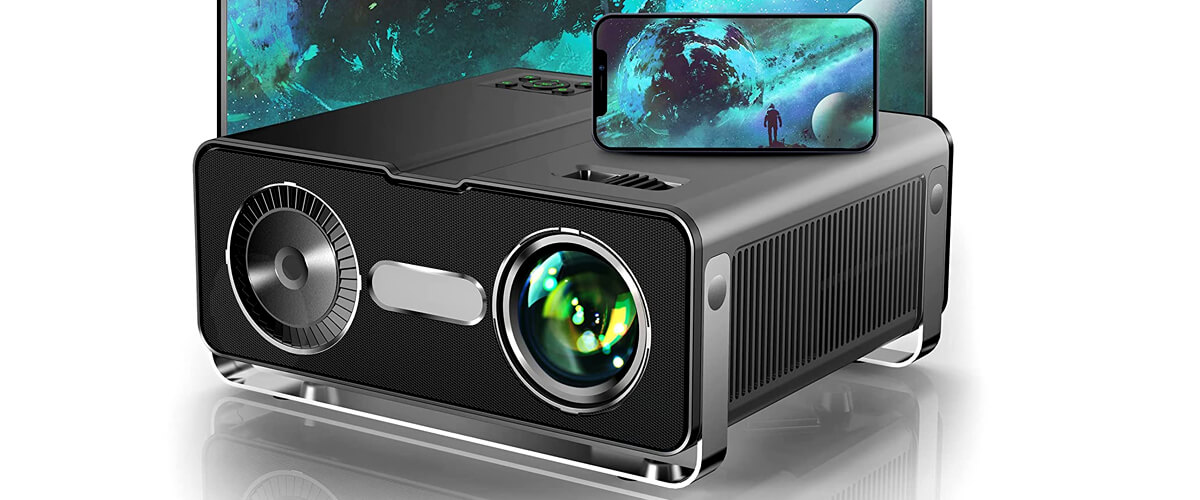 The manufacturer introduced the V10 model as a device that looked like a space cinema. And, indeed, it doesn't look like an average projector. With the refreshed design, the item looks futuristic and unique. The black matte metallic frame not only increases wear and temperature resistance but also adds to the style of the device. Additionally, two anti-oxidation metallic brackets protect the body from scratches but do very little to help regulate the height as they are non-adjustable.
Based on the V10 specifications, this projector is very lightweight - it weighs around 4 lbs. It is neither bulky measuring 10.23 x 9.05 x 4.6 inches.
The connectivity options are diverse in V10. There are two HDMI and two USB ports (the latter allows you to play files directly from the flash drive). You can use a 3.5 mm jack/AV/VGA for audio. Wireless connectivity is also available here - 2.4G and 5G Wi-Fi, and 5.1 Bluetooth.
Features and specs
The YABER V10 has a large emerald lens, which delivers high refraction and light transmission. The LCD technology allows replicating native 1,920 x 1,080 content, though it supports 4K videos as well. The manufacturer claims to equip this projector with a lamp boasting a 100,000-hour lifespan, which is pretty impressive. As for brightness, the lamp outputs a whopping 8,500 lumens. This is a higher-than-average parameter, but I would take it with a large pinch of salt. The image quality is fine in moderate light. Though you will want to use this projector in a dim or dark room to enjoy a good-quality image.
The ventilation system of V10 deserves special attention. Enlarged vents and the whole air duct technology prevent overheating by 40%. But here is a thing - the fan noise is too loud. It is louder than average, so the built-in 5W speaker cannot consistently deliver the right amount of sound to let you enjoy the movie.
There are no built-in apps in the YABER V10, but you can freely mirror content from devices with the Miracast feature via Wi-Fi. It's a good thing that there are both 2.4G and 5G Wi-Fi modules. 5G transmits information much faster, resulting in a lag-free watching experience.
The bidirectional 5.1 Bluetooth lets you connect not only to your speakers but also to your phone or laptop as a dedicated speaker. But don't get too excited about this feature - there is a considerable amount of lag between audio and video. So, unless your source doesn't have a lip sync feature, it is better to stick with HDMI or a 3.5 mm jack connection.
Picture quality
As you may have noticed from the YABER V10 features, it is a pretty basic projector. It delivers an image of optimal quality, nothing more and nothing less. The image looks crisp for the most part, but only in a dim or dark environment. With a little bit of light, it loses its brightness.
The refresh rate is a little slow, so high-paced scenes may lose their effect. The image may be grainy if you look at it from a short distance though the pixels are not that badly visible from a distance.
Installation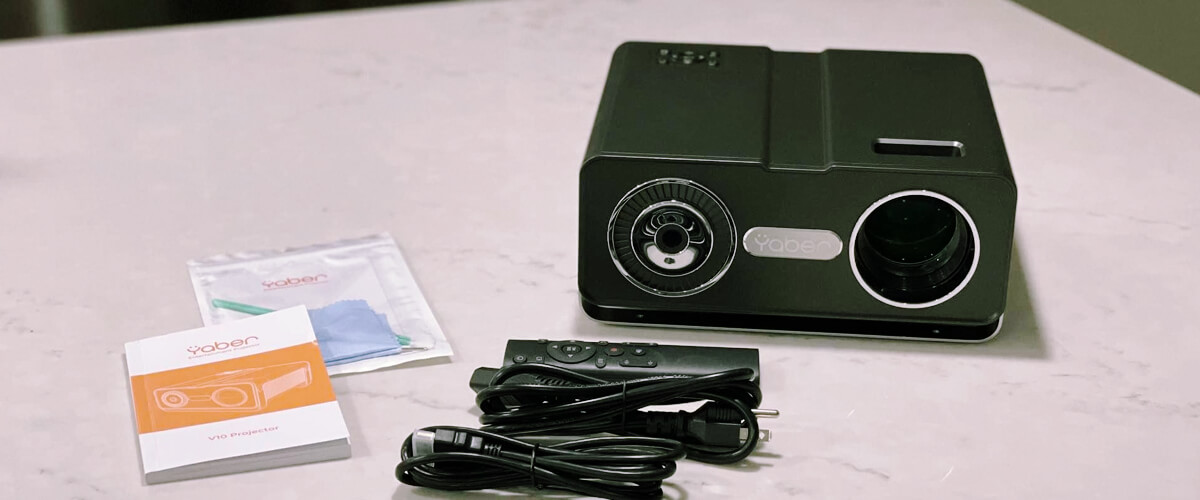 With YABER V10, you can project a maximum image of 120 inches from 6-9 feet. If you have a small room, the projector placement can be a serious issue as it requires a lot of space between the screen/wall and the lens.
The zoom is rather negative than positive. So, you can make the image smaller, not larger. The 4-point keystone enables you to perfectly align the image from any location, though be mindful that the adjustment is a bit confusing. You can carry all the adjustments using a remote or via the buttons on the top panel.
Key specs
Display technology: LCD.
Resolution, px: 1920x1080.
Brightness, lumens: 400.
Contrast: 1200:1.
Throw distance, ft: 6-9.
Image size, inch.: 45-350.
Wi-Fi: yes.
Built-in speaker: yes.
While YABER V10 may win the hearts of all appreciators of futuristic designs, that's not the only thing that may grab their attention, for sure. Nothing will prevent you from watching a TV show or movie in a dim room. In addition, wireless connectivity options are better than you expect. That's why I think that it's a good projector for the money you pay for it.
Best portable projector under $300 reviews
Anker NEBULA Capsule
As you look at the Anker NEBULA Capsule, the first thing you will think is, "Wow, what an interesting concept. But does it deliver?" Indeed, the soda-can design makes this projector truly unique and suitable for applications when you want to have a device for outdoor theater bliss. While things are pretty clear that this is one of the most portable projectors, you may wonder if it can project a decent-quality image. Let's put guesswork aside. My Anker NEBULA Capsule review will give you a comprehensive answer to this question.
Design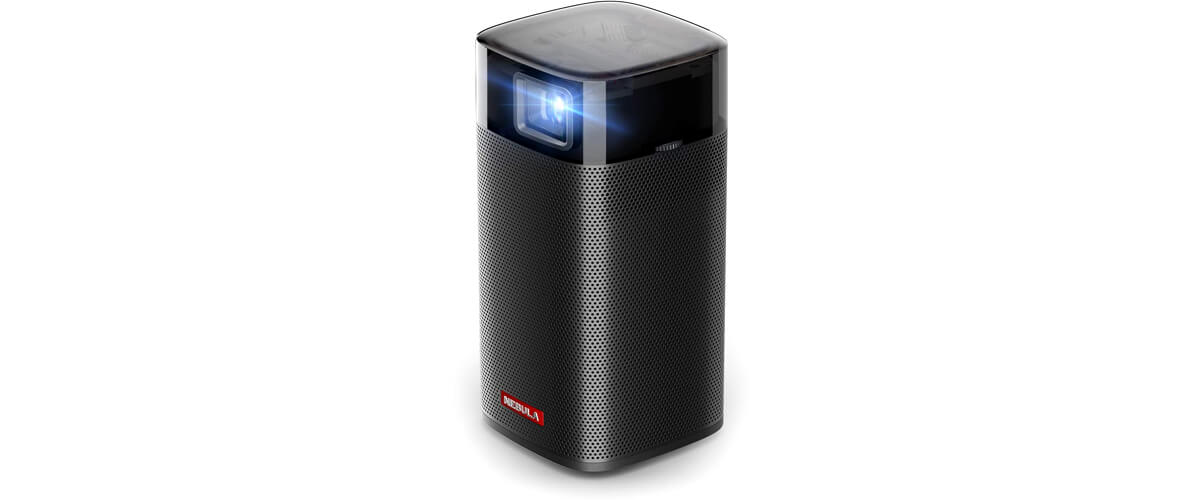 If you need to reproduce a larger image without lugging around a massive box, Anker NEBULA Capsule is your choice. With a 1.0 lb weight and 2.7 x 2.7 x 4.7 inches size, it easily fits into a bag along with other stuff. So, whether you are going to use it in your backyard or at the campfire under the stars, you won't bother yourself with carrying this little guy much.
The HDMI port is a nice thing. If you want to stream content from other devices, the HDMI port makes this easy. Also, there is a mini USB port for charging and hooking to other gadgets.
Features and specs
Here is the most exciting part of my review, where we will delve into NEBULA Capsule specifications. And we'll start with the display and picture capabilities. This device runs on a DLP technology supporting 854x480 native resolution. It's not HD quality, but you can stream content from Netflix, YouTube, Hulu, and other Android apps on a screen 20 to 100 inches from a device you can fit into your pocket. Agree that this is awesome!
The projector is powered by the Android 7.1 operating system with 8GB eMMC of ROM and 1GB DDR3 of RAM. You can use Android or iOS devices to download an app to control the projector. You can also use Bluetooth, 2.4GHz / 5GHz Wi-Fi, and Screen Mirroring for streaming video content to a bigger screen.
However, NEBULA Capsule is slightly dim. Its brightness ranks only at 100 ANSI lumens. Thus, it should better be used in dimmer environments. The lamp will last 30,000 hours before you need to replace it, which is a decent amount of time.
The built-in 5200 mAh battery delivers 4 hours of movie playtime in Battery mode. You will get 30 hours of autonomous operation when you switch to Bluetooth Speaker mode. It takes 2.5 hours to fully recharge the projector, all thanks to a quick charge 2.0 9V2A.
For your convenience, there are multiple projection modes: Front, Rear, Front Inverted, and Rear Inverted. This gives enough flexibility in terms of placement.
For its size, this projector is pretty loud. It has an internal 5W speaker, which turns out to work fine. However, I believe that it is a bit shouty at max volume.
Picture quality
As for the image quality, it is definitely less crisp than what you get on a flat TV screen. But when you buy a projector of the can size, you take it for granted. Though I would say, the picture gets crisper when you downsize the image. You may notice pixels as you project the image at the top of the recommended size. However, if you sit a few feet away from the screen, you shouldn't notice the low resolution. The brightness also suffers in NEBULA Capsule, just like in all compact projectors, but the image is satisfactory in a dark room.
Installation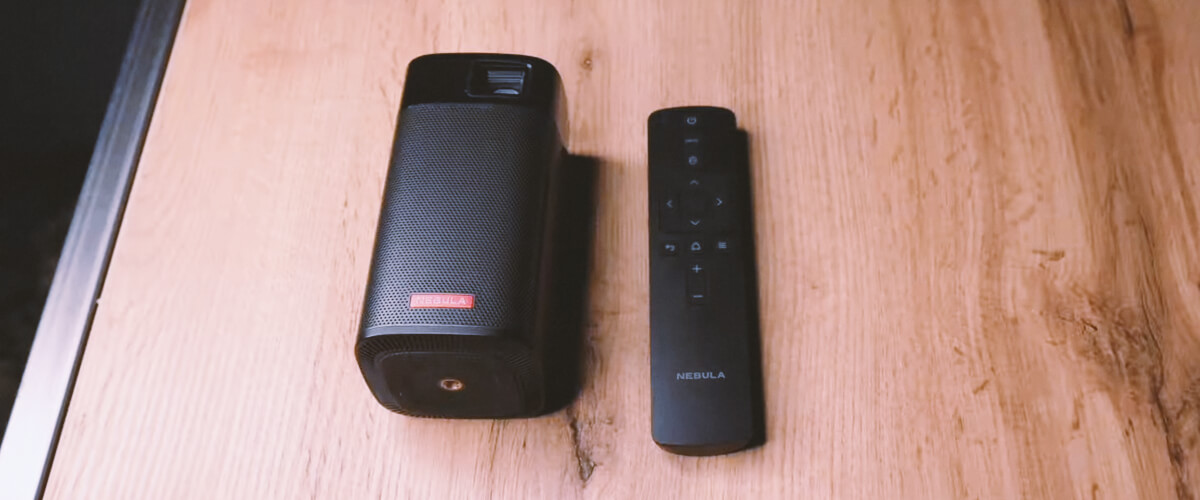 I like the tripod mount on the bottom, among other NEBULA Capsule features, which is handy for convenient placement. Because of the 1.3:1 throw ratio, you can project an image of 20 - 100 inches at a distance of 1.9 - 10 feet.
NEBULA Capsule is designed for fast and simple installation. There is no zoom and a lens shift. Thus, you've got to move the projector around to get a smaller or bigger straight-edged image. The focus is manual and is achieved via a small dial. The auto vertical and manual horizontal keystone correction will enable you to adjust the image so that you have a rectangular shape.
Key specs
Display technology: DLP.
Resolution, px: 854x480.
Brightness, lumens: 1660.
Contrast: 400:1.
Throw distance, ft: 1.9-10.
Image size, inch.: 20-100.
Wi-Fi: yes.
Built-in speaker: yes.
It's amazing how such a tiny projector can be packed with various features. Add a pretty good image quality for smaller-sized screens (in a dark room, of course), and you won't even look at any other device. So when you want to pick only the best home projector under $300 with the advantage of portability, you should definitely consider Anker NEBULA Capsule in the first turn.
KODAK Luma 150
When you have KODAK LUMA 150, streaming multimedia content wherever you go becomes nothing short of ordinary. So, whether you are an avid traveler enjoying watching movies on a big screen or a business person looking for flexibility in sharing presentations, the KODAK Luma 150 may fall within your interest. It is a palm-sized projector that meets a diverse range of needs by letting you get a big-screen experience in the middle of nowhere. But will it cover yours? Dive into my KODAK Luma 150 review to find the clues to your dilemma.
Design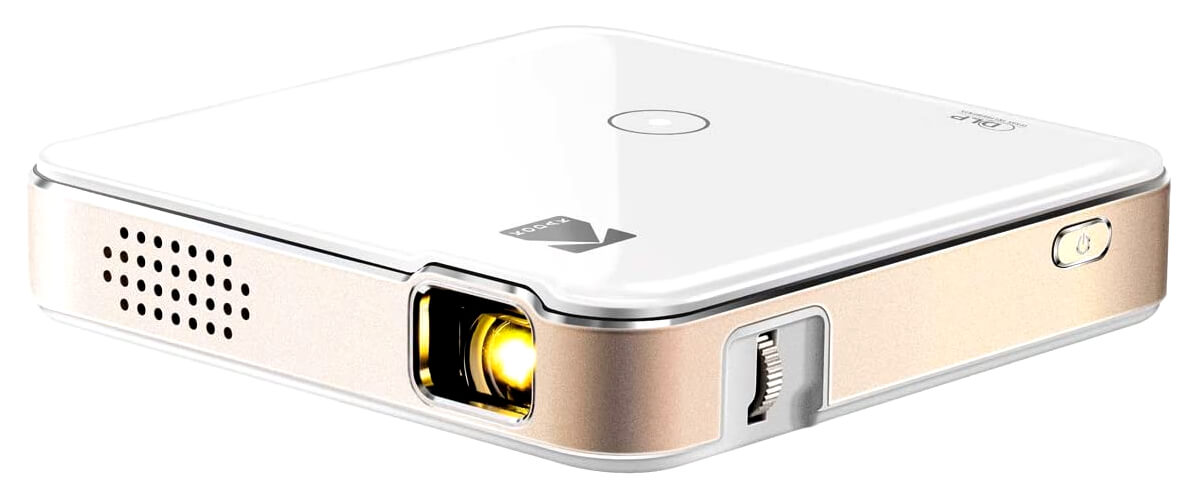 The Luma 150 by KODAK is remarkably small (3.1 x 3.1 x 0.87 inches) and lightweight (1 lb), so it won't bother you carrying it in your backpack or pouch at all.
The interior of the Luma 150 is appealing and sleek. A white frame with gold trim gives this projector an elegant feel. The casing is made of plastic, which doesn't feel too sturdy. The top of the device has touch controls, while the sides feature the power button, focus wheel, MicroSD slot, and a speaker. At the bottom, you will find a connector to attach the projector to the tripod. HDMI, USB, and DC presence will become a nice bonus. You will also find a 3.5mm audio output.
Features and specs
KODAK Luma 150 pocket projector is a DLP-based LED projector. The 854 x 480 native resolution and 1000:1 contrast ratio are more than understandable in this device. Though it can reproduce 1080p and even 4K videos - downgrading them, of course.
The projector's lamp outputs 60 ANSI lumens, which is around 420 lumens. Is it enough to project a large image or deliver a crisp one in a lit room? Nope, but take the tiny Luma 150's size into consideration. Brightness and image quality are the things you have to sacrifice in favor of portability.
Luma 150 has a built-in speaker, which is not louder than a phone speaker. Would you like to make it louder? Then use the 3.5 mm output or connect to speakers wirelessly.
Like many portable projectors, this one has a battery. It is capable of operating for 2.5 hours on a full charge - pretty enough for a single movie or a quick meeting. The power cord is too short, so it may be pretty hard to find a proper spot for this little one when the battery is dead.
To stream content, you can wirelessly connect via Miracast or Airplay (which doesn't work for Hulu and Netflix). The projector also plays multimedia content, images, presentations, and other files from a microSD memory card or USB flash drive.
Picture quality
Considering the Luma 150 specifications, it would be fair not to take hopes too high about this projector. The image quality is fine, but nothing more. The colors are replicated well, and the contrast is decent, but only for the 36-inch image. When the image goes larger, it starts looking faded.
The same goes for the room with ambient light. A 24-inch image looks reasonably bright. However, you will notice that it gets washed out if you increase its size.
I traced no signs of the rainbow artifacts, which frequently plague DLP projectors. Which I believe is great!
Installation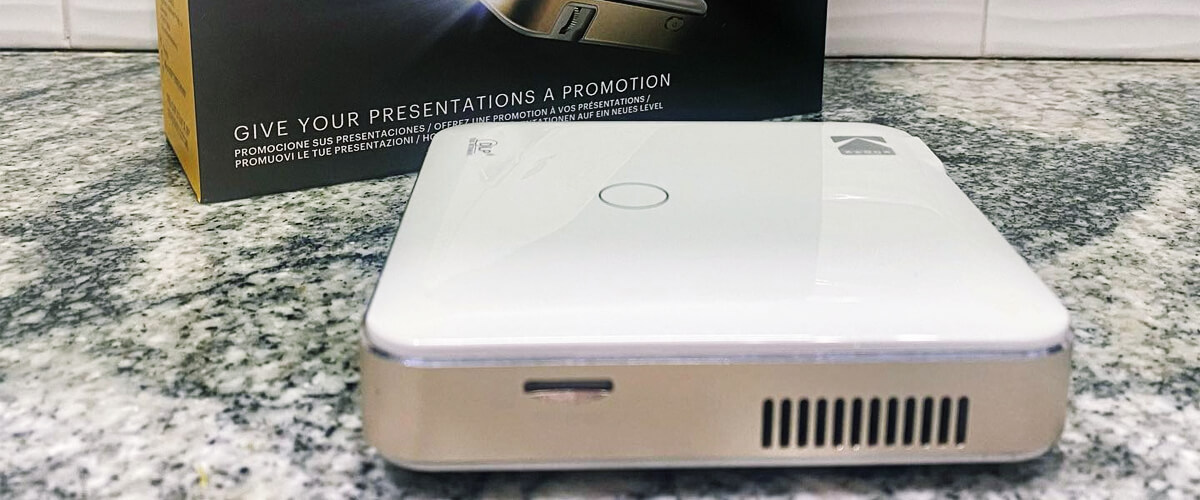 The maximum image you can obtain with the Luma 150 is 150 inches. Though it may be hard to throw a full-sized image without affecting its quality and brightness. The larger the image gets, the more lumens it requires. And with this model, you may have issues at this point. So I would recommend sticking between 24 and 36 inches, depending on the room's level of light, to get an image of reasonable quality.
The vertical keystone correction is missing in this model. There is a manual focus, but a wheel is not convenient enough to let you achieve a good focus.
As I placed Luma 150 on the table, relying solely on the device's feet, I projected a complete image without parts of the image being cut off. But if you want to raise the device over the obstructions, there is a threaded hole for a tripod.
Key specs
Display technology: DLP.
Resolution, px: 854x480.
Brightness, ANSI lumens: 60.
Contrast: 1000:1.
Throw distance, ft: 0.6-12.5.
Image size, inch.: 10-150.
Wi-Fi: yes.
Built-in speakers: yes.
Yes, KODAK Luma 150 is small, but it's bright enough for small screens. Check out the other features of this projector – Miracast and Airplay streaming, a 2.5-hour battery life, and a pretty loud speaker. If you want to watch content on the go, this projector is perfect.
FAQ
Can you get a good projector under $300?
The market holds good projectors that won't drain your bank account. Undoubtedly, you will need to tolerate some things like lower brightness and resolution. Perhaps, there will be fewer connectivity options or possibilities to adjust the image. But generally speaking, the budget projector will allow you to bring your entertainment to a larger
screen
.
Do projectors under $300 support 4K?
Some projectors that cost around $300 support 4K, but that's not their native resolution. They will downconvert it to the native resolution like 1080p or 720p. Hence, they will play 4K files but in lower resolution.
What resolution is enough for a home projector?
Considering the level of development of cinematography, I recommend considering projectors with at least 1080p resolution for a home theater. They are not as pricy as 4K devices but still let you enjoy a crisp and quality image.
You may also check other decent projectors:
Best projector under $400
Best projector under $500
Best projector under $600
Best projector under $1000