On the market of portable home projectors, YABER V10 is by far not a last-resort option. Once it was released in September 2021, it immediately won the hearts of its users with its image brightness, user-friendly features, and overall performance. Yet, the device has quite a few problems you should be aware of before you opt for it. In this YABER V10 review, I will give my impression of what makes this projector great and where there is room for improvement.
Design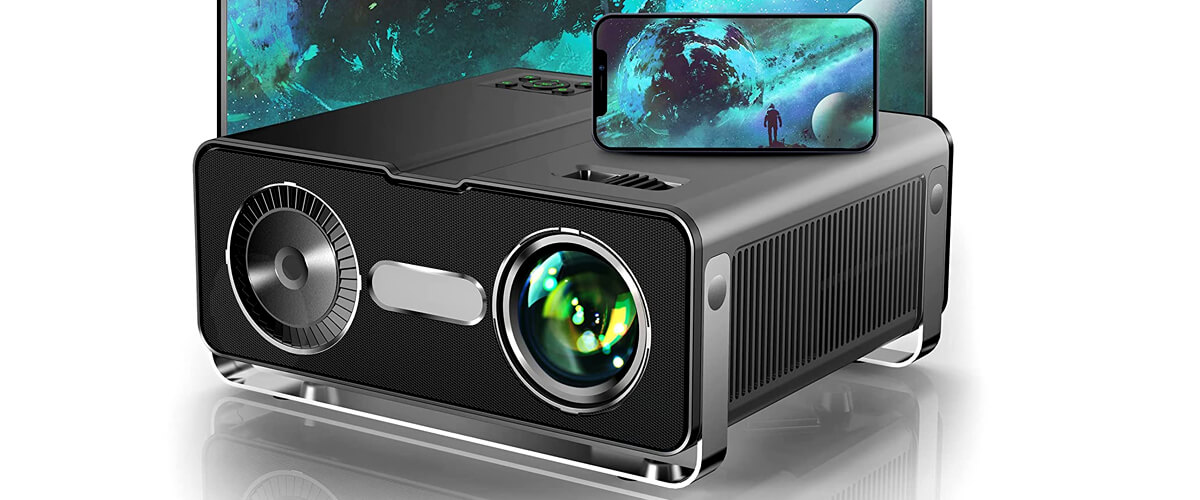 The manufacturer introduced the V10 model as a device that looked like a space cinema. And, indeed, it doesn't look like an average projector. With the refreshed design, the item looks futuristic and unique. The black matte metallic frame not only increases wear and temperature resistance but also adds to the style of the device. Additionally, two anti-oxidation metallic brackets protect the body from scratches but do very little to help regulate the height as they are non-adjustable.
Based on the V10 specifications, this projector is very lightweight – it weighs around 4 lbs. It is neither bulky measuring 10.23 x 9.05 x 4.6 inches.
The connectivity options are diverse in V10. There are two HDMI and two USB ports (the latter allows you to play files directly from the flash drive). You can use a 3.5 mm jack/AV/VGA for audio. Wireless connectivity is also available here – 2.4G and 5G Wi-Fi, and 5.1 Bluetooth.
Features and specs
The YABER V10 has a large emerald lens, which delivers high refraction and light transmission. The LCD technology allows replicating native 1,920 x 1,080 content, though it supports 4K videos as well. The manufacturer claims to equip this projector with a lamp boasting a 100,000-hour lifespan, which is pretty impressive. As for brightness, the lamp outputs a whopping 8,500 lumens. This is a higher-than-average parameter, but I would take it with a large pinch of salt. The image quality is fine in moderate light. Though you will want to use this projector in a dim or dark room to enjoy a good-quality image.
The ventilation system of V10 deserves special attention. Enlarged vents and the whole air duct technology prevent overheating by 40%. But here is a thing – the fan noise is too loud. It is louder than average, so the built-in 5W speaker cannot consistently deliver the right amount of sound to let you enjoy the movie.
There are no built-in apps in the YABER V10, but you can freely mirror content from devices with the Miracast feature via Wi-Fi. It's a good thing that there are both 2.4G and 5G Wi-Fi modules. 5G transmits information much faster, resulting in a lag-free watching experience.
The bidirectional 5.1 Bluetooth lets you connect not only to your speakers but also to your phone or laptop as a dedicated speaker. But don't get too excited about this feature – there is a considerable amount of lag between audio and video. So, unless your source doesn't have a lip sync feature, it is better to stick with HDMI or a 3.5 mm jack connection.
Picture quality
As you may have noticed from the YABER V10 features, it is a pretty basic projector. It delivers an image of optimal quality, nothing more and nothing less. The image looks crisp for the most part, but only in a dim or dark environment. With a little bit of light, it loses its brightness.
The refresh rate is a little slow, so high-paced scenes may lose their effect. The image may be grainy if you look at it from a short distance though the pixels are not that badly visible from a distance.
Installation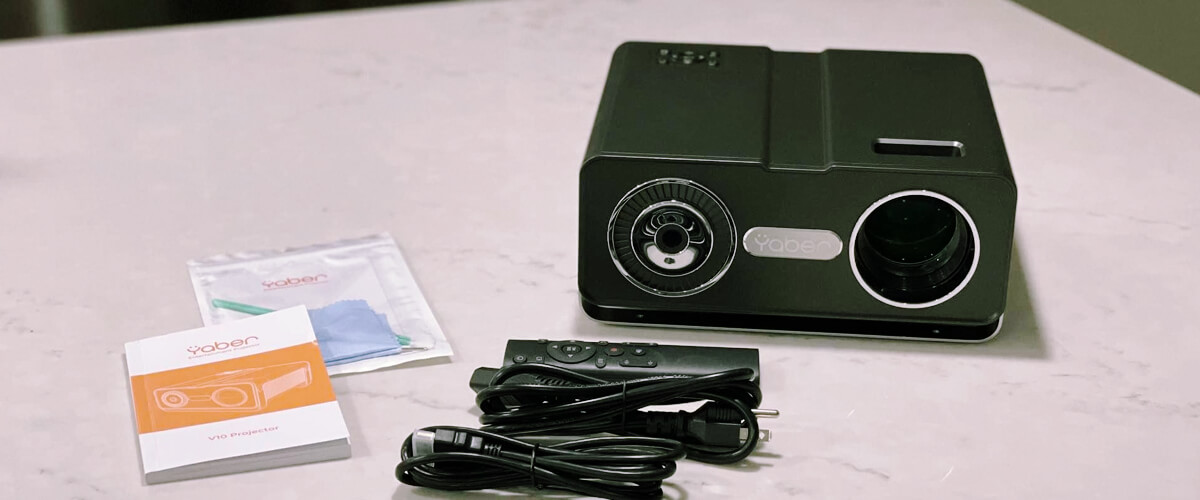 With YABER V10, you can project a maximum image of 120 inches from 6-9 feet. If you have a small room, the projector placement can be a serious issue as it requires a lot of space between the screen/wall and the lens.
The zoom is rather negative than positive. So, you can make the image smaller, not larger. The 4-point keystone enables you to perfectly align the image from any location, though be mindful that the adjustment is a bit confusing. You can carry all the adjustments using a remote or via the buttons on the top panel.
Key specs
Display technology: LCD.
Resolution, px: 1920×1080.
Brightness, lumens: 400.
Contrast: 1200:1.
Throw distance, ft: 6-9.
Image size, inch.: 45-350.
Wi-Fi: yes.
Built-in speaker: yes.