If you are wild about watching sports games on a big screen or would like to bring your gaming experience to a whole new level, I have found something special for you. With the Optoma HD28HDR projector, you will feel the action and experience every moment of sports shows or games on a big screen. So, make yourself comfortable to ponder upon my Optoma HD28HDR review. I tested this model thoroughly and am ready to share my impressions about it with you.
Design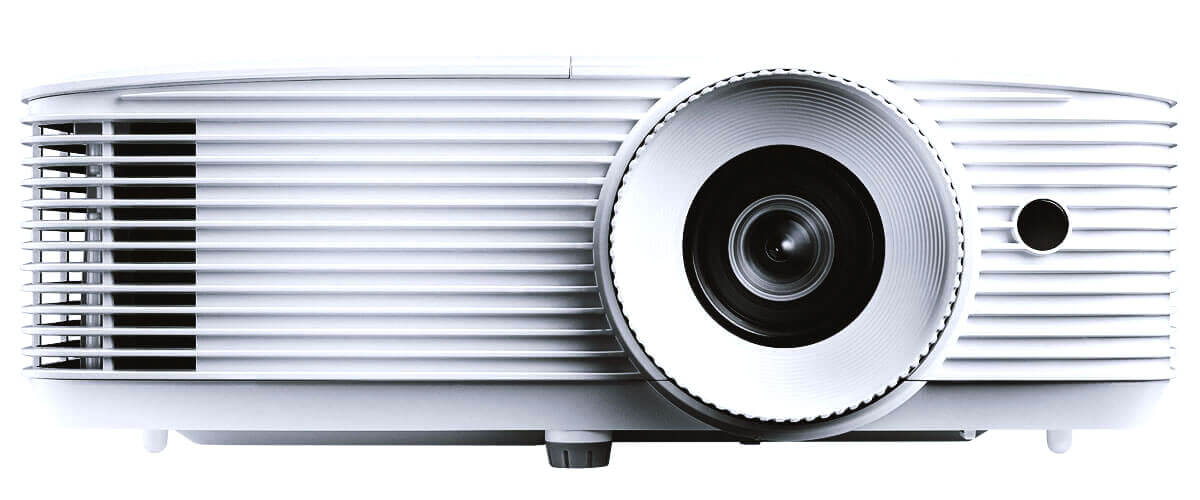 Out of the box, the Optoma HD28HDR projector feels well-made. It weighs 5.52 lbs, which is an average weight for a home projector. It is also 12.44 x 9.61 x 4.25 inches (W x D x H), making it easy to keep on a wall shelf, cube shelf, or other storage units.
It is made of white plastic that feels sturdy in the hands. The front panel is striped, which may make cleaning more demanding. In addition, dust may clog between the stripes if you neglect frequent cleaning.
There are two HDMI inputs (HDMI 2.0 and HDMI 1.4a) to cover you for any standard HD sources. You will also find a USB-A port along with the 3.5 mm audio output. The Optoma HD28HDR projector can hardly boast a variety of connectivity options, but it will definitely satisfy the needs of people who start getting familiar with this device.
Features and specs
This projector is built around a 1920-by-1080-pixel DLP chip capable of delivering sharp and detailed images from full HD content on a screen from 28 to 301 inches in diagonal. It also supports 1080p 120Hz for low input latency of 8.4 ms, making it suitable for games that require a rapid reaction. Furthermore, for a better gaming experience, you can switch the corresponding mode that will optimize the projector for vivid colors and immediate response time.
Another good point of Optoma HD28HDR is that it can display true 3D content from nearly any 3D source, including 3D Blu-ray players, 3D broadcasting, or game consoles. The trick is that the official website does not offer compatible 3D glasses, and you've got to purchase them separately elsewhere.
This projector has a single 3-watt speaker. It has a sound quality similar to the one in a laptop speaker. I would say it is fine for watching TV, but I lack bass power and mid-range clarity for an immersive theater-like experience.
According to HD28HDR specifications, the projector's lamp delivers a brightness of 3,600 lumens and a contrast ratio of 50,000:1. I measured around 1,500 lumens. For a projector of this price, that's a solid result. The lamp lifespan depends on the modes you use most. You can expect up to 4000 hours in Bright, 15000 hours in Dynamic, and 10000 hours in Eco modes.
There are no in-built wireless connectivity options in this projector. However, you can purchase the wireless system separately to stream Full 1080p and 3D content from a receiver, games console, set-top box, and other devices.
Picture quality
The Optoma HD28HDR can accept and display 4K sources, but this is not a true 4K projector. It will downgrade it to full HD resolution. What annoys me about this feature is that the projector is slow at switching the signal from 4K to HDR. It may take around 20 seconds, 50% of the time.
The projected picture of HD28HDR is good – the colors are bright and accurate. However, I noticed that green colors are fairly muted.
My observation is that the Cinema mode is more appropriate for movies, not HDR. It delivers appropriate color accuracy and enough black levels to make the image clear, even in ambient light.
Installation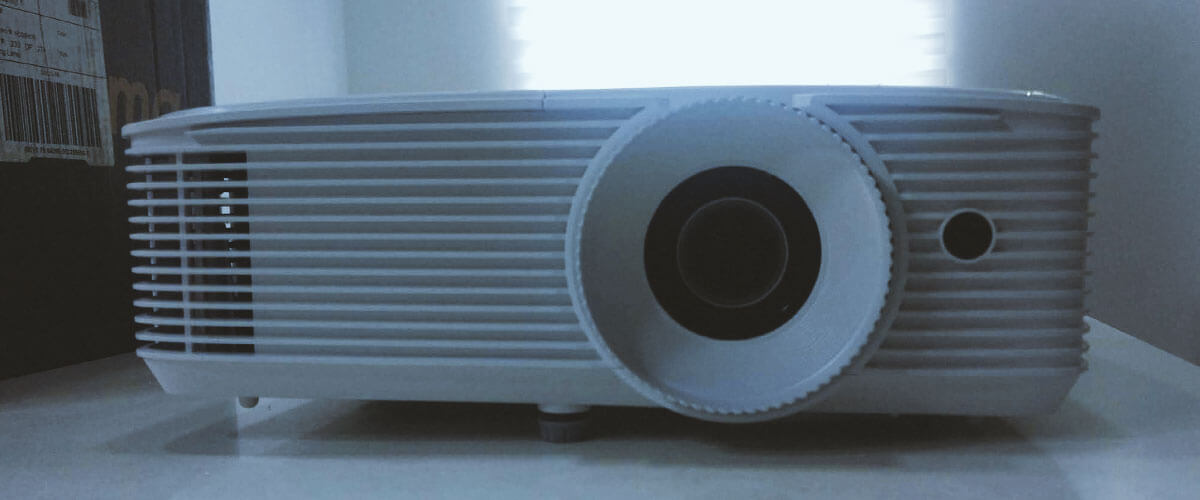 With a throw ratio of 1.47:1 – 1.62:1, the optimal projection distance in this projector is 39.37 – 385.83 inches. Based on the list of Optoma HD28HDR features, you can achieve an image of 28 to 301 inches in diagonal with this device.
As it is common for projectors in this price range, there is a vertical keystone correction. You won't find a lens shift in this model. Also, Optoma's manual zoom range is very limited. These things mean that HD28HDR has very limited placement options and may require more time for you to find the right spot in the room for this projector.
Key specs
Display technology: DLP.
Resolution, px: 1920×1080.
Brightness, lumens: 3600.
Contrast: 50000:1.
Throw distance, ft: 3.2-32.5.
Image size, inch.: 28-301.
Wi-Fi: no.
Built-in speakers: yes.