Do you fish for a portable yet high-capacity projector you can carry? Then you will be pleased to learn about this palm-sized device in my LG PH30N review. It has some appealing features you will appreciate when arranging a cinema night outdoors or taking it with you for hiking. So, what is so special about this projector? Find this out in a minute as you read on.
Design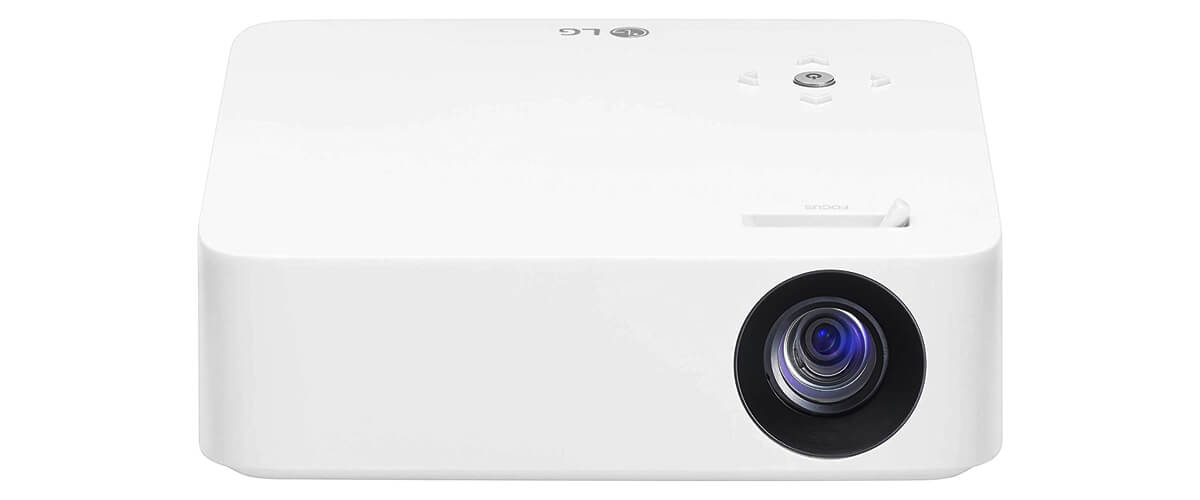 I can't say that LG PH30N feels sturdy and super heavy-duty. Agree that for a projector, this is not so important. But it has another advantage. At a weight of 1.1 lbs and dimensions of 5.1 x 1.5 x 5.1 inches, this is a type of projector you can hold in your hands or put into your pocket. Because of the LG PH30N features, you can recreate the bigger image in places other projectors don't fit. For instance, use it to throw an image on your ceiling or desk, creating a second screen. In addition, you can use this projector to stream recipes in the kitchen when cooking.
There are HDMI and USB 2.0 ports. You will also find a 3.5mm mini Jack port for connecting speakers.
Features and specs
This DLP projector supports the HD 720p (1280 x 720) native resolution. It can throw an image of 40 – 100-inch size, which is pretty good for a device of this size.
You can use five modes in this projector, four of which are pre-defined: Vivid, Standard, Cinema, and Game. In the Expert mode, you can adjust contrast, brightness, color, sharpness, and tint. There is not much difference in the image quality as you switch between the modes, though.
There's not a lot of light here. The LED lamp emits 250 lumens, an average brightness level you can expect from a similarly-sized device. Therefore, it will reveal its potential in dark rooms. If there is ambient light or you use the projector during the daytime, you risk seeing something that reminds you of a shade rather than a high-quality image. With the 100,000:1 contrast ratio, LG PH30N retains surprisingly good contrast and shadow detail for this class of projector. Depending on the mode, the lamp can last up to 30,000 hours before you need to replace it.
To be fully portable, the LG company added an embedded battery to ensure 2 hours of operation. You can also attach it to the power supply for extended use.
With the built-in 1W speaker, you can achieve moderate sound reproduction. It will do for a very small room, but it won't work if you gather with a big gang to watch a movie. Luckily, you can connect speakers via an audio port or Bluetooth.
The great news is that the LG PH30N projector supports Miracast streaming. But it definitely lacks internal apps that let you watch content from your fave services without much effort.
Picture quality
As PH30N is an HD 1280 x 720 projector, it can recreate a fairly large image before you start seeing pixels. The image quality is fine, though do not expect to experience something extraordinary with this device.
I was pleased to reveal no rainbow artifacts with this projector. Though, color accuracy surprised me. It changed from one scene to another without any logical pattern that might explain the unusual behavior.
Installation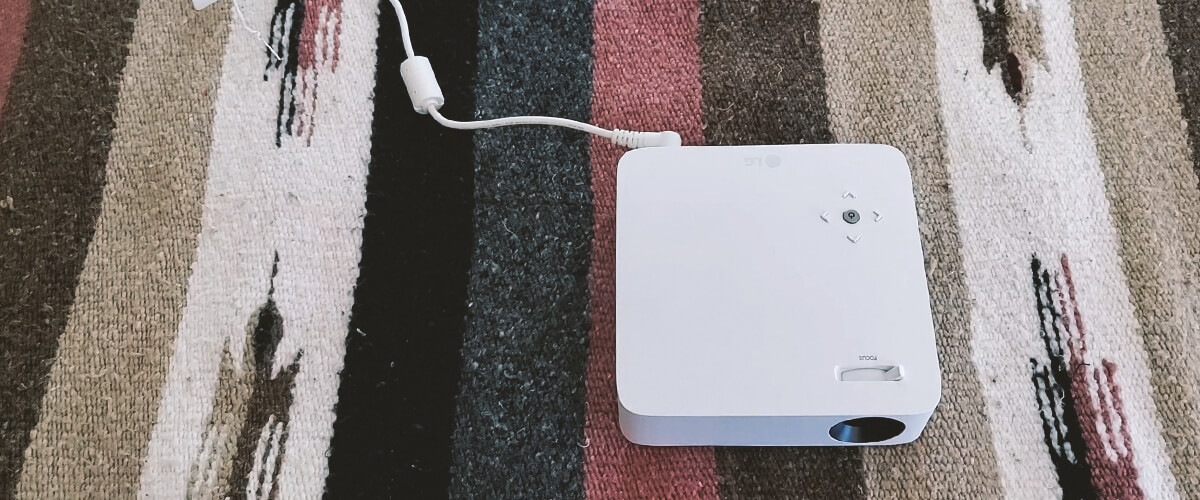 At the throw distance of 4.6 feet, I got an image of 40 inches, just what the PH30N specifications say. To get a 100-inch image, the projector should be at least 10.8 feet away from the screen.
As you set up the projector, you should get ready that it will take more than plugging it in and focusing the image. There is neither zoom nor lens shift in LG PH30N. So, to adjust the image size, you've got to move the projector. The auto and manual +/- 40-degree vertical keystone correction will help you tilt the image. After all, you can make use of the tripod hole for a tripod or camera ceiling mount to place the projector in the winning position.
Key specs
Display technology: DLP.
Resolution, px: 1280×720.
Brightness, lumens: 4100.
Contrast: 100000:1.
Throw distance, ft: 4.6-10.8.
Image size, inch.: 25-100.
Wi-Fi: yes.
Built-in speaker: yes.