If you can't decide on a projector for gaming and home entertainment, you will find my BenQ TH585P review very helpful. The TH585P projector is a modified version of the BenQ TH585 model, which is now available with a manual focus and longer lamp life. Let's take a closer look at the BenQ TH585P to see why it's worth your attention.
Design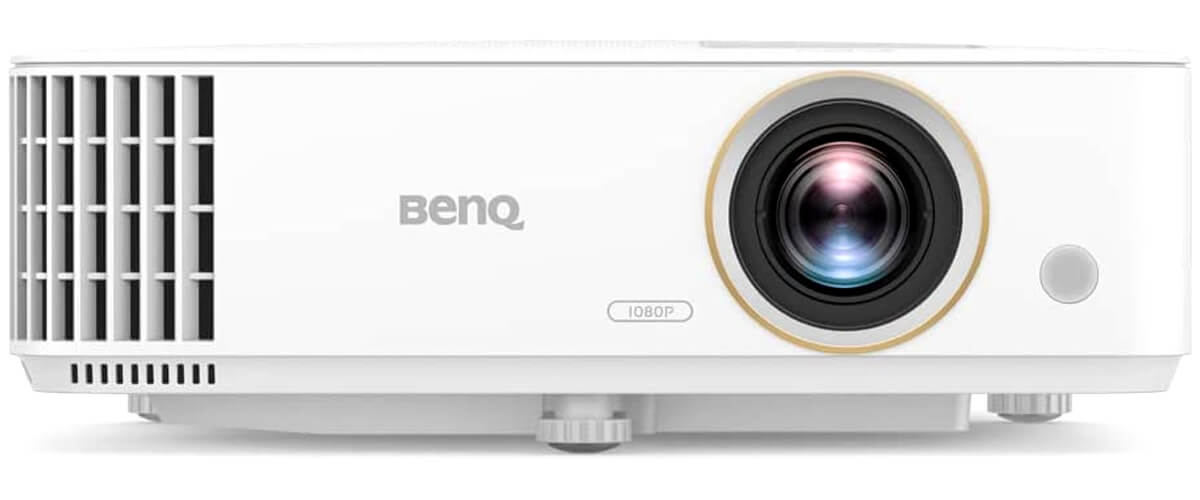 A projector looks simple yet performs its primary mission. That's what I can say about the BenQ TH585P. At just 6.2 pounds and 4.3 by 12.3 by 8.9 inches (HWD), it's easy to bring from one room to another. You can take it to the backyard for a movie night or even to a friend's place for gaming.
It has two HDMI ports for hooking to most video sources, game consoles, and PCs. There is also one 2.0/1.5A USB-A and RS232 in (DB-9pin). So, even if you have an older desktop PC, you will connect it to this projector without issues. To maximize the audio experience, you can use the 3.5mm Mini Jack port.
Features and specs
Based on TH585P specifications and my experience, I will say that this DLP projector is a good choice for a relatively large space. This standard-throw device will produce a 100-inch image around 11-12 feet between the lens and screen.
It delivers Full HD 1080P (1920×1080) visuals in a 16:9 native aspect ratio with great detail clarity. With 30-bit (1.07 billion) displayed colors and a 10,000:1 contrast ratio, you can expect nothing more but sharp and accurate image reproduction. Moreover, given that there are several viewing modes (3D, Bright, Cinema, Game, Living Room, and Sports) and an option to save two custom modes, you can get the utmost from all kinds of multimedia content.
The 3500-lumen lamp makes the image or text sharp, even in a light room. The lamp will last for 4000 hours in a normal mode and 10000 hours in an ECO mode. If you switch to the LampSave mode, you will extend the battery's life to 15000 hours.
There is an in-built 10W speaker. It's enough for a small or medium room. However, if you want a more complex and louder sound, you've got to connect the projector to an external audio system.
Gamers will like BenQ TH585P for its special features. First, it has an ultra-low input lag (16.7 ms), so you can see instant reactions on the screen. It also has a BenQ-exclusive Black Detail Enhancement technology, which accentuates fine details in dark scenes. Now defeating enemies in the game will be not only pleasant (because of the large screen) but also faster.
Unfortunately, there are no Wi-Fi and Bluetooth connectivity options. So, you've got to connect all the devices via cables.
Picture quality
With BenQ TH585P, you will enjoy a clear and bright 1080HD image with factory default settings. It reproduces roughly 95% of the colors in the Rec.709 spectrum, so I really have no complaints about the color accuracy.
This projector depicts the image nuances like textures, shades, and hues, even in fast-paced content, like sports. But I noticed some distracting rainbow artifacts, which you might consider a serious issue.
Installation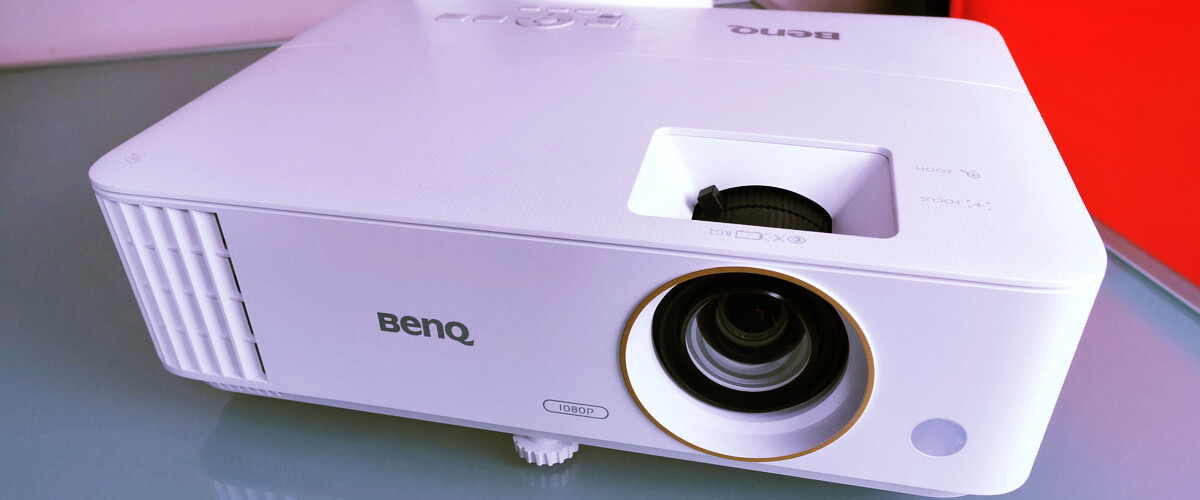 Do not worry about the installation process – things are pretty simple here. BenQ TH585P features a digital lens shift, meaning that you won't have issues with blurred image edges. The auto vertical keystone is a good thing as it enables projecting aligned images from different angles. With the manual focus and 1.1x zoom, you can maximize available space with a range of throw distances. Considering the 1.5~1.65 throw ratio, you can produce a 100-inch image from an 11-12 feet distance. For getting an image of 150 inches, you've got to ensure the distance from the lens to the screen of 16.3 – 18 feet.
Key specs
Display technology: DMD.
Resolution, px: 1920×1080.
Brightness, lumens: 3500.
Contrast: 10000:1.
Throw distance, ft: 2.2-27.
Image size, inch.: 30-300.
Wi-Fi: no.
Built-in speaker: yes.