In this Anker Nebula Capsule II review, we will look at one of the devices that lets you carry the cinema in your pocket. Does it already sound enticing? Then let's move on.
The Nebula Capsule II from the Go Anywhere series spares you from the need to move around with a big clunky projector, either at home, in the office, or as you set out for adventures. This model is a massive upgrade to the original Capsule projector, featuring an improved resolution, doubled brightness, and enhanced chipset. So, without further ado, let's see what this soda-can-sized device will surprise us with.
Design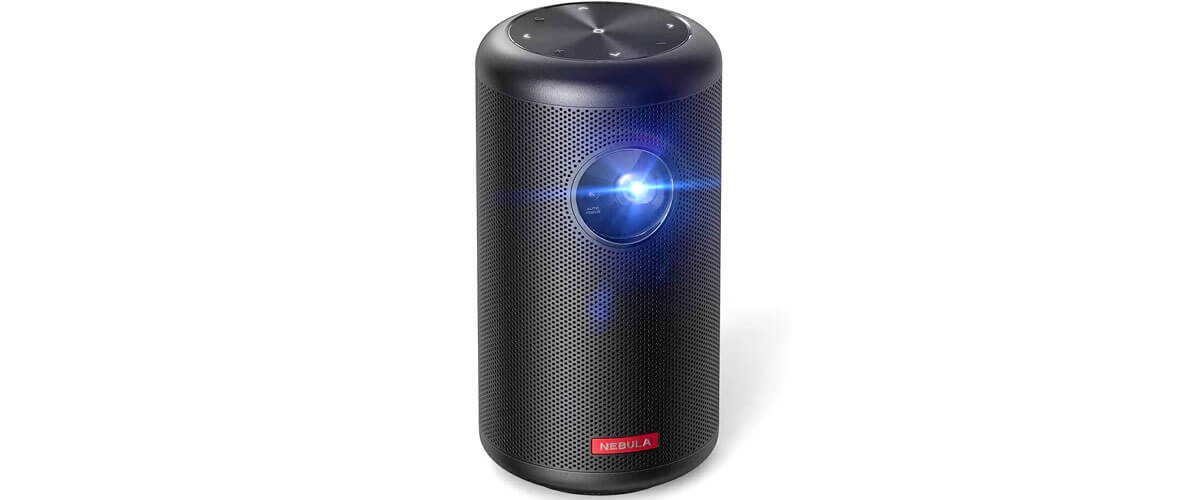 Everything in the Anker Nebula Capsule II looks nice to me. It's just 3.1 x 3.1 x 5.9 inches and 1.6 lb, so it will easily fit into your coat pocket or bag. The build of the projector is also great. It feels solid and sturdy, so it will definitely survive accidental bumps. What I lack here is a lens cap to protect this fragile part from any impacts.
There are a few connectivity options like HDMI 1.4 input, USB-A, USB-C (which I find especially handy for connecting a power bank), and a 3.5 mm headphone out. For a wireless connection, you can use Bluetooth and Wi-Fi.
Features and specs
As a portable projector, the Anker Nebula Capsule II can project an image of 40-100 inches. The DLP chip creates a 720p 200-ANSI-lumen image, making it a better option for dark rooms. While it's not that bright, a full-sized picture still looks good. You won't get a crisp 4K image, and this model has no HDR, but a 720p resolution still allows you to handle a Full HD signal.
The Anker Nebula Capsule II has an in-built 8W speaker. However, because of the mono system, do not expect to get an immersive movie-watching experience. In fact, it may slightly outperform a mobile speaker but won't impress you with its agile performance and rich soundstage.
It supports Android TV 9.0, so you can personalize your projector with over 50,000 apps like YouTube, Hulu, Twitch, and more from Google Play. Streaming Netflix will require more manipulations from your side, as you will need to use a Nebula Connect app from your phone to control this streaming service.
One of my favorite Anker Nebula Capsule II features is Chromecast. I can stream content directly from my iOS and macOS, while it is also compatible with Android and Windows operating systems. In addition, Google Assistant voice assistant is also available for instant access to entertainment.
The battery life slightly disappointed me. The advertised 2.5 hours are possible only in battery mode (meaning half of the max brightness) with half volume and disabled Bluetooth. But I paired it with a power bank, so I had nothing to worry about when I watched a movie.
Picture quality
The image quality of Anker Nebula Capsule II is good, considering its size and capabilities. The automatic focus feature is really handy since it eliminates the need to adjust the focus manually.
The tonal balance of the Anker Nebula Capsule II is pleasing. Once I adjusted the brightness and color display through the menu (which is a breeze to do), I extracted the decent performance possible out of this device. I wish Anker had paid more attention to the motion processing in this model, as I don't like how movements are handled.
Installation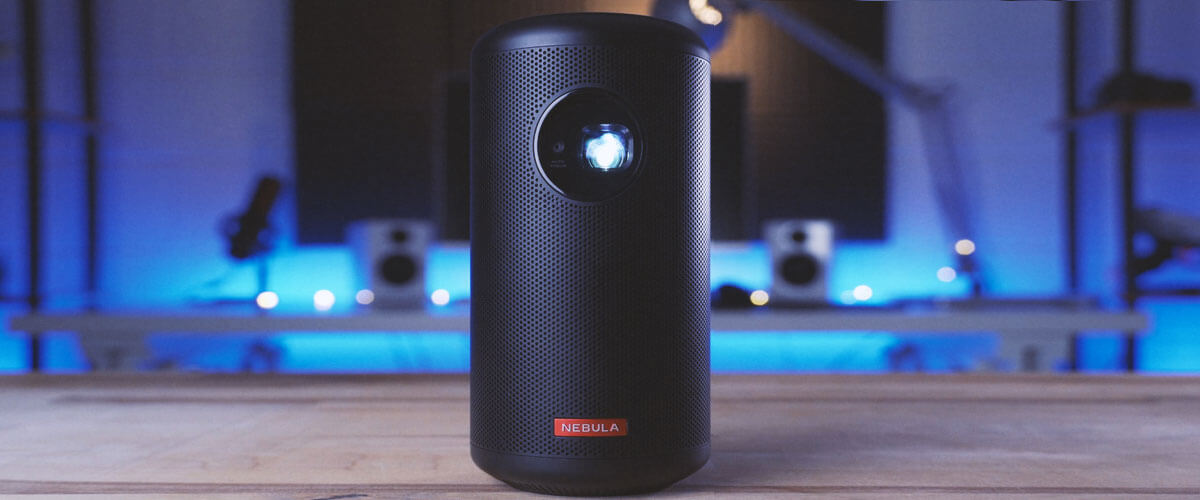 For a pleasing watching experience and a quality image, it's better to keep a projection distance of between 40-80 inches. This way, you can transmit an image of 40-100 inches in a 1.3:1 throw ratio.
Nebula Capsule II specifications say that an auto-keystone feature is vertical, with no horizontal movement of the picture. It has a fixed lens device, so there is no zooming in and out.
Key specs
Display technology: DLP.
Resolution, px: 1280×720.
Brightness, lumens: 3300.
Contrast: 22000:1.
Throw distance, ft: 1.4-30.
Image size, inch.: 40-100.
Wi-Fi: yes.
Built-in speakers: yes.