In my Yaber ACE K1 review, I will share my opinion on a very simple home projector that nevertheless shows quite good functionality. This device is worth its money with acceptable image quality, wireless connectivity, and other features. So let's take a closer look at what you get if you decide to buy the Yaber ACE K1 as part of a home theater system.
Design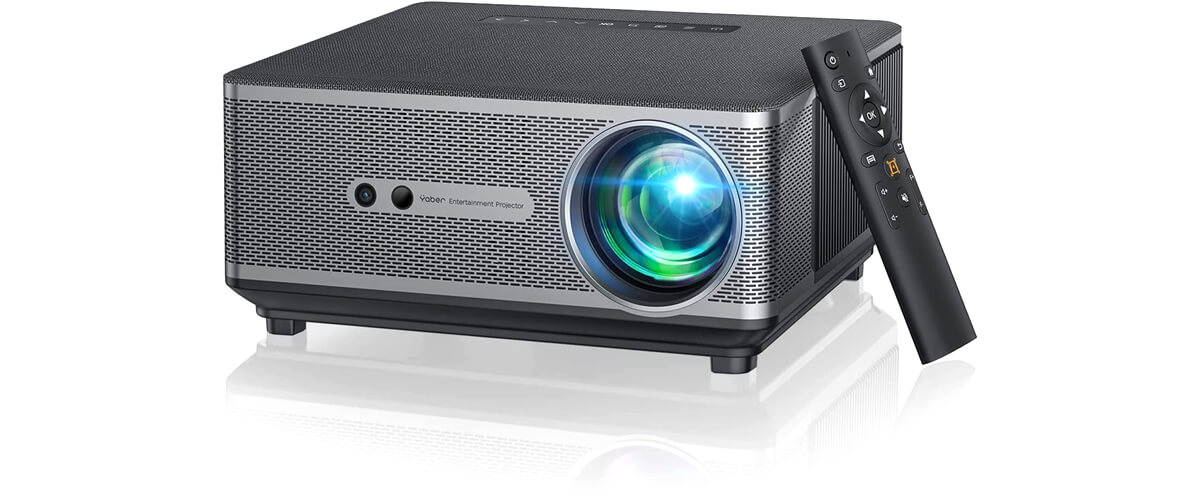 Yaber Ace K1 has a rectangular case with rounded corners, so it looks much like many other projectors. Its sides are made of plastic, with vents towards the back. They allow the cooling fans to work, so you won't experience an issue of overheating. The projector bottom has sturdy rubber feet for superior stability. They also enhance air circulation and improve cooling efficiency.
As for the size, it is a standard projector. It measures 11.8 x 10.1 x 5.4 inches and weighs 8.60 lbs, which I think is optimal for this type of device.
The Yaber ACE K1 features dual-band Wi-Fi (2.4/5GHz) and Bluetooth 5.0 to be compatible with a bunch of wireless devices like phones, laptops, speakers, games consoles, and more. Additionally, you will also find two USB 2.0, two HDMI, and one AV port for hooking to Blu-Ray players, computers, TVs, flash drivers, and more. I think the connectivity is quite extensive for a device of this level.
Features and specs
Yaber Ace K1 has a 1080p native resolution and supports 4K content. So, it will accept content up to 4K but downscale anything above 1080p.
You will like color saturation, and sharp image as this is an LCD projector. The 1600:1 contrast ratio makes the colors pop up and look more vibrant. Paired with a 650 ANSI lumens lamp, you will get enough brightness to enjoy videos in moderately dark rooms. But remember that in bright environments, you may consider the image too washed out.
Looking at ACE K1 specifications, you'll see that it has a set of 15W stereo speakers. For sure, it may not be as powerful as a properly set up Hi-Fi audio system. But believe me, it is more than enough to enjoy a TV show or a movie at an optimal volume level.
The great thing about Yaber Ace K1 is that it supports Wi-Fi 6 technology, providing a more stable, quicker, and low-latency connection. It will also be able to adapt to mainstream network systems in the future.
There are no built-in streaming services or the Android operating system here, but that won't be a big deal. As you connect any of the devices (phone, laptop, tablet) to the projector wirelessly or via ports, you will stream content from any app.
Picture quality
The image projected by Yaber Ace K1 is at quite a decent level. It replicates colors in their true gamut without blurring or other unwanted effects. The color spectrum is vivid, and the blacks are dark enough for you to notice every hidden detail. High-definition content I streamed from YouTube looked really good with this projector.
Note that the image's brightness will fade away with the bigger image size and larger distance. Therefore, I recommend keeping the image up to 100 – 150 inches to preserve image sharpness.
Installation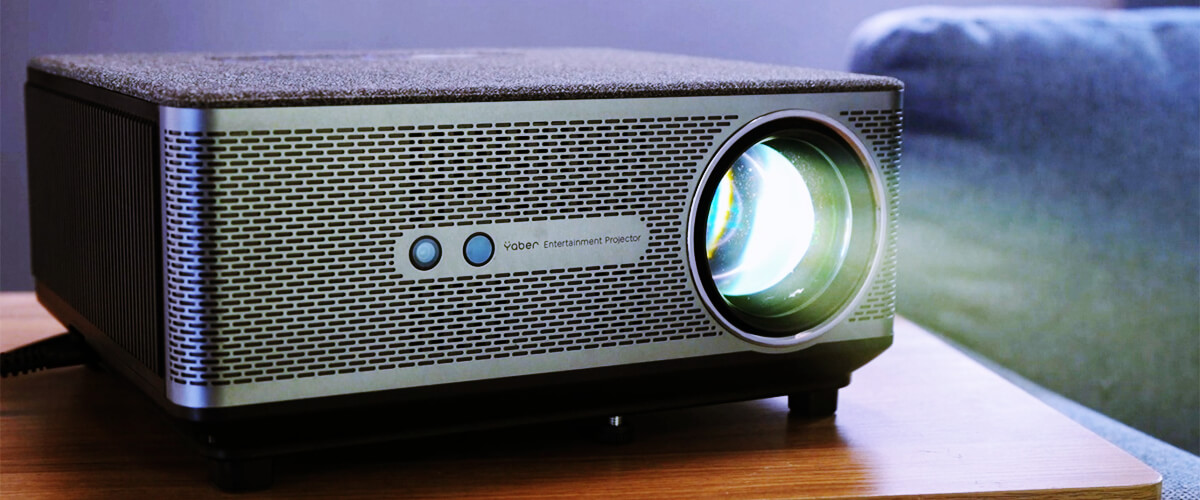 Some great features make Yaber Ace K1 easy to install. Auto focus and auto keystone adjustments will save the day if you don't want to bother yourself with hours of setup. Just press the button, and within a couple of seconds, you will have a crisp and well-proportioned image. On top of that, there is an option of a 50% digital zoom. It's not an optical one, so the further you zoom, the grainier the image will be.
Consider that the throw ratio of this projector is 1.54:1. For a 100-inch image, it should be at least 11 feet away from the screen. In general, you can get an image size between 45 to 150 inches.
Key specs
Display technology: LCD.
Resolution, px: 1920×1080.
Brightness, lumens: 1560.
Contrast: 1600:1.
Throw distance, ft: 3.7-12.5.
Image size, inch.: 40-150.
Wi-Fi: no.
Built-in speaker: yes.