As a teacher or a business coach, you may be looking for a projector to let you share visual aids with your students in different environments. ViewSonic PS600X has been specially designed to become an indispensable assistant to those craving to deliver an engaging learning experience. It's bright enough to overcome ambient light. Additionally, it's compact and can be used even in small classrooms. But these are not the only merits of this device. To learn more, read my ViewSonic PS600X review.
Design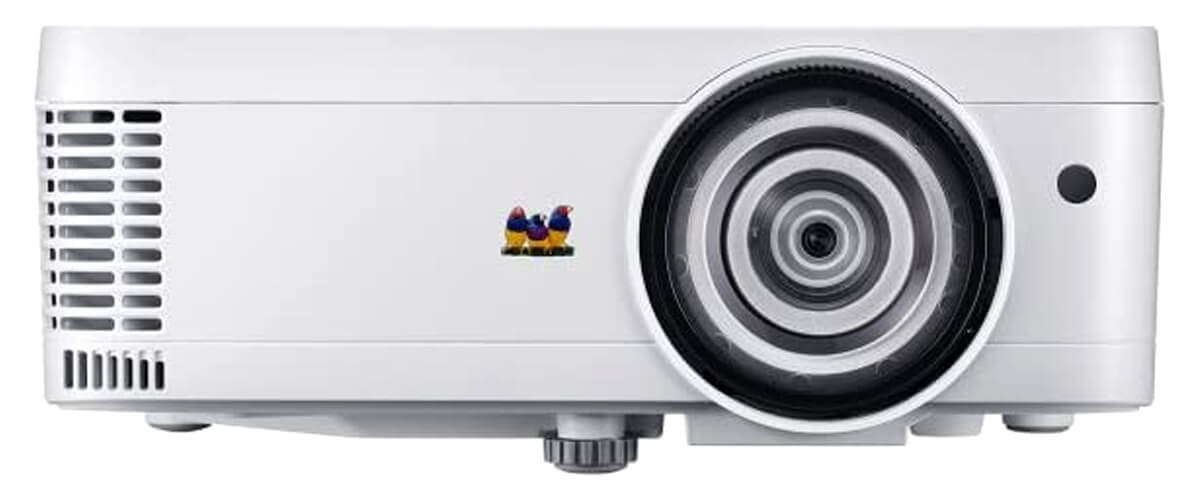 The ViewSonic PS600X projector will easily fit into any room. It's 11.5 x 9 x 4.5 inches and weighs around 5.7 pounds. Thus, you will get the flexibility and versatility of use with this device. It will make a good one-room projector, or you will easily carry it between the rooms to bring presentations or other visual materials to a large screen.
The PS600X has plenty of connectivity options. Let's start with two HDMI ports, which let you project high-definition content by connecting to nearly all sources. There are also two VGA ports for hooking to older computers or laptops. And you will also find a composite and S-video input. Finally, you can use a USB type or 3.5 mm in/out.
Features and specs
As a DC3 projector with the latest DLP imaging chip in the lineup, this device offers good contrast (22,000:1 contrast ratio) and speed. With resolution support ranging from VGA (640 x 480) to FullHD (1920 x 1080) and 3D compatibility, you can share different types of content with extra detail. Yet, I want to say that it is more suitable for sharing presentations, slides, etc. For sharing videos, you should go with a widescreen projector with WXGA resolution to match the aspect ratio.
The projector's lamp delivers 3,700 lumens, so you don't need to worry about image reproduction, even in spaces with high ambient lighting. The lamp's lifespan is 15,000 hours, sparing you from the need to replace it frequently. In addition, with auto Eco technology, the projector will switch to energy-saving settings when idle to save your power consumption.
As a short-throw device, it will project the image of 100 inches from a distance of 4 feet according to PS600X specifications. With the flexibility of placement, you will obtain a clear image without shadows.
ViewSonic PS600X is compatible with an interactive module, transforming virtually any surface into a whiteboard. You can write, draw, or annotate on the projected image. Additionally, there is a built-in presenter timer, which helps you stay on track with timing during the presentation.
The built-in 10W speaker is a great additive. With it, you do not have to worry about connecting an extra audio source for sharing video content. Besides, this projector allows you to connect speakers to amplify the sound for a larger room.
Picture quality
SuperColor technology delivers a wide range of colors, resulting in precise color reproduction in dark and light environments. The image quality is excellent, whether sitting up close or at the back. I noticed no shadows, so there will be no such thing as a bad place for your audience.
The image is crisp, even in the daytime. Every letter is readable and sharp, so reading the text on the slides won't be difficult.
Installation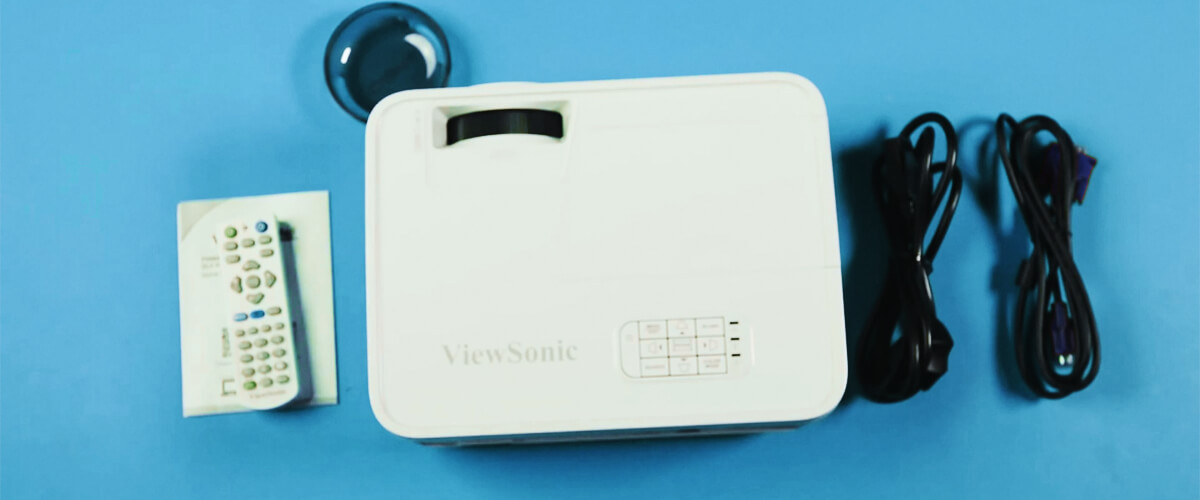 The ViewSonic PS600X features define this device as a 0.61 short throw projection. You can work with it literally from any position in the room, even if it's a few inches from the screen. For instance, from a distance of 4 feet, you can produce an image of 100 inches. The further you place the projector, the larger the image will be. The maximum image size you can get is 300 inches, though you will need at least 7 feet between the screen and the projector's lens.
Horizontal and vertical keystone correction complemented with 4-corner adjustment allows you to eliminate crooked or distorted images. Thus, you get a well-proportioned image without much effort.
Key specs
Display technology: DLP.
Resolution, px: 1024×768.
Brightness, lumens: 3700.
Contrast: 22000:1.
Throw distance, ft: 4-12.
Image size, inch.: 60-300.
Wi-Fi: no.
Built-in speaker: yes.