Suppose you browse the projector market to spot the item that will enhance your cinema-watching and gaming experience without paying all the money in the world. In that case, the Optoma HD146X should be a highly satisfying option for you. Its marked specs, bright light output, and cinema- and games-optimized modes will help you stay fully engaged in the movie or game. So, I have put out this Optoma HD146X review to show you why I believe this is one of the greatest value-for-money projectors on the market.
Design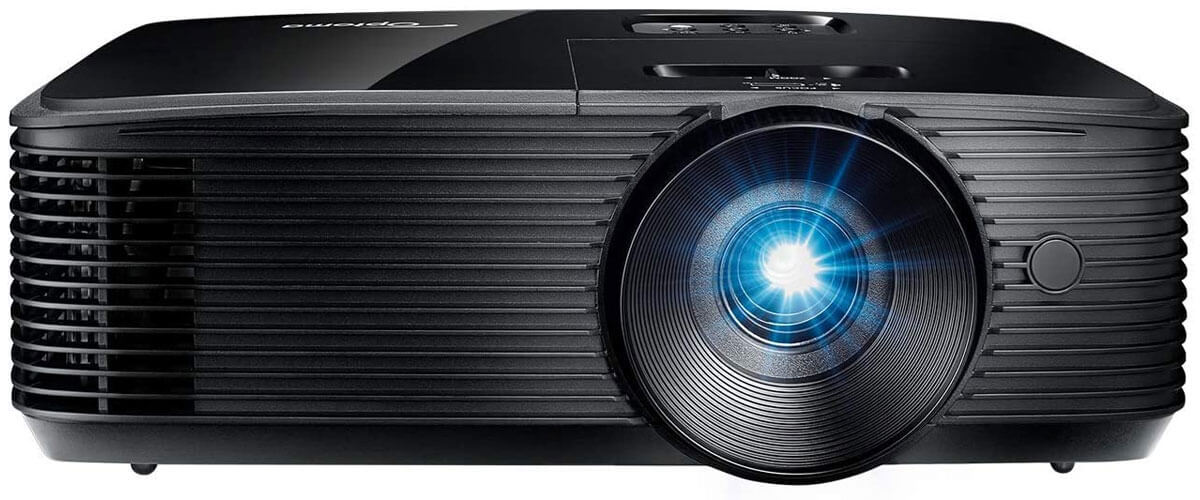 Have you been looking for an off-white colored projector? Then the fact that Optoma HD146X has a completely blacked-out body will sound like a friendly welcome for you. Also, it has a generic design that keeps the price reasonable yet maintains some amazing Optoma HD146X features.
The projector's casing is thoroughly plastic. It looks robust at first sight. Optoma HD146X is 6.17 lbs and has a dimension of 12.44 x 9.61 x 4.25 inches, so it is light, and you can carry it between the rooms without any issues.
When it comes to connectivity, things are straightforward here. Optoma HD146X has only one HDMI 1.4a input with 3D support, which may limit how many devices you can hook. Also, there is an audio 3.5mm and USB-A output for connecting speakers or a laptop.
Features and specs
Optoma HD146X uses DLP display technology, which allows it to deliver good image quality and reproduce bright colors. It supports 1080p Full HD (1920×1080) content and projects it on the screen with a diagonal of 28 – 301 inches. If you are curious whether this is a 4K projector, my answer will be no. But! It can still reproduce 4K videos, though it will downgrade them. Optoma HD146X also has full 3D support, enabling you to turn your living room into a 3D cinema screen. Make sure you get glasses for that, as they are not included in the box.
With 3,600 lumens of brightness and a 25,000:1 contrast ratio, you get an image with vibrant colors and great performance even in ambient light. In the brightest mode, the color accuracy is spectacular. But I guess it is better reserved for classroom work or presentations. In movie and game modes, there is a balance between accuracy and brightness. All thanks to the 240W lamp, which, by the way, promises to last 10,000 hours in Eco mode and 4,000 in Bright mode.
It would be fair not to expect mind-blowing performance from in-built 5W speakers. They are fine unless you are not demanding what sound comes out from the projector. I prefer connecting the projector to a surround sound system, but here is where the connectivity issues show up. There is only one HDMI port, and there is no way to use wireless speakers by default (unless you buy a special wireless system).
The gaming HD146X specifications should find their place in this review as well. The 16.4 ms response time is fine for fast-paced games that rely on rapid reaction. The lag is pretty satisfying for most gamers. Also, the Game Display mode does a great job of improving visibility. It enhances shadows and dark scenes for utmost playability.
Picture quality
The full HD resolution makes video content crisp and clear on the screen. The image is bright even when the light is on and does not blur at all. Moreover, the projector delivers superb image quality in low-light environments, even in ECO mode.
So, while the brightness is good, and the image is razor-sharp, I have witnessed one issue with HD146X. There is a flickering band across the screen. It lasts only for a second but sometimes may occur several times in quick succession.
Installation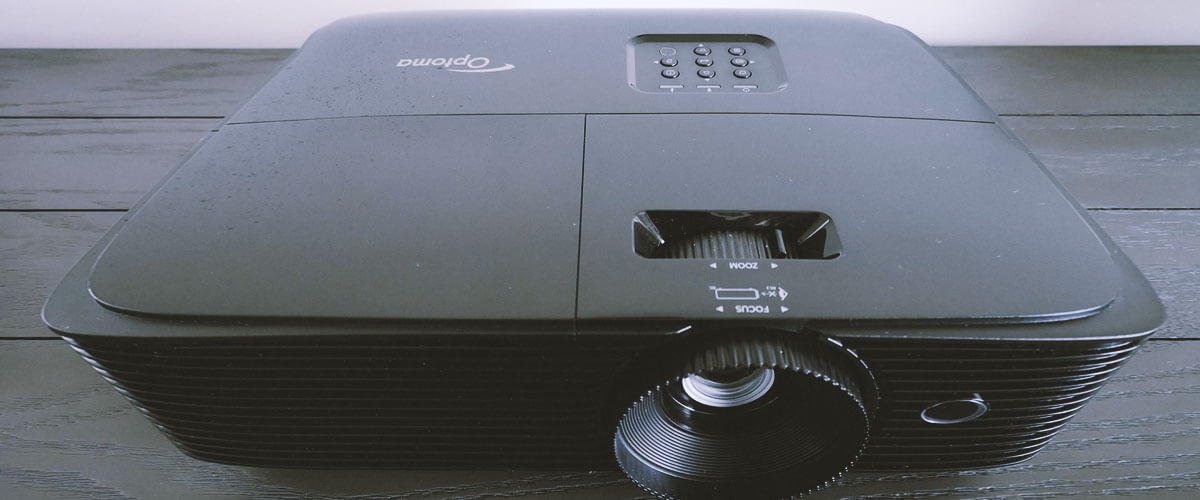 This Optoma projector has a throw ratio of 1.47:1 – 1.62:1, and it works great for a projection distance of around 39.37 – 385.83 inches for a screen image of around 28 – 301 inches.
The vertical adjustment of the keystone and a manual 1.1 zoom may impose some limitations on where to place the projector. Also, if the projector and the screen are not secured, you will have to re-focus and adjust the screen every day. Even a slight movement of the screen or projector can throw off the focus.
Key specs
Display technology: DLP.
Resolution, px: 1920×1080.
Brightness, lumens: 3600.
Contrast: 25000:1.
Throw distance, ft: 3.2-29.5.
Image size, inch.: 28-301.
Wi-Fi: no.
Built-in speaker: yes.