Whether you are looking for a projector for your classroom or office, you will find my Epson EX5280 review informative and helpful. I would nominate this sort of projector as one of the greatest devices for displaying large-group presentations, images, spreadsheets, or videos, even in a well-lit room. With crisp text and images, you will deliver the message to the audience clearly and capture their attention.
Design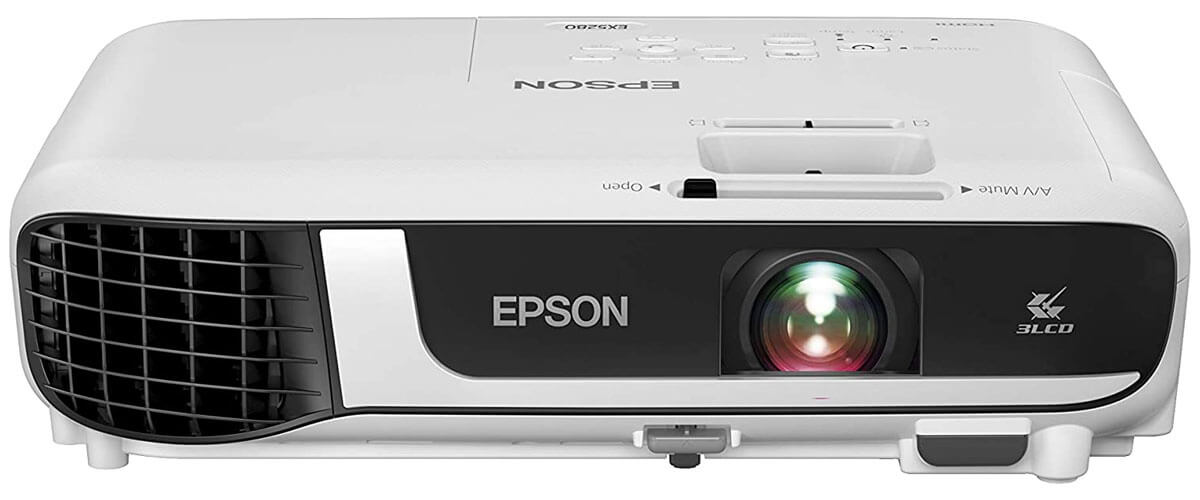 Epson EX5280 is compact. With a weight of 5.5 lbs and dimensions of 11.9 x 9.3 x 3.2 inches, it can easily be mounted to the ceiling. So it won't be an issue to carry it around from one office or classroom to another.
The connectivity options of this model are set up for the minimum. This device has one VGA, HDMI, and a USB-B port. The former supports Plug and Play compatibility for Macs and laptops. There is also a composite video input with left and right audio inputs, as well as a USB-A port. You can also use wireless connectivity, but it is a bit harder to figure out. So, what I see here is that even if you rely on older video sources, you can hook up the devices to project content on a bigger screen.
Features and specs
The star of the Epson EX5280 projector is the UHE 210W lamp. With a brightness of 3600 lumens in the Normal mode and 2200 lumens in the ECO mode, all the wording is clearly seen on the screen. This projector also boasts a 15000:1 contrast ratio with Dynamic color mode, zoom wide, and Normal power consumption mode. The lamp will last for around 12,000 hours in ECO mode. But if you mainly use the projector in Normal mode, the lamp's lifespan will be halved.
Using an advanced true 3-Chip, 3LCD technology, this projector replicates 1024 × 768 pixels (XGA) content in the 4:3 aspect ratio. It also accepts 4K content, but mind that it will be downgraded. So, do not expect spectacular movie scene reproduction with this device. After all, it was not built to serve that purpose. Instead, it will work perfectly in offices and video conference rooms.
According to EX5280 specifications, this projector has a built-in 2W monaural sound system. It's okay for a small boardroom, but it may be insufficient for larger premises. In addition, there is no way to connect an external speaker to the projector. There is no 3.5 mm output anywhere, and the RCA connectors are for input only. So, for better sound quality, I recommend connecting an external sound system to the audio source rather than the projector.
If you still need to stream video content to a wider screen, you can connect to Fire TV, Apple TV, Roku, and Chromecast, through the HDMI port.
Picture quality
The Epson EX5280 projector lives up to its claim to produce a bright image even when it is close to the screen in a well-lit room. Colors and brightness during the dark are even more vivid.
Epson EX5280 features five color modes to play with, and each will work better for different situations. For example, the Presentation mode is my preferred choice for presentations due to color accuracy, brightness, and color saturation. I will go with Cinema and sRGB for graphics or photorealistic images. By the way, sRGB delivers great shadow detail, making it my go-to choice for videos and films.
Installation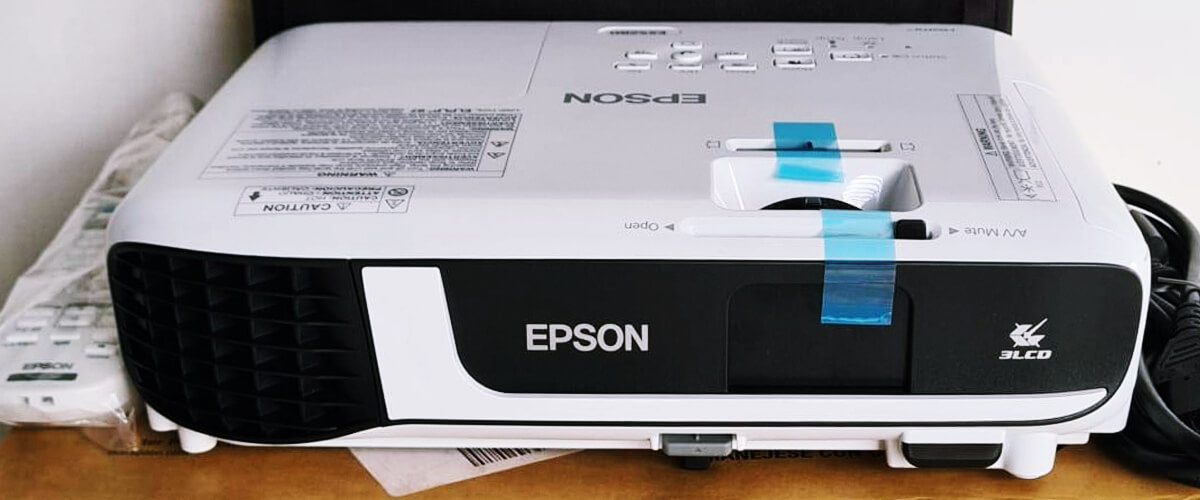 With the throw ratio of 1.48:1 – 1.77:1 and a projection distance of 35 inches to 431 inches, you can get an image from 30 inches to 300 inches using Epson EX5280.
Mostly, the setup for Epson EX5280 is easy. You just set the projector in place, point it at the screen, hook all the devices, and adjust the 1.2x zoom if needed. The auto vertical and manual horizontal ± 30º keystone correction is convenient for projecting onto a freestanding screen. The hard part of this is focusing. No matter how hard I tried, the bottom edges of the image were a little softer than the rest.
Key specs
Display technology: 3LCD.
Resolution, px: 1024×768.
Brightness, lumens: 3800.
Contrast: 15000:1.
Throw distance, ft: 3.5-42.5.
Image size, inch.: 30-300.
Wi-Fi: yes.
Built-in speaker: yes.