Do you feel like a big screen will help you win the video game? Perhaps you are one of those gamers who wants to immerse yourself in complete control of the gaming realm. Whatever resonates with you, I am here to present one of the projectors designed to thrill video game players – BenQ TK700STi. Yet, you can use it as a home entertainment projector as well. So, jump into my BenQ TK700STi review to figure out what makes it so universal.
Design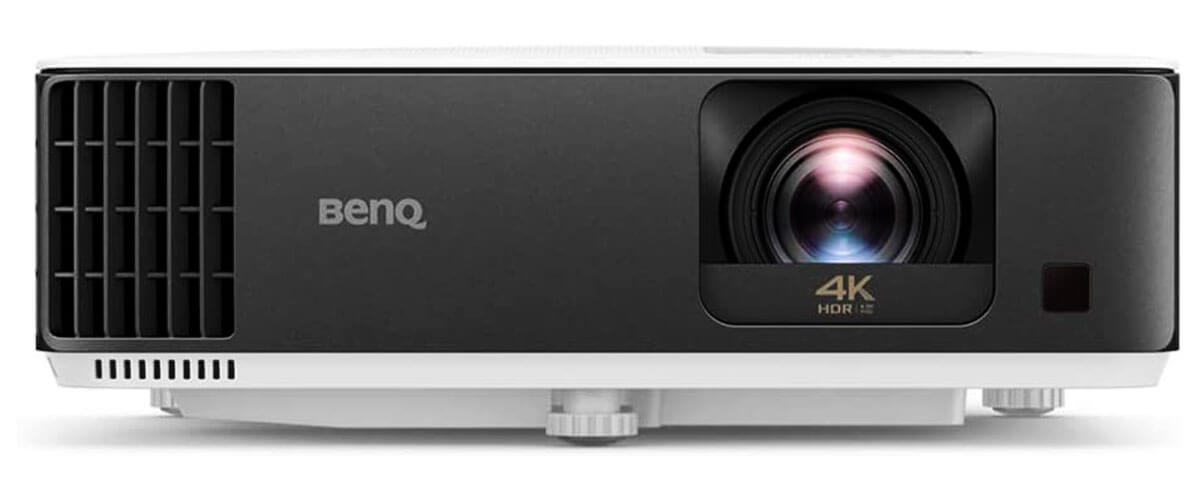 At first sight, BenQ TK700STi looks like an ordinary solid projector. It is relatively compact, measuring 12.2 x 4.3 x 9.6 inches. Yet, it is heavier than many similar devices – 6.83 lbs. Nevertheless, you can effortlessly mount it to the ceiling if you believe this is a winning placement solution.
The back of the projector faces two HDMI ports (2.0b/HDCP2.2), an RS-232 port, a 3.5mm audio jack, a USB-A port, and a standard power port. In the box, you will also find an internal HDMI port and USB power for the Android smart dongle.
Features and specs
A lot of TK700STi specifications are built around gaming. For instance, gamers will be fascinated by ultra-fast low input lag (4 ms in 1080p@240Hz, 8ms in 1080p@120Hz, and 16ms in 4K@60Hz), which allows seeing your actions on the screen immediately without delays. Besides, with the Black Detail Enhancement, you will see more details in dark scenes without compromising color performance in brighter areas. The Game mode is thoroughly optimized to let you become one of those characters in your engaging game.
At the same time, BenQ TK700STi, which runs on the DLP projection system, can become an excellent device for arranging a home theater from the comfort of your home, even in a small room. It is a short-throw projector requiring a minimal distance (from 6.5 feet for a 100-inch image). But that's not all.
With 4K UHD (3840×2160) native resolution with 8.3 million distinct pixels, you can watch quality movies and see every fiber of closing on a big screen. The 10,000:1 contrast ratio is enough to ensure the image doesn't look washed out.
As for brightness, the lamp delivers 3,000 lumens. Combined with 96% Rec.709 coverage, the images look pretty decent. Based on the list of BenQ TK700STi features, the lamp in this projector is going to serve you 4,000 hours in Normal mode. The LampSave mode will prolong the life of the lamp to 15,000 hours.
BenQ TK700STi is pretty loud because it has a built-in 5W speaker. In addition, the BenQ audio-enhancing technology powered by EQ algorithms is helpful for games as it allows you to hear approaching footsteps or other lurking dangers. But the bass is very punchy and lacks depth, so explosions are very hollow.
You can enjoy a wireless connection with Bluetooth 4.2, 2.4G/5G Wi-Fi, and Chromecast. In addition, this projector has Android TV that lets you use Prime Video, Hulu, YouTube, and more. However, Netflix is not natively available on BenQ TK700STi.
Picture quality
The picture quality in BenQ TK700STi is nothing short of amazing. It is bright without ruining the color balance. As for resolution, it is better in 4K, of course. The only thing I noticed was a faint ghost around the sides of the letters on a white background. But it's not a big deal.
Great graphics in games help you feel connected to the action. There are different modes for you to choose from, including Sport, RPG, and Game, all of which make the gaming experience exceptional. The projector nicely renders fine details and shadows, so you can spot someone hiding in the dark.
Installation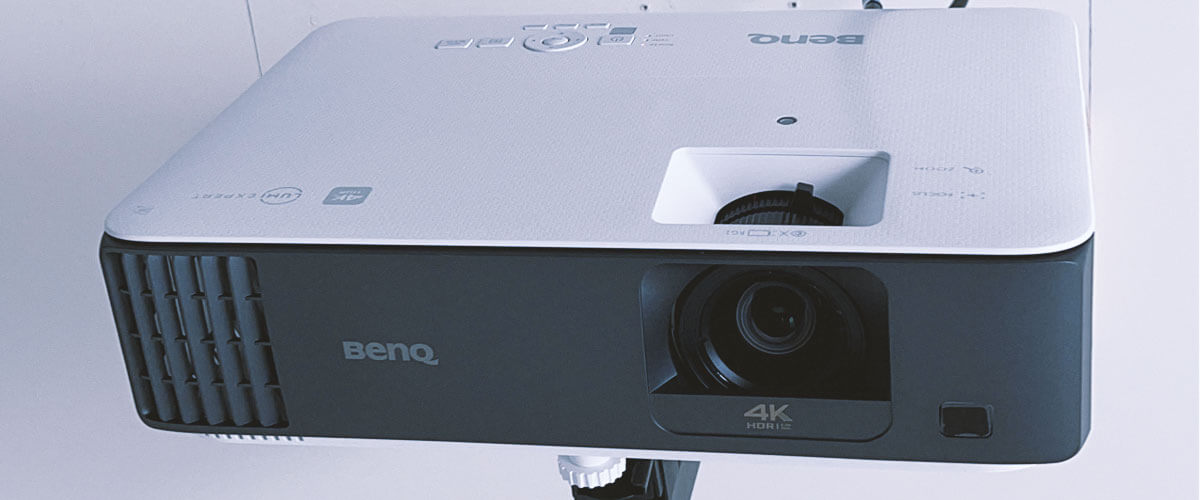 The setup of BenQ TK700STi is standard, with a manual focus and 1.2x zoom. You can also make manual or automated horizontal and vertical keystone adjustments. There is a rotation keystone function, which is handy if you find yourself without a flat spot.
It is a short-throw projector, so its throw ratio is 0.9~1.08. Therefore, even from a distance of 6.5 feet, you will project the image of 100 inches. All in all, you can get the image from 29.96 to 300.15 inches.
Key specs
Display technology: DLP.
Resolution, px: 3840×2160.
Brightness, lumens: 3000.
Contrast: 10000:1.
Throw distance, ft: 6.5-27.
Image size, inch.: 30-300.
Wi-Fi: yes.
Built-in speaker: yes.