As you look at the Anker NEBULA Capsule, the first thing you will think is, "Wow, what an interesting concept. But does it deliver?" Indeed, the soda-can design makes this projector truly unique and suitable for applications when you want to have a device for outdoor theater bliss. While things are pretty clear that this is one of the most portable projectors, you may wonder if it can project a decent-quality image. Let's put guesswork aside. My Anker NEBULA Capsule review will give you a comprehensive answer to this question.
Design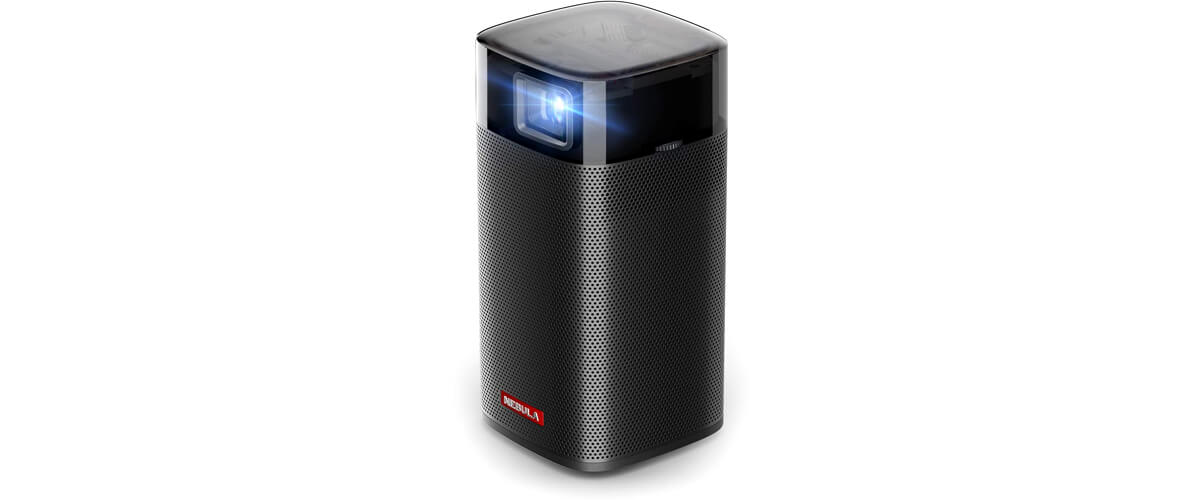 If you need to reproduce a larger image without lugging around a massive box, Anker NEBULA Capsule is your choice. With a 1.0 lb weight and 2.7 x 2.7 x 4.7 inches size, it easily fits into a bag along with other stuff. So, whether you are going to use it in your backyard or at the campfire under the stars, you won't bother yourself with carrying this little guy much.
The HDMI port is a nice thing. If you want to stream content from other devices, the HDMI port makes this easy. Also, there is a mini USB port for charging and hooking to other gadgets.
Features and specs
Here is the most exciting part of my review, where we will delve into NEBULA Capsule specifications. And we'll start with the display and picture capabilities. This device runs on a DLP technology supporting 854×480 native resolution. It's not HD quality, but you can stream content from Netflix, YouTube, Hulu, and other Android apps on a screen 20 to 100 inches from a device you can fit into your pocket. Agree that this is awesome!
The projector is powered by the Android 7.1 operating system with 8GB eMMC of ROM and 1GB DDR3 of RAM. You can use Android or iOS devices to download an app to control the projector. You can also use Bluetooth, 2.4GHz / 5GHz Wi-Fi, and Screen Mirroring for streaming video content to a bigger screen.
However, NEBULA Capsule is slightly dim. Its brightness ranks only at 100 ANSI lumens. Thus, it should better be used in dimmer environments. The lamp will last 30,000 hours before you need to replace it, which is a decent amount of time.
The built-in 5200 mAh battery delivers 4 hours of movie playtime in Battery mode. You will get 30 hours of autonomous operation when you switch to Bluetooth Speaker mode. It takes 2.5 hours to fully recharge the projector, all thanks to a quick charge 2.0 9V2A.
For your convenience, there are multiple projection modes: Front, Rear, Front Inverted, and Rear Inverted. This gives enough flexibility in terms of placement.
For its size, this projector is pretty loud. It has an internal 5W speaker, which turns out to work fine. However, I believe that it is a bit shouty at max volume.
Picture quality
As for the image quality, it is definitely less crisp than what you get on a flat TV screen. But when you buy a projector of the can size, you take it for granted. Though I would say, the picture gets crisper when you downsize the image. You may notice pixels as you project the image at the top of the recommended size. However, if you sit a few feet away from the screen, you shouldn't notice the low resolution. The brightness also suffers in NEBULA Capsule, just like in all compact projectors, but the image is satisfactory in a dark room.
Installation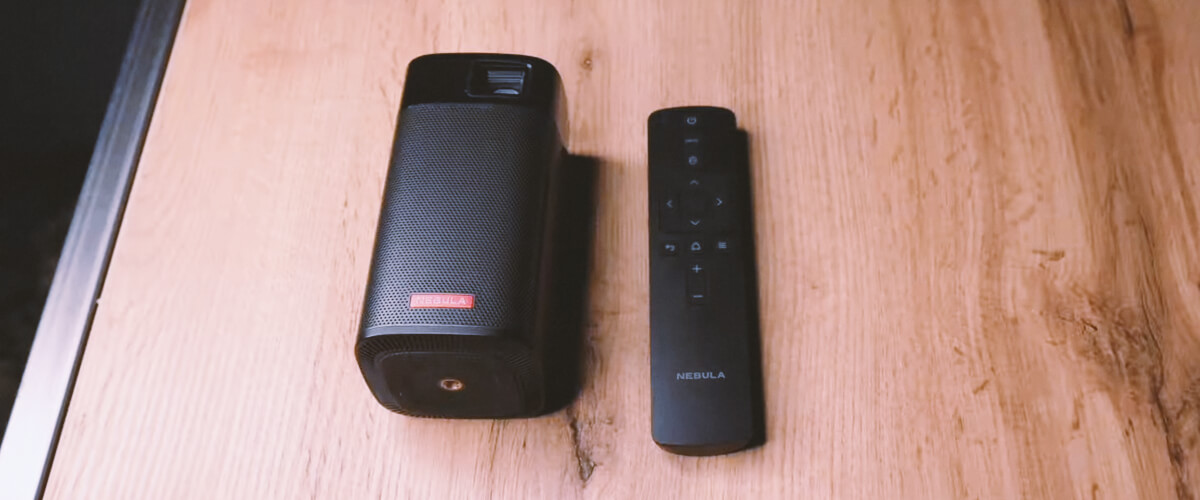 I like the tripod mount on the bottom, among other NEBULA Capsule features, which is handy for convenient placement. Because of the 1.3:1 throw ratio, you can project an image of 20 – 100 inches at a distance of 1.9 – 10 feet.
NEBULA Capsule is designed for fast and simple installation. There is no zoom and a lens shift. Thus, you've got to move the projector around to get a smaller or bigger straight-edged image. The focus is manual and is achieved via a small dial. The auto vertical and manual horizontal keystone correction will enable you to adjust the image so that you have a rectangular shape.
Key specs
Display technology: DLP.
Resolution, px: 854×480.
Brightness, lumens: 1660.
Contrast: 400:1.
Throw distance, ft: 1.9-10.
Image size, inch.: 20-100.
Wi-Fi: yes.
Built-in speaker: yes.